Following the review of observatories dependent USGS :

The Yellowstone Volcano Observatory - YVO :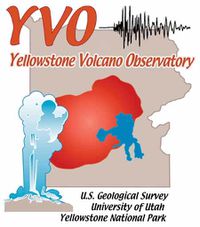 This structure is supported by the USGS , but also by Uniuverstté of Utah and Yellowstone National Park .

Formed in May 2001, he is responsible for the monitoring and study of the Yellowstone volcanic plateau , seismically and geothermaly active, and of the volcanic activity in the states of Montana, Wyoming , Colorado, Utah and New Mexico.

The scientist in charge is Dr. Jacob Lowenstern , working with renowned scientists , including seismologist Robert B. Smith .

The logo of the YVO takes the form of the National Park, and the caldera with the lake of Yellowstone - the stylized forms of the Old Faithful geyser and a seismic wave .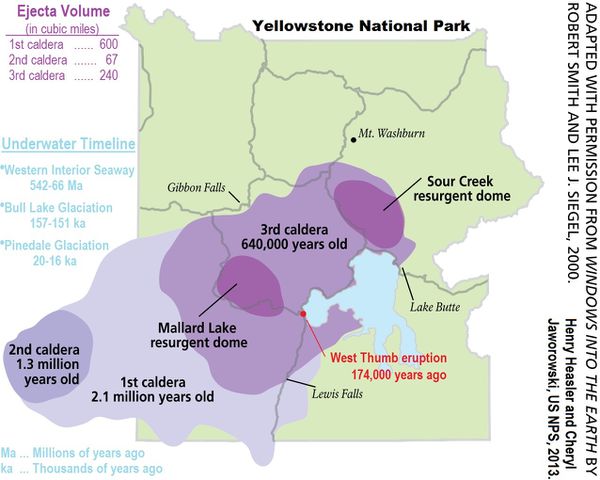 The three super- eruptions of Yellowstone with their volumes of ejecta and contour of calderas (the most recent caldera and its two domes resurgence ) - Doc. B. Smith & L.J.Siegel / Windows into the earth .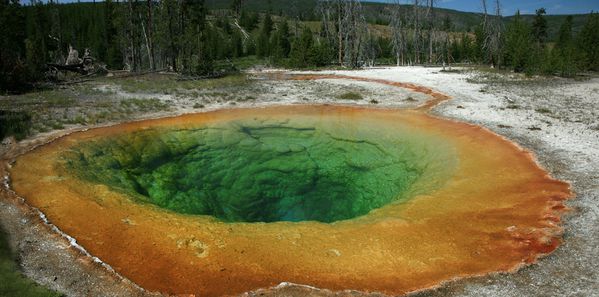 Yellowstone National Park Yellowstone is famous for its hot springs colored by thermophile ( above - Morning glory pool ) and its many geysers (below - Old Faithful geyser ) - Photos © Bernard Duyck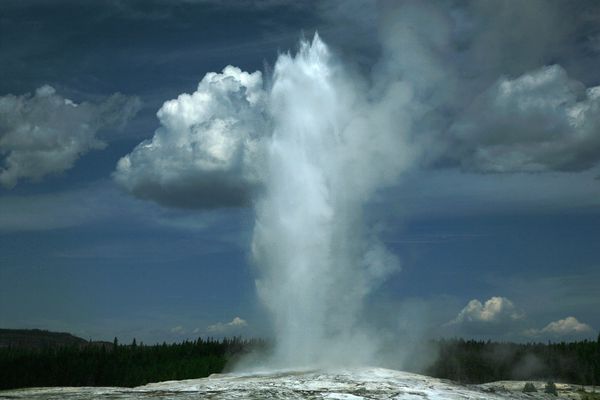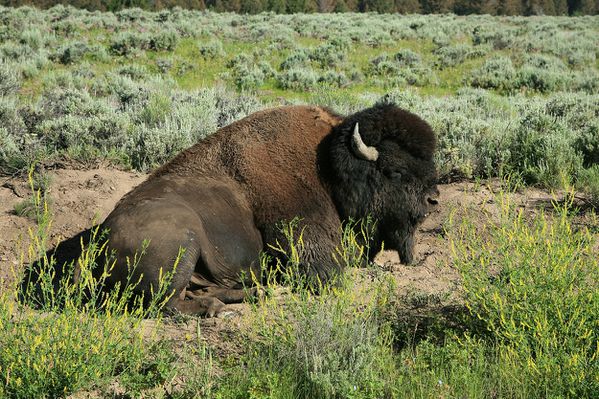 Bison are in great number in the Lamar Valley, to the NE of the Park - photo © Bernard Duyck

The Calvo - California Volcano Observatory was set up in February 2012, following a restructuring for better communication with the authorities of the States. It incorporates some of the activities of the Observatory Cascades regarding California and Nevada, and replaces the Long Valley Observatory, existing since 1982 , having in charge of the Long Valley caldera and Mono - Inyo Craters .
Its headquarters are at USGS headquarters in the western United States , in Menlo Park.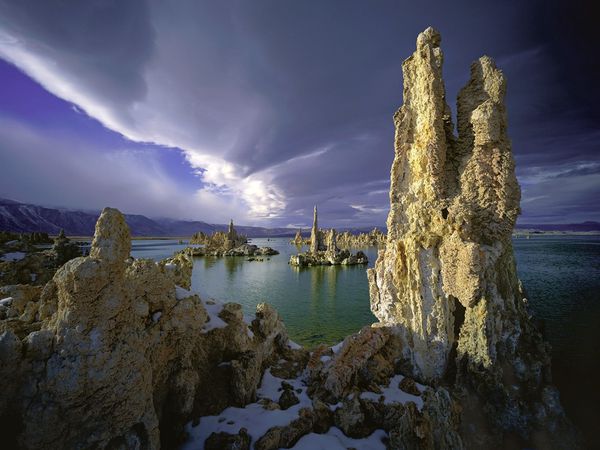 California - Mono lake tufa towers - Mono lake wallpaper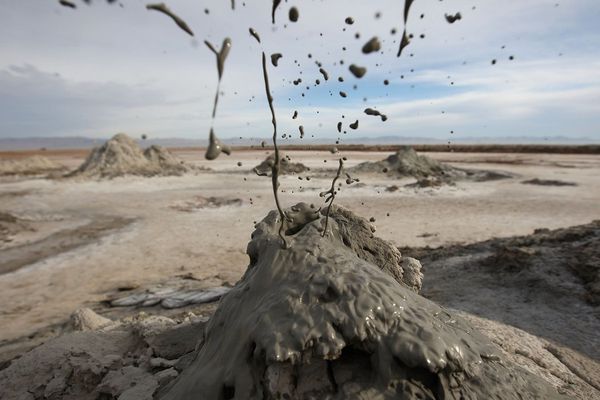 California - Salton Sea mud volcanoes - Photo Salton Sea nat . wildlife refuges / D.Mc new

Last but not least, the volcanoes of Hawaii are under the supervision of
the HVO - Hawaiian Volcano Observatory - located to Uwekahuna Bluff, on the edge of the caldera of Kilauea on the Big Island .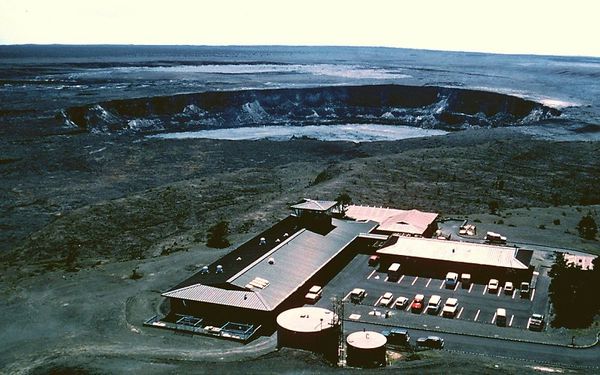 HVO - the observatory on the Halema`uma`u crater rim - photo 1987 / JDGriggs

The observatory was founded in 1912 by Thomas A.Jaggar, a geology professor at the Massachusetts Institute of Technology, and a financial interest group applied to the construction of the latter, the Hawaiian Volcano Research Association.
Echoing the comments made ​​since the 19th century by travelers and missionaries , the goals of the HVO were methodological and scientific study of volcanic processes and the reduction of risks to the society .
It was modernized in 1986 by the addition of a tower that let observe the upper parts of the two rift zones , and directly see the SE flank of Mauna Loa , the summit area of ​​Kilauea and in the distance the Mauna Kea.

Its history, long and complex , was synthesized by the NPS historian , Russell Apple, during the celebration of the 75th anniversary of its foundation (link)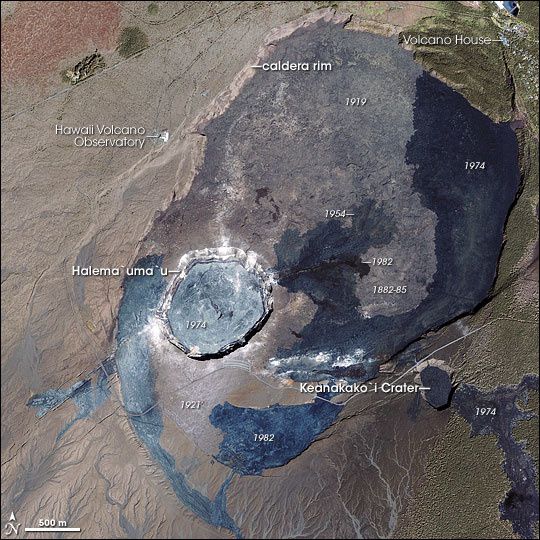 Hawaii - The summit caldera with craters and Keahakako Halema`uma`u, with the near observatory - Photo 14.01.2003 Ikonos Satellite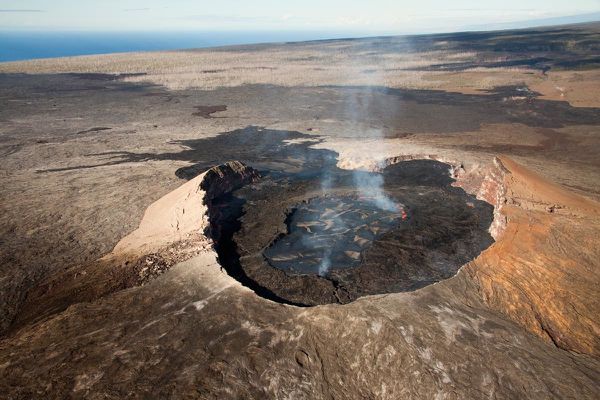 Hawaii - Kilauea - the crater of Pu'u O'o always changing , overflows of lava and the encrusted lava lake, slightly smoking - 29.07.2011 Photo HVO / USGS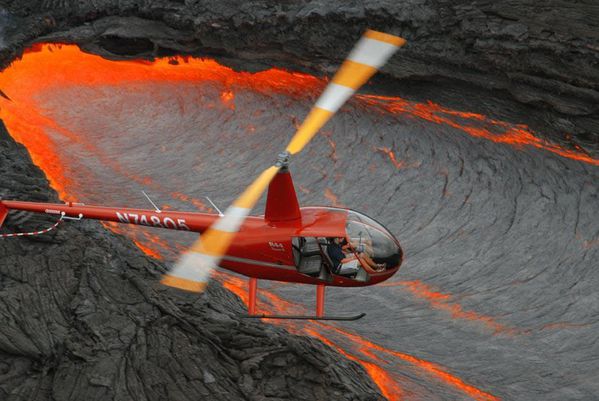 Hawaii - Kilauea - helicopter flight over a fluid lava flow - Photo Hawaii 24/7

In a few days , other observatories and volcanoes
Sources :
- USGS / YVO - link
- USGS / CalVO - link
- USGS / HVO - link