The Papakura geyser regenerates after 34 years of inactivity ... a first!

Known as an attraction of the Te Whakarewarewa valley, near Roturoa / NZ, the geyser Papakura had a steady and sustained activity until March 1979, with only one stop in the 30s during a very dry period .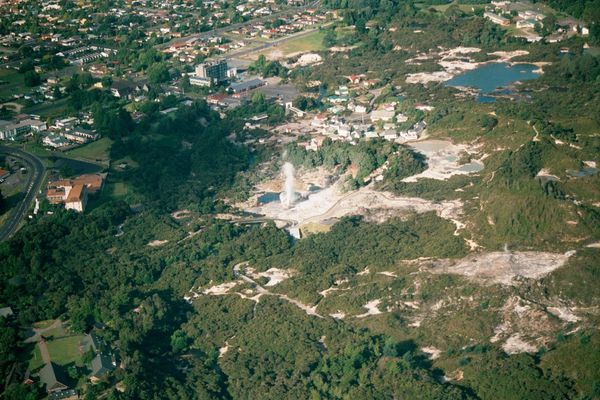 Whakarewarewa geothermal field / Roturoa - in the center, the Pohutu geyser erupting - Te Puia Maori arts & crafts institute at the bottom left , and the suburb of Roturoa in top left. - Photo Carl Lindberg .

His arrest marked a turning point in the understanding of damage to the area of ​​geysers and hot springs in many wells .

In 1986, a protection zone was established to halt the gradual decline of the geothermal activity in surface. The geothermal Roturoa plan took effect in 1999 , with the maintenance of an exclusion zone of 1500 meters, centered on the Pohutu Geyser / Whakarewarewa .

Hundreds of wells were closed in the city, to the desolation of some. After the closure, signs of recovery were felt : the Kuirau Park came to life , the geyser Pohutu regained its activity ... but the rebirth of other surface structures was longer and Papakura remained dormant.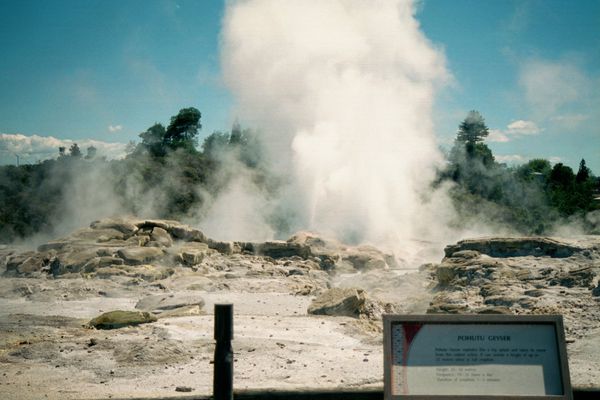 Te Whakarewarewa valley - Pohutu Geyser - Photo Carl Lindberg

Around the geyser Papakura, nature had reclaimed its rights for several years before the Te Puia / New Zealand Maori Arts and Crafts Institute staff hands it to the open air last year. In mid- September 2013, the first stirrings of water are collected , and on September 29 , a series of small eruptions projected water and steam to a height of one meter .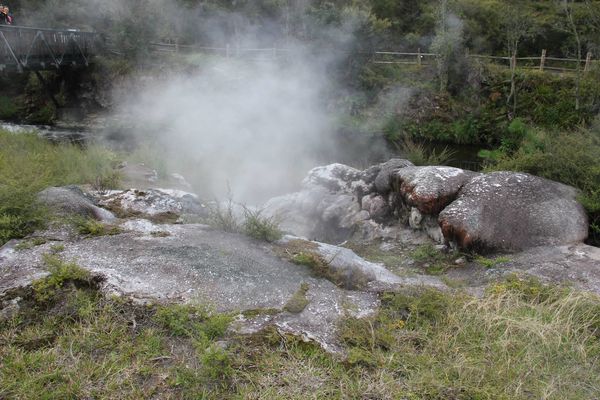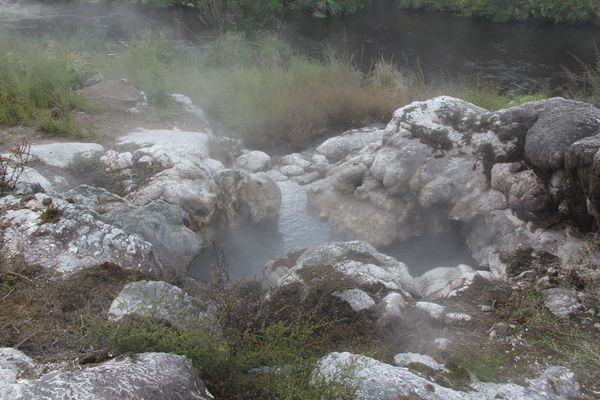 Te Whakarewarewa - Papakura Geyser - photos Te Puia , New Zealand Maori Arts & crafts institute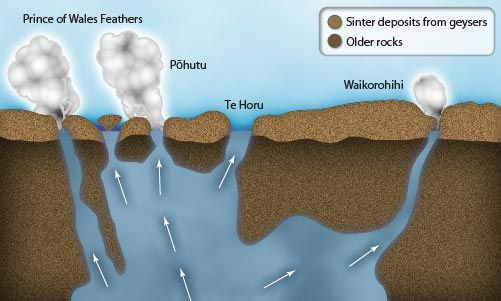 Te Whakarewarewa geyser field - drawing Te Ara - NZ

This is the first time that a reaction in the field to a geothermal decline as a result. Usually when a geyser stops its eruptions , the thing is heard. What happened here suggests that there is a long latency period between changing patterns of water consumption and the response of geothermal system .

Local reactions are very positive. The President of the Whakarewarewa Joint Trust Lands highlights the rebirth of an icon of the Whakarewarewa geothermal valley , and wisely added that " this shows the cyclical nature of our geothermal field , which is so dependent on the level of groundwater. This is already spent on our geothermal field, and could recur in the future. "
Sources :
- The New Zeland Herald - Dormant geyser springs back to life - link

- Scoop Sci tech NZ - link
- GNS - The once-famous Waikite Geyser in Rotorua is showing signs of rejuvenation after 43 years of very little activity, scientists say. - 07.2012
- Te Puia, New Zealand Maori arts & crafts institute
- Te Ara NZ