Mount Meru , which overlooks Arusha ( Tanzania ) and is used with its antécimes Little Meru and Rhino Point, as a warm-up for hikers who want to attack the Kilimanjaro , has recently been the subject of a study by the Eco -Science Centre .

Ben Beeckman , director of the center , attracts the attention of the authorities about the potential dangers of the volcano in an area home to over one million inhabitants . This Belgian scientist, who knows the African volcanoes, strongly recommends to install a seismic monitoring network around Mount Meru and Kilimanjaro. The University of Dar es Salaam , which has a section of seismology, could be responsible, in collaboration with local authorities and the private sector .

Panorama on the summit of Meru, the Ash cone and intracalderic lava flows from a second vent - Photo stenlark.ch

Mount Meru is a stratovolcano , seen from the west, its profile is tapered, but it has a weak point, a caldera 5 km. wide in iron horse open east side, and formed there 7800 years after the collapse of the summit associated with debris avalanches and lahars that reached the western side of Kilimanjaro and created the Momela lakes .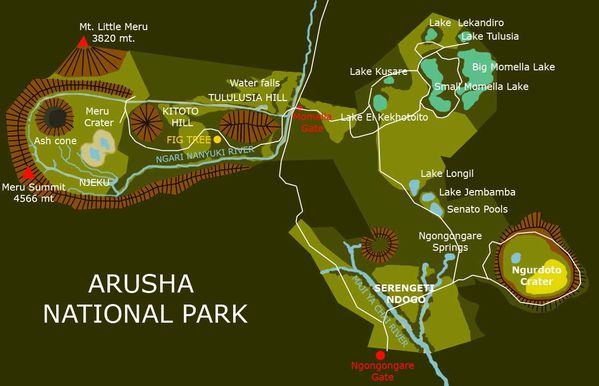 Schematic map of Arusha National Park, with the massive Meru, Momela lakes and Ngurdoto Crater . - Doc. Arusha N.P.

It is surrounded by parasitic cones and lava domes, and a maar field is located on the north-side down .

Its historic activity is localized to the ash cone forming a prominent structure in the caldera . A second vent, between the ash cone and the wall of the caldera, fed lava flows that covered much of the caldera floor.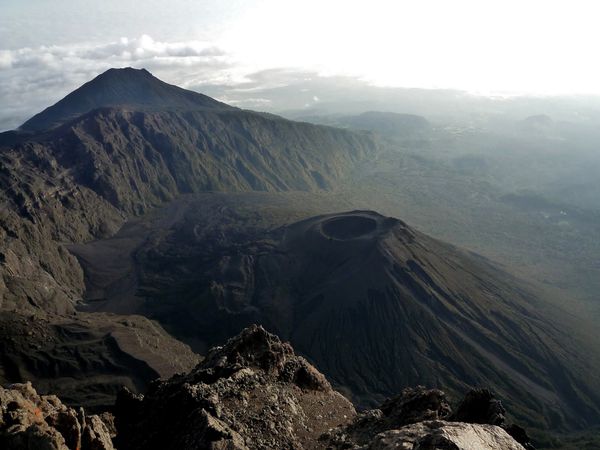 View of the caldera from the summit of Meru ( 4566 m ) - from right to left , the Ash cone, lava flows , the wall of the caldera, and in the background the Little Meru ( 3,820 m) - Photo birdingtanzaniablogspot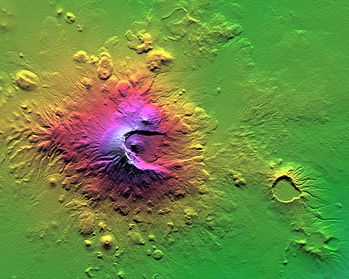 The weakness is facing a less populated area , but a future eruption of this type could lead to a partial collapse on another side and threaten a more populated area, as Arusha to the south or Moshi to the east .

Massif of mount Meru - doc. in false-color NASA JPL photojournal .

Beeckman reports that the eruption of Meru who broke his east side involved 28 cubic kilometers of material; in comparison, this mass is 10 times greater than that of the debris avalanche of Mt St. Helens in 1980 , estimated at 2,8 km³ .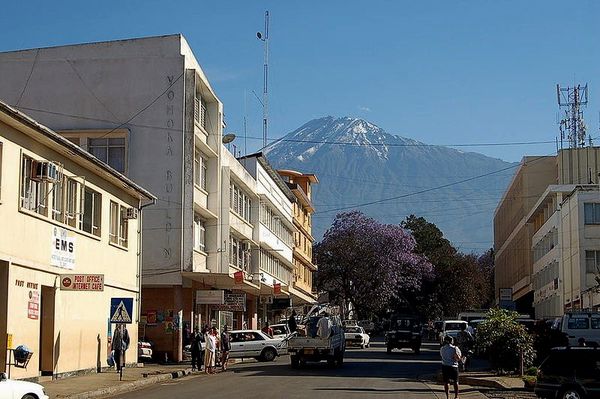 This street in the center of Arusha offers a direct view of Mount Meru - Photo Matt Crypto
Sources :
- Arusha Times - Tanzania: Mt Meru said to be potentially dangerous volcano - link

- Tanzania Daily News - An Eco-Science centre with a "savannah" difference - link