Of all the areas with geysers in the world, the most famous are the Yellowstone , Iceland, New Zealand , Kamchatka or Chile.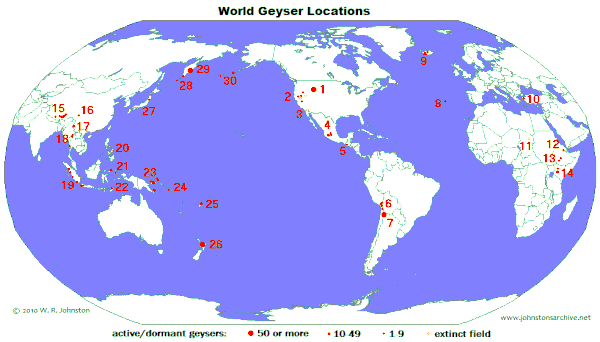 Location of geysers in the world - Doc. johnston archives 2010

The Wondermondo site recently gathered informations on other lesser-known located in the East-African great rift and having active or extinct geysers : Ethiopia, Kenya , Uganda.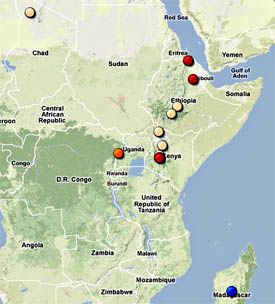 Location geysers on the East African Rift - doc. Wondermondo / Google
| | |
| --- | --- |
| | - true geysers |
| | - perpetual spouters |
| | - cold water geysers |
| | - extinct geysers |

In Ethiopia, going from south to north, there are two off geysers fields around Lake Abaya and north of Lake Langano . More to the N- NE, in the Afar triangle, two active geyser fields are known : the Allalobed geysers and Dallol geysers and salt sources.

North of Lake Abaya , the hot springs Chokore (or Chakoware ) had until 1979, active geysers , the last of them amounted to more than 1,8 meter.
Today, still a number of very hot springs , the temperature reached 96°C , and a geyserite platform housing cones of ancient geysers.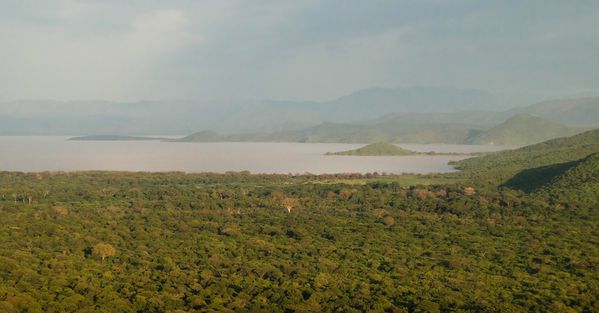 The Abaya lake seen from Arba Minch - Photo Bernard Gagnon

North of Lake Langano , a deep bay hosts an island, with different names : Edo Laki , O'A , or just " island of geysers ."
A large geyser, now defunct , was born in 1906, after an earthquake and remained active for several decades, rising to 25-30 m. twice per minute. Become less active over time, it rose more than 1 meter every half hour in 1926. In 1965, the site of the geyser is transformed into a two-meter diameter basin, the level varies of 5 to 10 cm. every 10 minutes. In 1970 , only remains a hot spring, with alkaline water (pH 8.36 ) at 96°C.

The Allalobed geysers, " the waters of Allah " are a set of steam vents , small craters of hot mud exhaling gas, deep warm waters basins of various colors, dark green, blue or yellow, pulsatile and can boil intensely.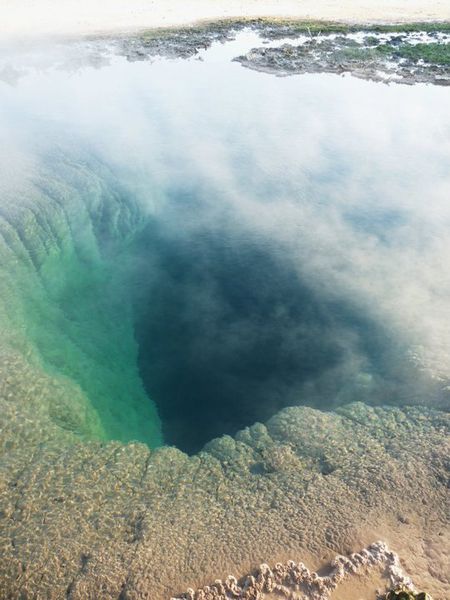 Ethiopia - Allalobed - photo © Carole & Frederic Hardy 2009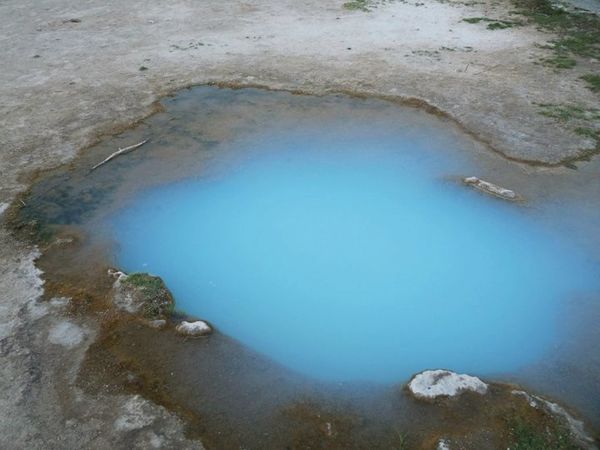 Ethiopia - Allalobed - photo © Carole & Frederic Hardy 2009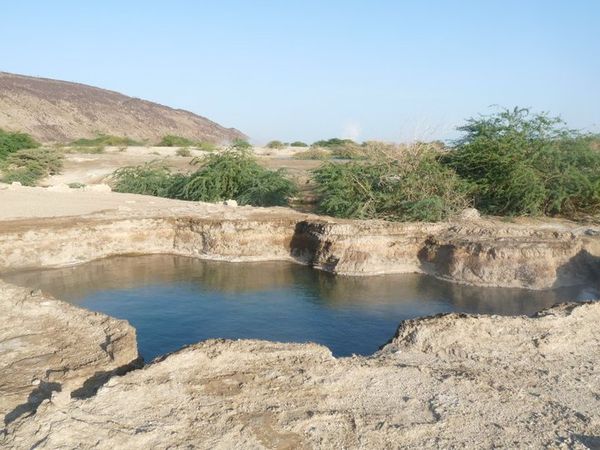 Ethiopia - Allalobed - photo © Carole & Frederic Hardy 2009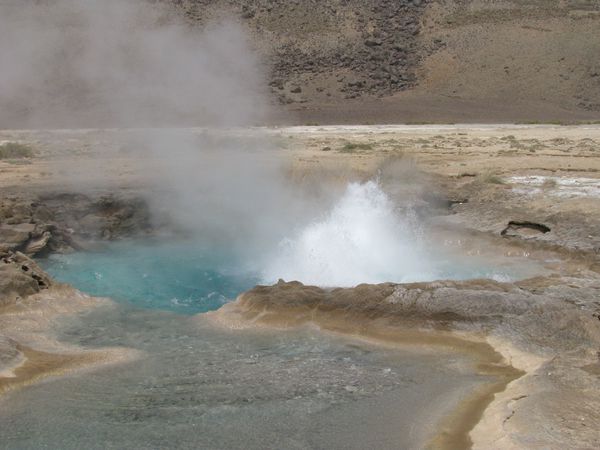 Ethiopia - Allalobed - Hot spring gushing - Photo Dancalia

A basin called Allalobeda spouter often rises to 6 meters, occasionally up to 30 meters high. Its waters have a surface temperature of 97°C. Another source has a geyser amount to 30 cm. .

These hot springs form agglomerated deposits housing fossilized remains of plants and insects. The cooler is used by the Afars , who do their laundry .

To follow: the geysers of Ethiopia - the site of Dallol .
Sources :
- Wondermondo - geysers of Africa - link
- GOSA - Geyser Observation and Study Association - link

- Johnston's archives - geysers ressources - link