Dallol , although included in the list of active volcanoes of GVP is not strictly speaking a volcano. The Global Volcanism Program class Dallol under the name of " phreatic explosion craters ."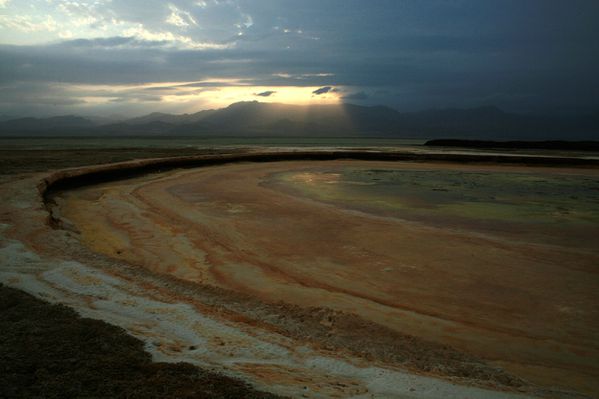 Dallol at dusk - photo © Bernard Duyck 2007

Dallol is located in the Danakil Depression , NNE of the Erta Ale volcanic range, at an average altitude of 119 m. below sea level .

This area is now a desolate dry desert, but in the Miocene, it was regularly flooded by the sea, forming a deep gulf . When it was separated from the ocean, it dried up , leaving thick deposits of salt . The layers of salt were intruded by magma ... and the groundwater meeting with hyper heated rocks caused phreatic explosions , which left many craters.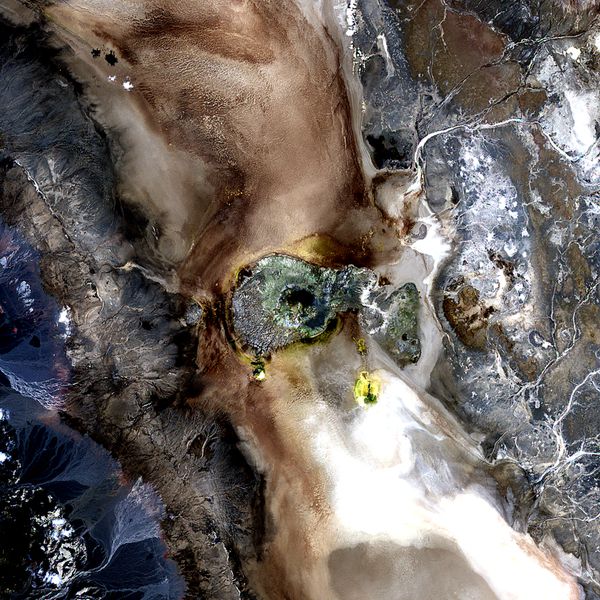 Dallol to the center - to his right, Horseshoe mts and Flat mt. - to the South, the salt lake Karoum - ASTER satellite / Nasa

The most recent crater, Dallol, was formed during an eruption in 1926, 1.5 km. southwest of the main crater . Dallol is the only " volcano " to be located below the level of the sea without being under water: its altitude is 48 meters below sea level.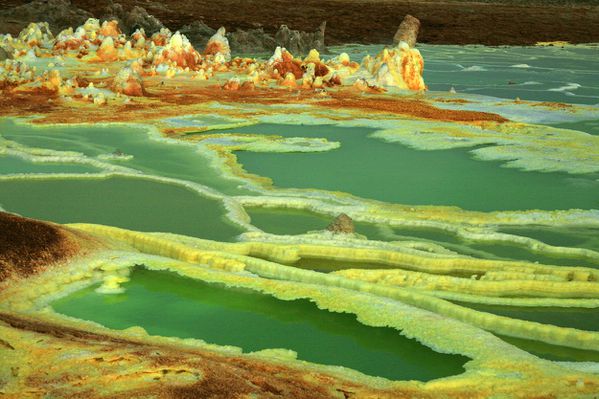 Dallol - pools of acid finged by salt and sulfur - photo © Bernard Duyck 2007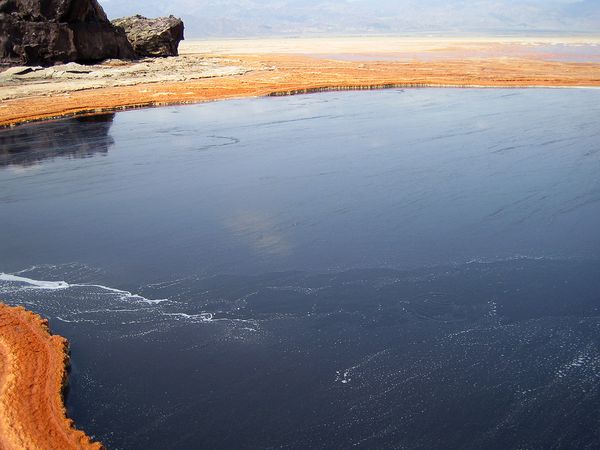 Dallol - The " Black Lake " - Photo © Bernard Duyck 2007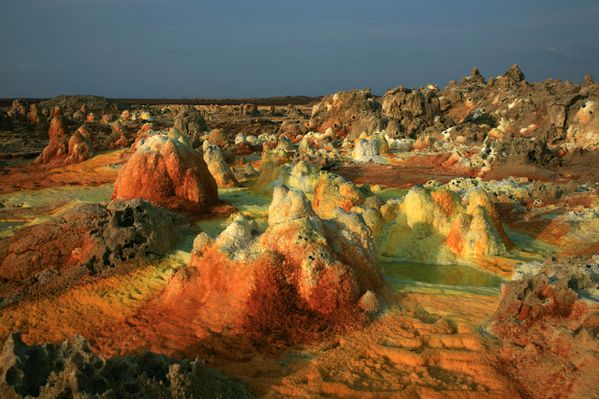 Dallol - oxidized structures, which combines the colors of sulfur, salt and iron salts - photo © Bernard Duyck 2007

Many hot and acidic sources, dark green or jade green, edged with salt, pure white or colored, side by side with transparent or recently yellow geysers ( color due to iron oxides ) or a lake of black water and saline gourds white, tinged with yellow or rust ... this extraordinary palette of colors, combined with strange formations , form an unusual landscape changing with the seasons : we are on the planet Dallol .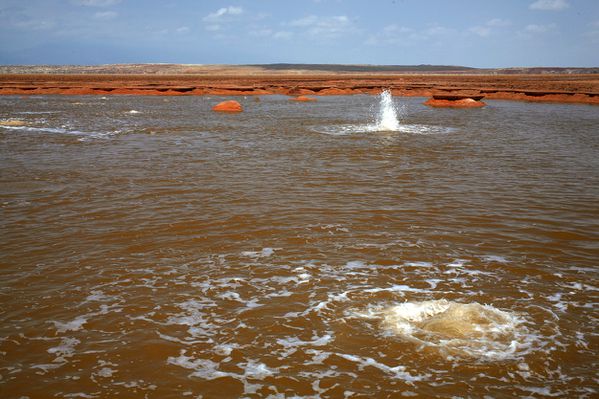 Dallol - brine lake and geysers - photo © Bernard Duyck 2007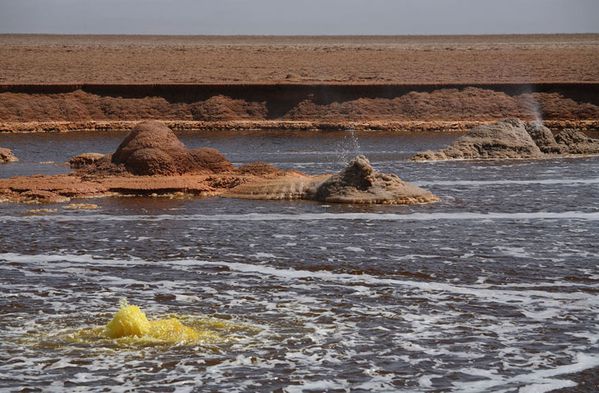 Dallol - brine lake and " yellow geyser" - photo © 2008 Martin Rietze

Ephemeral geysers spewing hot brine evaporates quickly in the furnace, where the temperature reaches 35-40°C , to leave, around the mouth, cones of salt deposits in light colors at baseline ( white, orange ), which then fade under the action of acid fumes and rain and become red , dirtier.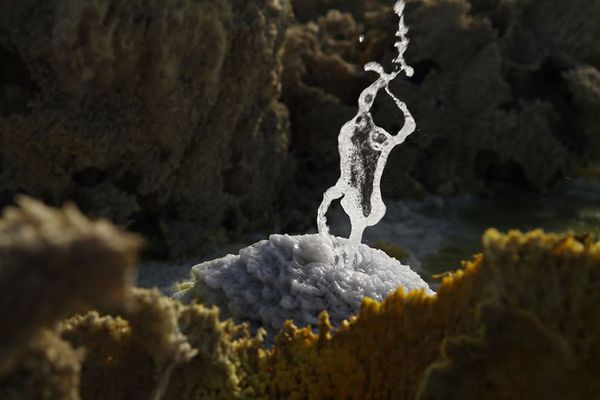 Dallol - geyser of salt mouth , young and clear - photo R.Roscoe / photovolcanica 2008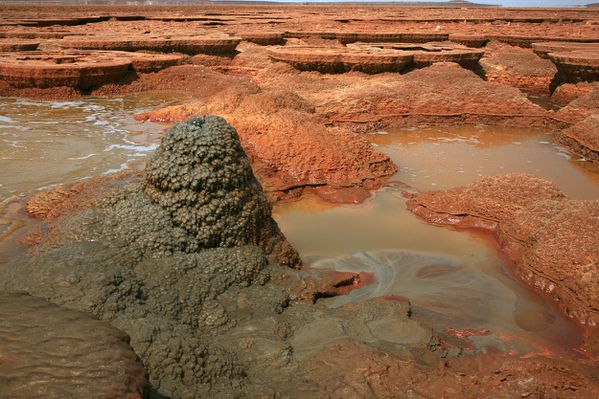 Dallol - geyser of salt mouth, older - photo © Bernard Duyck 2007

In January 2011 , severe rains have changed the hydrological regime, by a substantial fresh water intake, and numbre of new geysers and hot springs appeared ... momentarily .

The site visit is not without risks : besides the need to be escorted by armed men, one must venture cautiously on this fragile salt crust, under which stagnates acid, confront with odorless but dangerous gas, while having in mind that a phreatic explosion may occur unexpectedly.
But that is one of the charms of Dallol !

To follow , the geysers of Kenya.
Sources :
- Global Volcanism Program - Dallol

- Photovolcanica - Dallol volcano
- Wondermondo - geysers of Africa - link