On November 23, the Gunung Sinabung is entered four times in eruption between 9:26 p.m. and midnight, expelling a plume of ash estimated at 10,000 meters ( ??? ), but not observed because of the fog .
Nearby villages have suffered the effects of centimeter slags . For the first time since 2010 , the ashes of the volcano reached the provincial capital Medan, located 80 km., causing a bit of panic.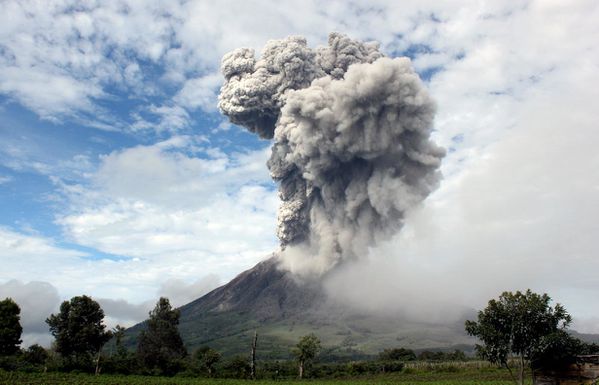 Sinabung - 24/11/2013 - photo Deddi Sulkifli

The PVMBG Bandung brought the alert level to Awas / IV (max.) on 11.24.2013 at 10 am , when five eruptions occurred ; for two of them , at 12:43 and 2:32 p.m. , unobserved because of fog. At 19:27 , the volcanic plume has reached more than 8,000 meters, accompanied by tremors for a quarter of an hour. At 8:12 p.m. and 8:55 p.m., plumes reached 1,000 and 3,000 meters respectively .

According to Dr. Surono, pyroclastic flows down the mountainside over 2 km. The exclusion zone around the volcano was raised to five kilometers , and the evacuation of four new area declared for villages outside the zone.

The ashes of Sinabung disrupted many flights from Kuala Namu International Airport , affecting Susi Air and Air Asia companies.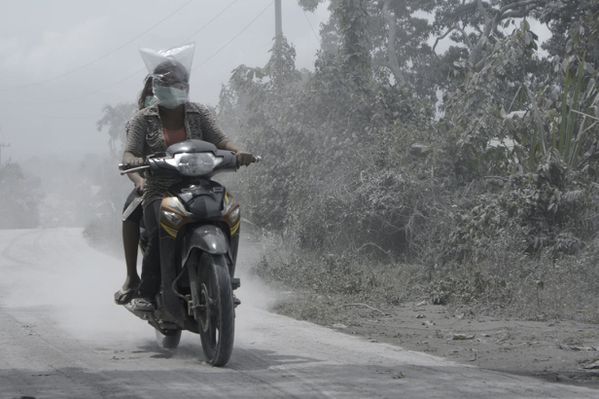 Sinabung - Circulation without much visibility and in confined atmosphere ... dangerous, but we do with the means at hand - photo 2013.11.24 / Yuli Ramadani / AP

Evacuations continue , according to administration of Karo , 22 evacuation centers on 26 prepared are currently occupied . Outdoor activities are discouraged, while wearing a mask and glasses is recommended.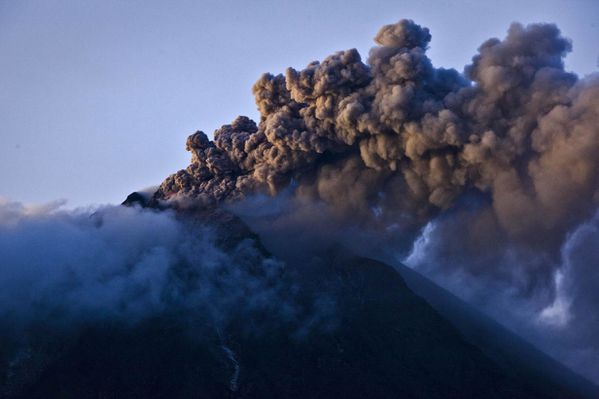 Sinabung - plume loaded with ash, 24/11/2013 - photo Ulet Ifansasti / Getty Images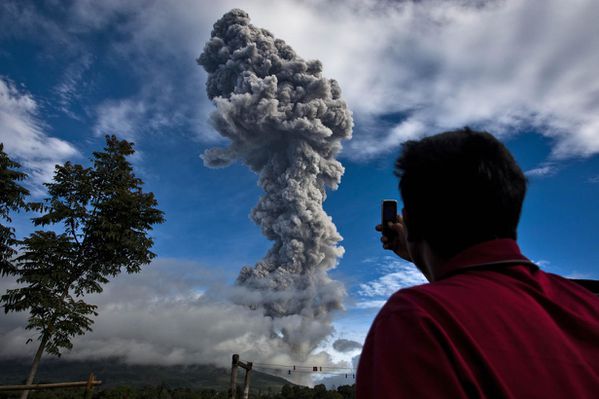 Sinabung - another high plume on 11/24/2013 - photo Ulet Ifansasti / Getty Images

According PVMBG, volcanic activity remains volatile. Pressure remains high and large amounts of gas are involved, which justified the high alert because of the risk of highly explosive eruptions. Another indication of this level change was the discovery of slag 3 to 4 cm. diameter within 3-4 km. around the crater .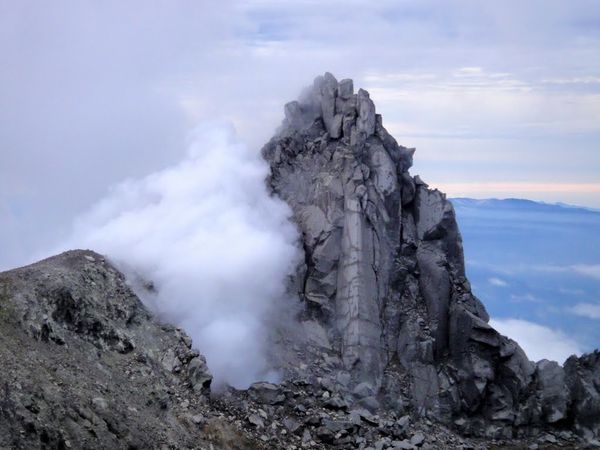 Sinabung - summit spine,characteristic of explosive Andesitico - dacitic volcanism - photo Chris Menz / via Avcan

Sources:
- Media: Jakarta Post 11.25.2013 / 24.11.2013 Associeted Press
- PVMBG 24/11/2013 - Peningkatan status G.Sinabung Dari Siaga (level 3) menjadi Awas ( level 4 ), 24 november 2013.