From 01 to 16 November 2013, the submarine volcano Kick'em Jenny, located on the west side of the arc of the Lesser Antilles , has been explored by teams of Nautilus Exploration Program. The first images taken by the joint team of NOAA , the Ocean Exploration Trust Bechtel, the Sea Research Foundation, National Geographic Society, the Office of Naval Research and the University of Rhode Island, come from be published . This expedition is ten years after an earlier and will allow to visualize the morphological and biological changes in this particular area.

Kick'em Jenny is part of a group of four underwater volcanoes located 9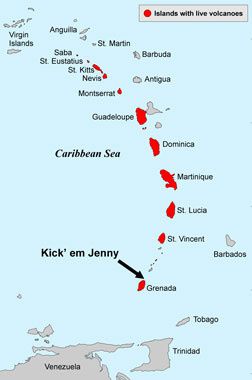 km from the northern coast of the island of Grenada . This volcano was discovered in 1939 , after numerous earthquakes and tsunamis that affected Grenada and the Grenadines, and even reached Barbados , the island's most easterly of the Caribbean.

Map of the volcanic arc of the Caribbean, and position of Kick'em Jenny, to the south.

An explosive eruption produced an ash plume more than 300 meters above sea level , since that date, at least twelve eruptions were counted , some causing surface disturbance and small tsunamis. The last eruption , dated 2001 , was preceded by strong earthquakes .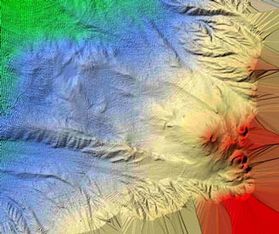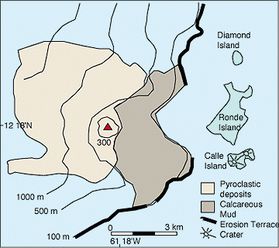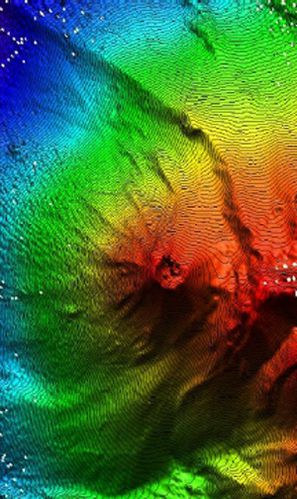 Top left : Kick'em Jenny and its neighbors Seabeam image - R.H.Brown ship observations in 2003 - at the top right , location of Kick'em Jenny and the Grenadines - doc . Un Oregonstate
Bottom: morphology of Kick'em Jenny, nestled in a shoe horse depression - doc . from a bathymetric map sonar by R.H.Brown ship / NOAA Ocean Explorer.

The eruptive activity is manifested as so effusive , with installation of domes, than explosive , accompanied by pyroclastic flows . Considered as the most active and dangerous underwater volcano of the Caribbean arc,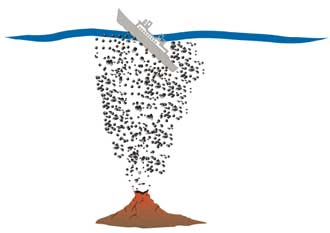 Kick'em Jenny present as specific risks explosive eruptions Surtseyan type and a potential generation of tsunamis, linked to surface explosions or collapses of volcanic edifice ( Devine & Sigurdsson 1995 / Lindsay et al. 2005).
The area is to be avoided, even between eruptions : the release of large amounts of gas bubbles from the volcano , with no signs of activity on the surface, can reduce the density of sea water above the vent, and decrease the lift of water . In August 1944, Queen Island, a wooden schooner , disappeared between the islands of Grenada and St. Vincent, leaving no debris.

Morphology of the volcano :

Successive recognitions show growth of Kick'em Jenny after the eruptions. In 1962, the crater was at 223-232 meters below sea level. The conical building up of 1300 meters showed in 1972 a crater 180 m in diameter, located at a depth of 190 meters. Two scars east of the volcano are identified as normal faults defining the plateau's break on the western flank of the Caribbean arc. Since the eruption of 1977, the top of the volcano is shallower and longer forms a dome structure that crater.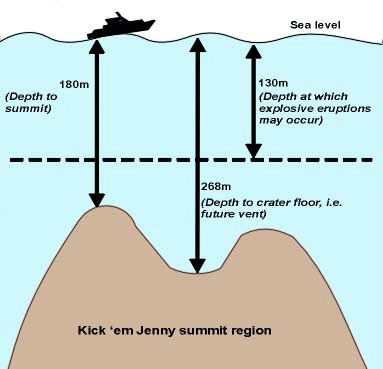 Kick'em Jenny - schema of the summit region of the volcano - doc . University of the West Indies Seismic reseach center

In 1989, a dive with a submersible reveals the structure of the cone formed by pyroclastic deposits and pillow lava flows. The edge of the crater and its walls are draped with chemosynthétic Proteobacteria dependent of sulfur.

In 2003, the NOAA expedition shows that the cone Kick'em Jenny is located in a major depression horseshoe - 5 km. facing west , probably formed by a break in the slope associated with avalanche debris. (see bathymetry above)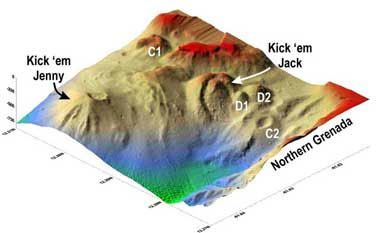 The cone is surrounded by a steep arc surrounding the volcano south , west and north. Dives allow to map five small unknown volcanoes in this area before .

Mapping Seabeam 2003 - doc . Courtesy of NOAA and SRU

Three volcanoes have a conical shape with well defined craters and two are domes in morphology . A cone having a crater in horseshoe held by a dome , is named Kick'em Jack , because of morphological similarities with Kick'em Jenny . Are there multiple magma chambers for these centers , or are they connected to a central supply system ? The question remains . The crater floor has gas emitting plumes ( unidentified ) and high temperature fluids - more than 250 ° C.

Exploration in 2013 aboard ship E / V Nautilus carries two ROV, appointed Hercules and Argus, capable of collecting biological and geological samples, of environmental measures and HD videos, plus a new system of multibeam scan and sonar .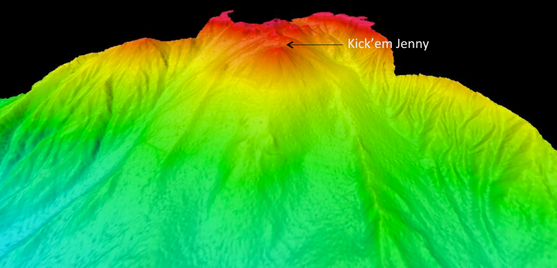 New bathymetric image around the Kick'em Jenny - doc.2013 Exploration Now by E/V Nautilus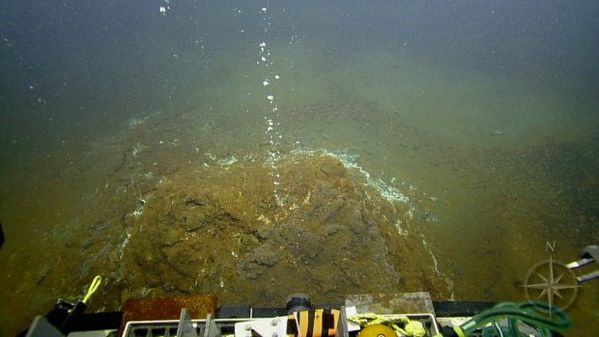 Kick 'em Jenny - active hydrothermal mouth - doc . 2013 Ocean Exploration Trust / Exploration Now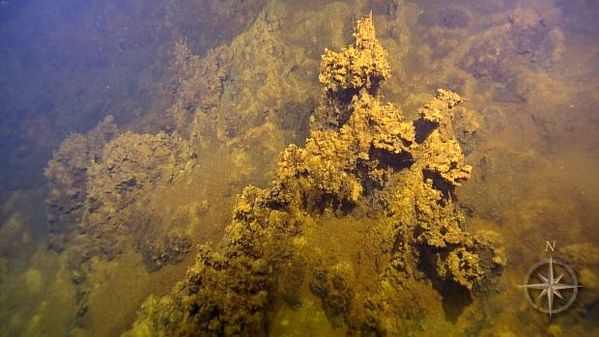 Kick 'em Jenny - a iron hydroxide chimney - doc . 2013 Ocean Exploration Trust / Exploration Now

Multiple debris avalanches associated with breaks on sides show that the life of this volcano proceeds through periods of growth and subsequent collapse. Life here is diverse, with the appearance of shrimps and large boomerang mussels.

Additional information will follow as communication, after flaying and study of statements made ​​recently in 2013.
Sources :
- Global Volcanism Program - Kick'em Jenny - Monthly reports
- Nautilus Live - 2013 Exploration program - link
- The University of the West Indies - Kick'em Jenny history - link

- The University of the West Indies - Kick'em Jenny hazards - link