With the approach of the feast of the Nativity , it is good to be back on three births this year among the volcanic islands.

In the Izu- Bonin volcanic arc , the new Niijima island is still growing on the side of Nishino -shima in the Ogasawara islands. After the appearance on the surface of the cone between 21 and 25 November, the subaerial volcanic activity , characterized by sporadic Strombolian explosions and lava effusions , has continued to develop the island.
Two lava delta formed between late November and 10 December , and between 10 and 13 December. Its measurements are around 400 m. (E- O) at 300 m. (N -S ) .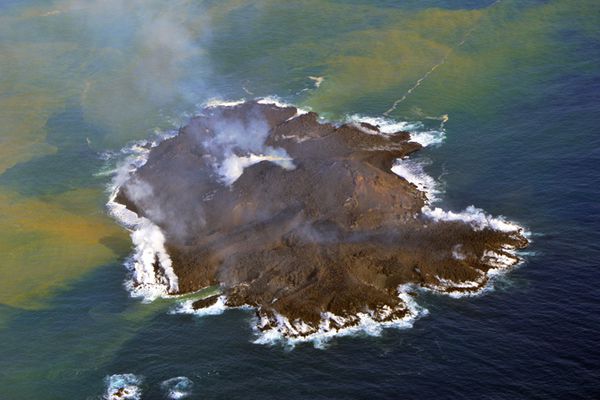 Niijima - photo Japan Coast Guards / 12/13/2013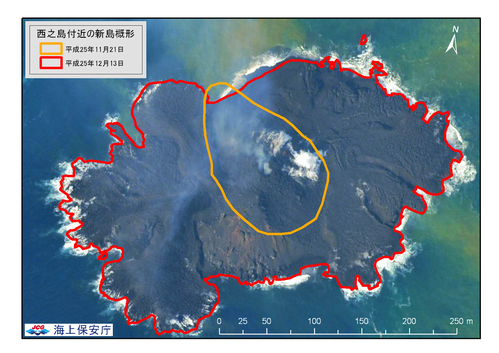 Niijima - contours of expansion : in yellow, 25/11/2013 - in red: 12.13.2013 situation, with the addition of lava deltas on both sides . - Doc . Japan Coast Guards.

Niijima - thermal imaging targeting recent lava flows - docs . 12/17/2013 Japan Coast Guards

In the Red Sea , a submarine eruption in the volcanic group Jebel Zubair gave birth to a new island September 28, 2013 . The activity currently restarted on November 6, to continue at least until November 20 . The view from the satellites was then hidden a few days, and a Landsat 8 image taken on 24.11 leaves no view of activity .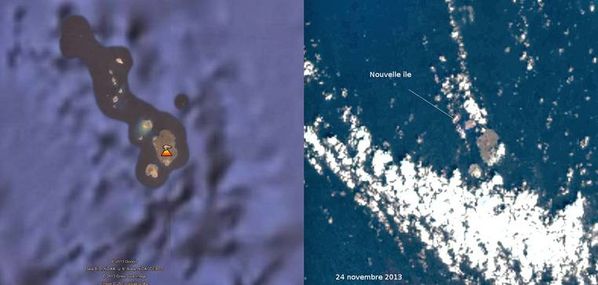 Jebel Zubair - left, Google image before the eruption - right , photo taken by Landsat on November 24, 2013 - Doc. Volcanodiscovery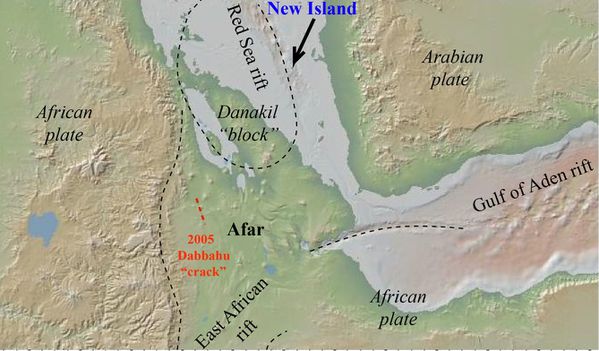 Geotectonic context of the region and position of the new island - doc . capital Erythrea

After the strong earthquake of M 7.7 that hit Pakistan on September 24 , a new island has emerged off Gwadar . Called Zalzala Jazeera ( earthquake island) , it is 152 m. on 182 m., and exceeds the sea level of 15-20 meters ( NASA EO- 1). The surface of the island is mostly muddy and its crust is covered with large boulders . Methane gas comes in various parts of the island, according to experts at the National Oceanographic Institute , suggesting a rise of mud and rocks to the surface under the pressure of gas released by the earthquake.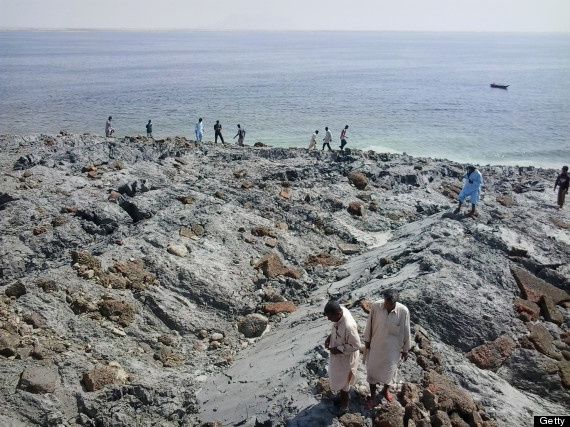 Zalzala Jazeera - 25/09/2013 - photo Getty Images

According to seismologists , this island is temporary and is expected to disintegrate rapidly under the combined effect of marine erosion and a reduction in gas pressure, before disappearing beneath the surface of the ocean.

A recent exploration of the area by the WWF Pakistan reveals a rich biodiversity appreciated by local fishermen. Four species of branching corals were also identified .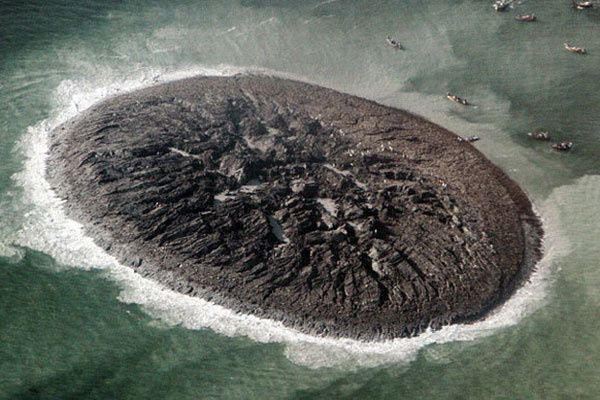 Zalzala Jazeera - Aerial View - NASA Earth Observatory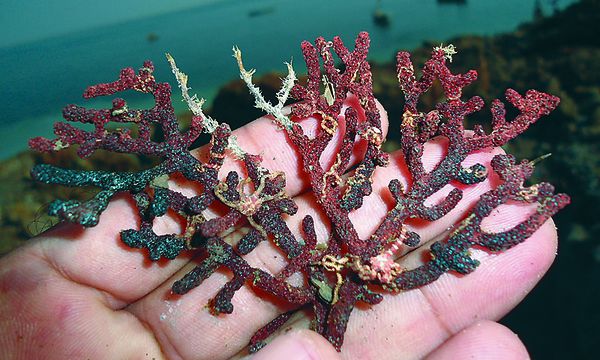 Acabaria delicatula - branching coral found on Zalzala Jazeera - photo WWF 's Abdul Rahim 22/11/2013
Sources :
- Niijima / on this blog : link

- Jebel Zubair / on this blog : link

- Zalzala Jazeera / on this blog : link