At Sinabung / Sumatra, ash emissions , abundant and continuous until December 6, gave way to bad weather conditions related to early rainy season. The seismicity remains intense and deformation in the summit area are recorded. Landslide noises were collected and attributed to the growth of a dome at the top.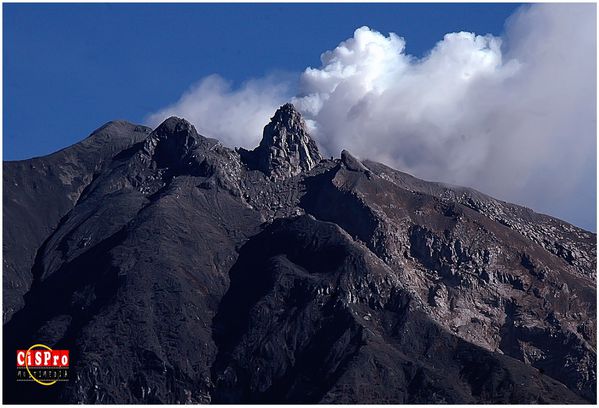 Sinabung - beautiful lava needle on the top of the volcano - 17/12/2013 Photo CISPRO Multimedia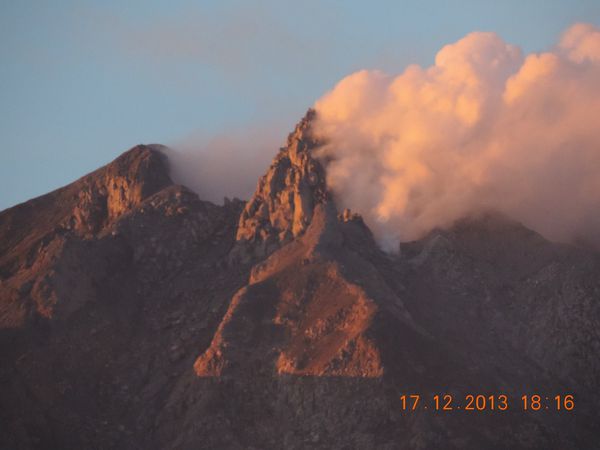 Sinabung - active degassing lava needle - 2013.12.17 picture Martin Ledanto Sinulingga

The situation of evacuees ( over 18,000 in the last census, 17.12 ) remains precarious : a lack of water and sanitation, and respiratory diseases, constituting a lethal danger to children , characterize the life in the camps (LEARN - Local Emergency Response Assessment Network)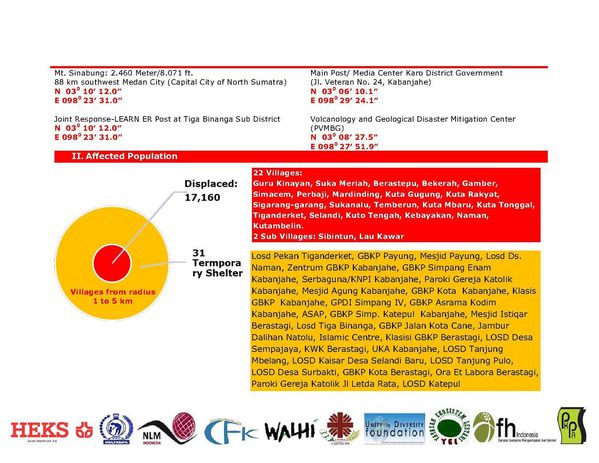 Type of report provided by the LEARN with the names of evacuated villages, the number of displaced persons, and temporary shelters - doc . LEARN

In Colombia, Galeras has degassing phases alternating with ash emissions . Seismicity is low to moderate.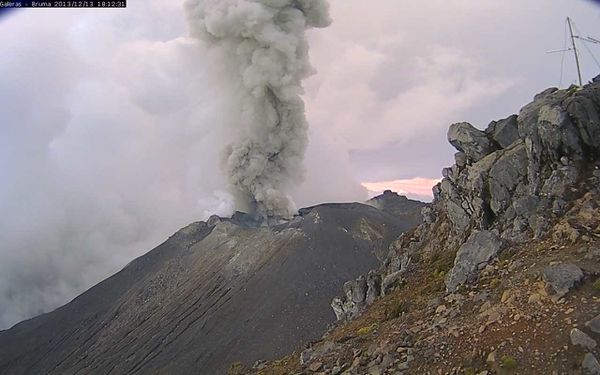 Galeras - the explosion ashy 12/13/2013 - New Ingeominas webcam Galeras .

The Nevado del Ruiz in turn emits large amounts of gas and water vapor , forming a plume that rises to 1700 m . over the top, from time to time a little laden with ashes. The alert level remains at 3 / amarillo .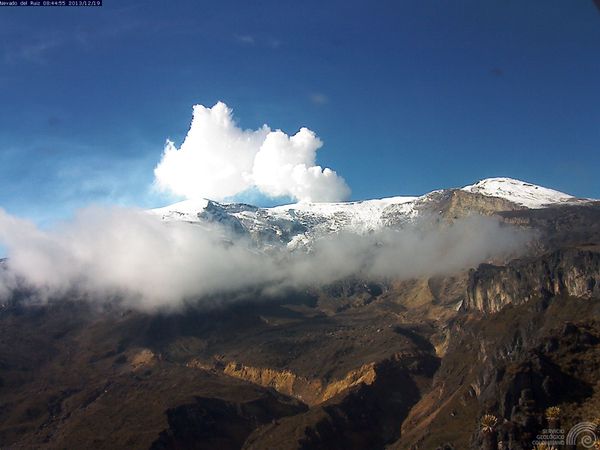 Nevado del Ruiz - 19/12/2013 / 8:44 - photo SGC Manizales

In Guatemala, the Santiaguito introduced 12/18/2013 moderate explosions propelling an ash plume 3,300 m asl. , dispersing to the SW, with ash fall on the mountainous areas of Monte Claro .
The INSIVUMEH indicates a further increase in activity at Fuego . Strombolian explosions and increasing of the flow of lava, overflowing from the top of the slope SO towards the ravine Ceniza are recorded .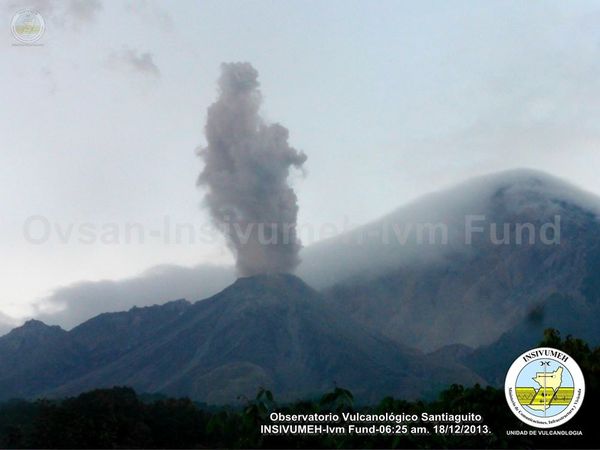 Santiaguito - 18/12/2013 / 6:25 - photo INSIVUMEH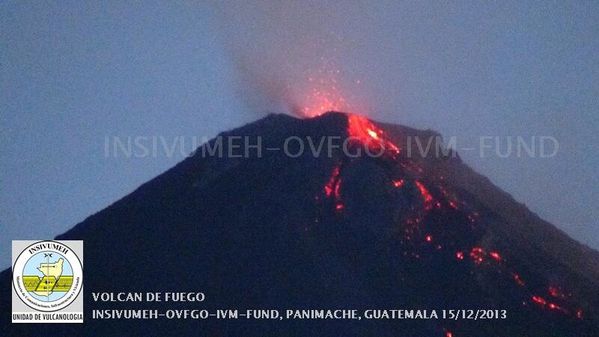 Fuego - 15.12.2013 - photo INSIVUMEH

In Chile, the NOAA reports an ash cloud drifting from the NE rift zone of Cordon Caulle , 14.12 from 8am .Like no other evidence of recovery of activity was detected, it is likely a remobilization of ash by wind .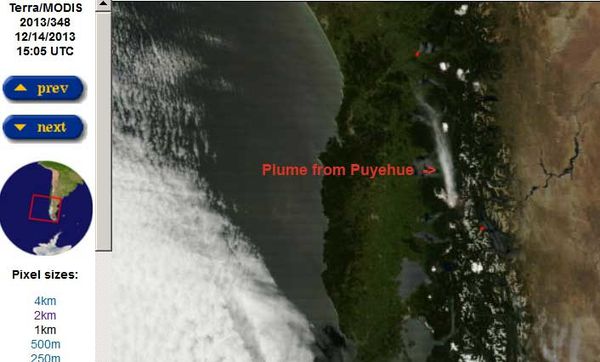 Ash plume of Pyuehue - Cordon Caulle on 24.12.2013 / 3:05 p.m. - Sat picture Terra Modis

Kamchatka : Three volcanoes remain at orange alert level : the Shiveluch , the Klyuchevskoy and Karymsky .
At Shiveluch, the extrusion of a dome, located NW of the old lava dome , continues, accompanied by incandescent rockfalls , and moderate ashy explosions.

A birthday in the archives of the AVO : there 24 years, the One of the Anchorage Daily News reported the incident of a Boeing 747 on approach to Anchorage airport December 15, 1989 . Its engines stopped after passing through the ash cloud from the eruption in progress at Redoubt ... to turn back after a fall of several thousand meters, and allow him a "normal" landing.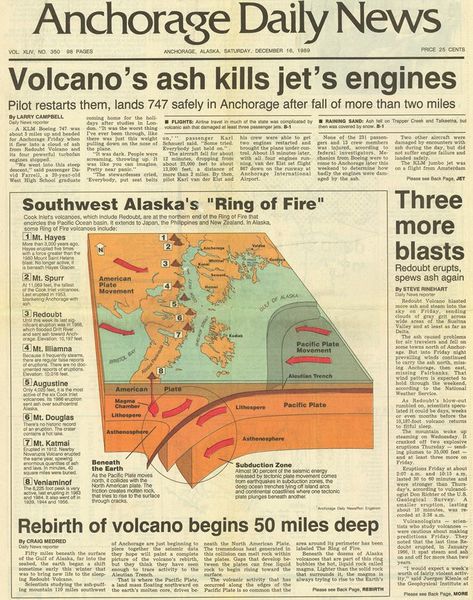 Image courtesy of the Anchorage Daily News / AVO