In the Canary Islands, Tenerife is known especially for its flagship volcano, the Teide, located in the wide Las Cañadas caldera.
The south of the island, less raced, has yet one of the best examples of explosive phreatomagmatic volcanism : the Caldera del Rey.
Tenerife - El Monumento Natural de la Caldera del Rey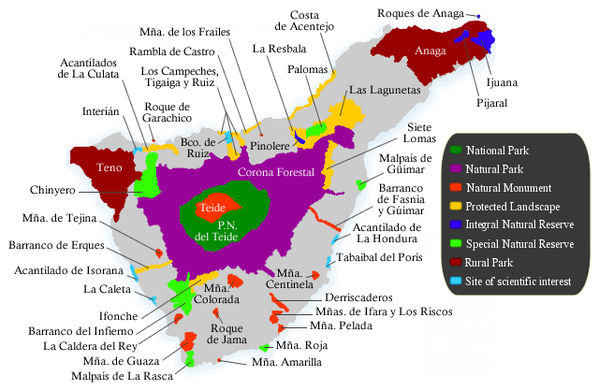 Tenerife - map of the national parks and protected landscapes - Caldera del Rey is located south - west of the island (small orange zone)

Caldera del Rey is a maar, diatreme type, formed by an explosive eruption that perforated the most southerly flows ot the ancient series of Roque del Conde .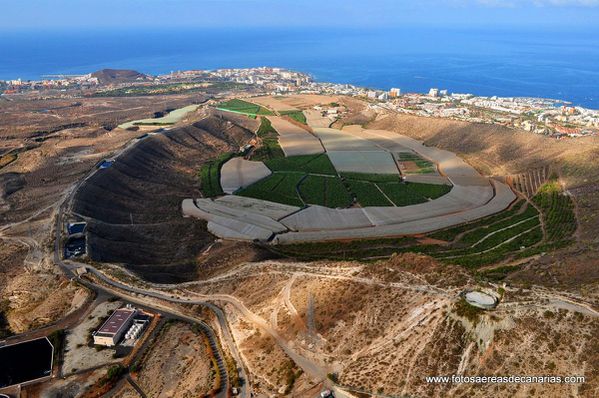 Tenerife - Caldera del Rey - doc . fotoaereasdecanarias

The morphology of the caldera is in the form of two overlapping ovals,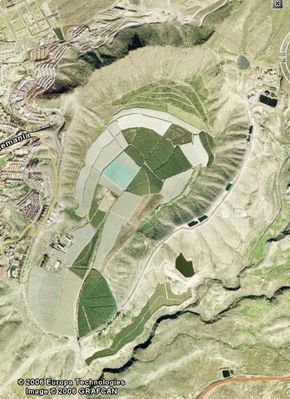 suggest a formation due to a double eruptive episode leading to two nested calderas .

The initial semi- caldera is located at the southern end . Trachytic and / or phonolitic tuffs are mixed with the banking basalt .

The second maar has a diameter of 1200 m . Material expelled during its creation is based on those of the first maar formed, resulting in a visual discrepancy. After the cessation of volcanic activity, the set has been subject to erosion, which formed a series of ravines, known under the name of Barranco del Rey. - Photo Google Earth
The bottom of the caldera was clogged with soil formed "in situ" by the disintegration of pumice deposits .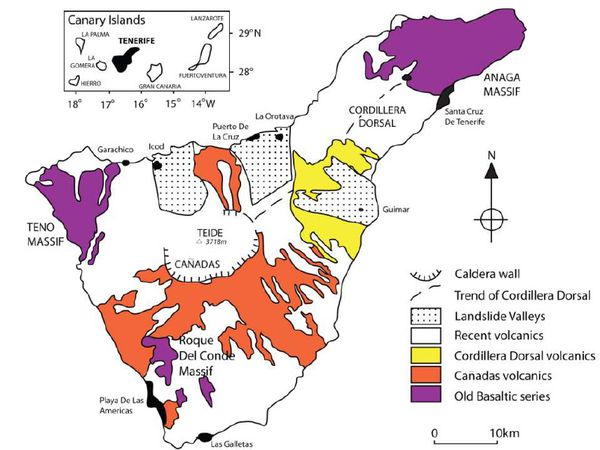 Tenerife simplified geological map - the ancient volcanicmassive, island trainers, Teno, Anaga and Roque del Conde, arranged in star, are colored in purple.

Since the 1500s, the caldera became a farmer's field, a domain belonging to Alfonso Dominguez family, from Arona. From basal cultures, such as potato and wheat, we quickly moved to more cash crops for export, such as cotton, tobacco or cochineal ( which is extracted to dye textile and cosmetic use). Today plantations of bananas and tomatoes, under glasshouses, are side by side with those of oranges, lemons, mangoes and avocados, and occupy half the surface of the Monumento Natural de Caldera del Rey.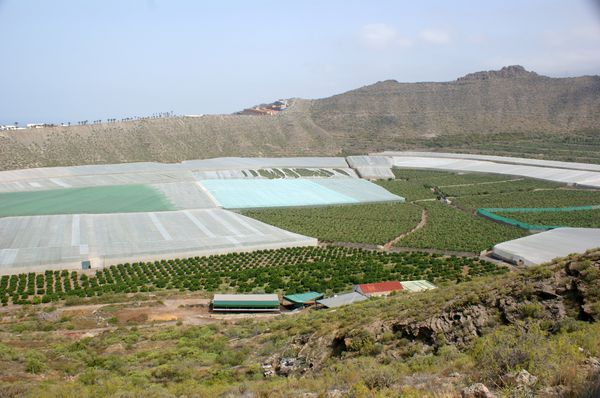 Caldera del Rey - crops under glasshouses - photo Tenreife horses.

The presnt fauna consists mainly of birds, including kestrels and trumpeter finch ( Bucanetes githagineus - Bouvreuil githagine ), small finches common in North Africa and the Middle East.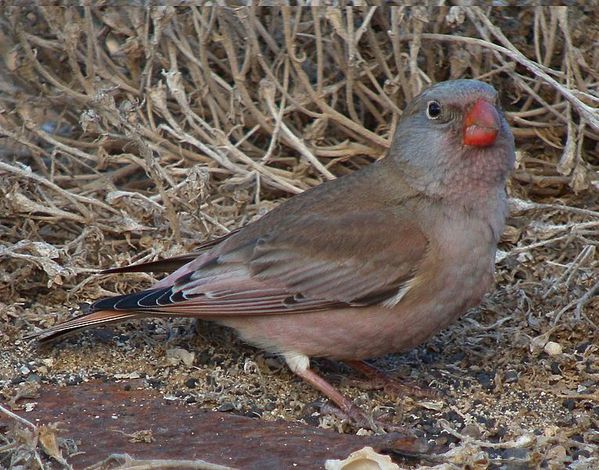 Trumpeter finch - Bucanetes githagineus - photo Fr Vassen

Sources:
- Monumento Natural de la Caldera del Rey - Gobernio de Canarias
- The Canary Islands : an example of structural control on the growth
of wide oceanic- island volcanoes - JC Carracedo