How to describe the universe of this Sicilian painter ? Diving into a dark and mysterious universe , served by an overactive imagination ... the surreal paintings of Fulvio Di Piazza recreate anthropomorphic landscapes, with a wealth of detail and a nice depth .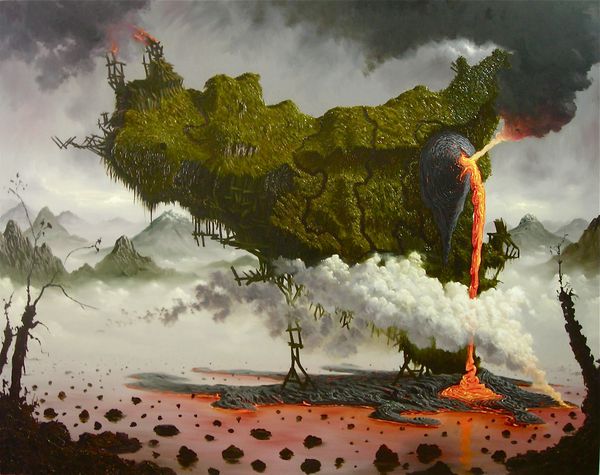 Fulvio Di Piazza - Zolla - 2011 - courtesy Bonelli Arte Contemporanea , Canneto sull'Oglio (MN) / Artribune .

The artist was born in 1969 in Syracuse . After studying at the Academy of Fine Arts in Urbino, he worked at Palermo. His paintings are exhibited in many cities, Rome, Venice , Milan, but also New York, Los Angeles or London.

His work is based on the book by Jeremy Rifkin and Ted Howard, "Entropy" - 1980 : The authors analyze the global economy and social structures using the second law of thermodynamics , known as the law of entropy . They argue that humanity is wasting its resources at an increasing rate , leading eventually to the destruction of civilization ... which has already happened, on a smaller scale, with some societies in the past. The book encourages the use of sustainable energy sources and a slow consumption of resources as a solution to delay or prevent death by entropy.

Fulvio Di Piazza explores notions of time, energy , and matter constantly renewed over billions of years. His paintings depict a world where the basic elements of life are constantly remodeled.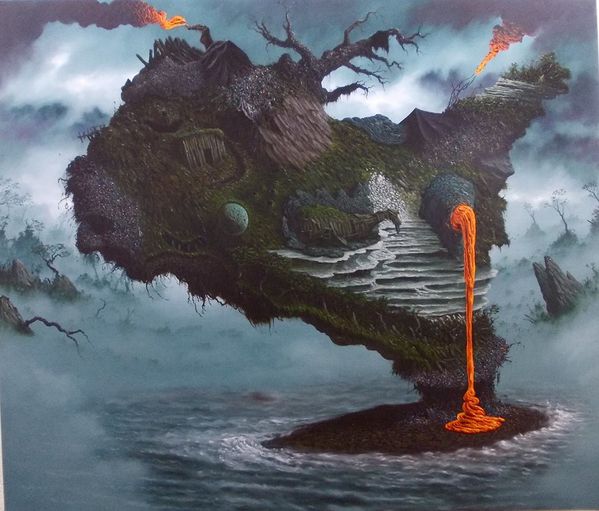 Fulvio Di Piazza - La Conquista dell'Inutile - photo 2photo.ru

His Sicilian surroundings influenced his work: the confrontation between Norman- Arab- Byzantine architecture and modernism , the duality of (volcanic) ash , both leftover materials consumed by fire, and the beginning of a new cycle of these materials ... everything is interpreted as a potential renewal beyond the chaos of the end of the world. Like the phoenix , its worlds reborn from destruction.
Landscapes, trees, the animals, the clouds , all highly detailed and textured , combine them , often dominant or in hot lava, to become something different than their individual components.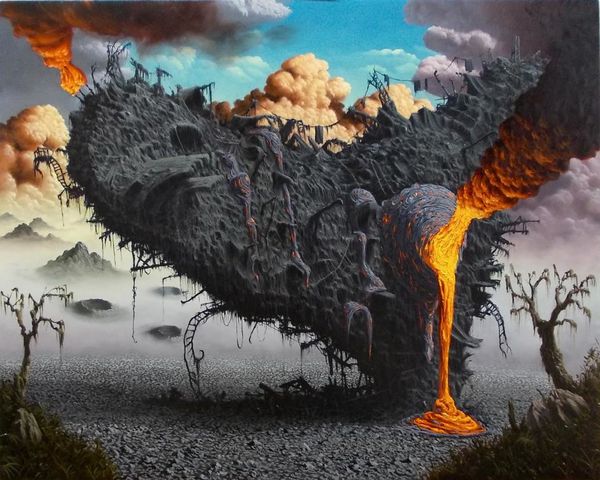 Fulvio Di Piazza - Dustycily - photo alldayplus

I found three works, including, intentionaly or in unconscious way, the shape of Sicily, with a volcano drooling lava , positioned east side, like Mount Etna on the island.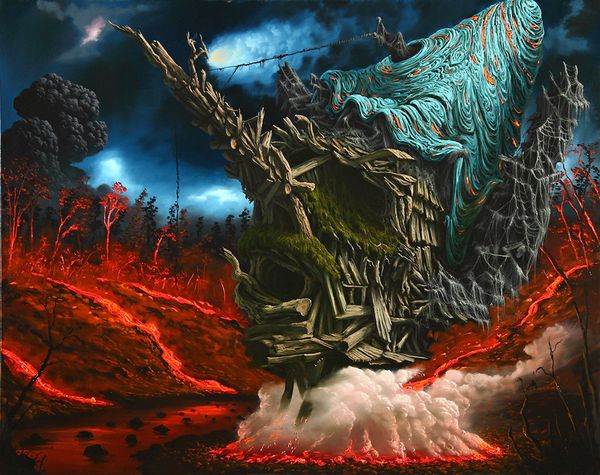 Fulvio Di Piazza - Liar - his exhibition "Ashes to Ashes" at J Le Vine gallery

In his series "Ashes to Ashes" , recently exposed to Jonathan Le Vine Gallery in New York, his artistic work takes a dramatic new direction in its volcanic imaging.

Figures writhe among the clouds of smoke, with faces made ​​of charred , and vulnerable and burning body on a background of steaming peaks , embers or lava flows out of craters, like the blood of the Earth.

Other works in this video:
Sources :
- Artribune - La terra trema - Fulvio di Piazza al Museo Riso di Palermo - link
- Jonathan Le Vine gallery - Fulvio Di Piazza - Ashes to Ashes - link