The alert level of the Raung volcano, located in East Java, SW of Ijen massif , has just been raised a notch (level 2 / Waspada ) on January 5, 2014 , following an increase of seismicity and a brownish gas fumes . A ban 2 km. around the crater is now in force .
The caldera Raung - photo Andi guide volcanism / September 2011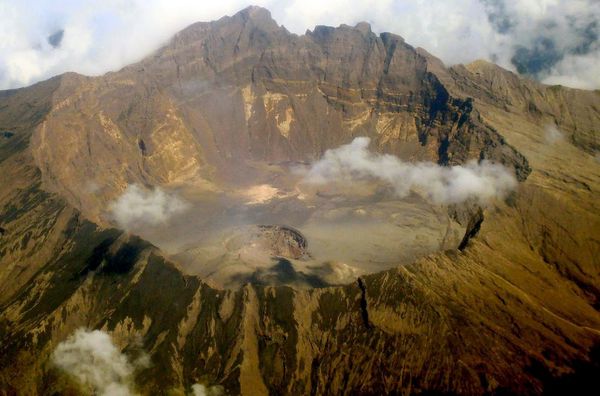 The top of Raung - aerial photo via Avcan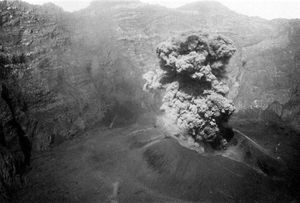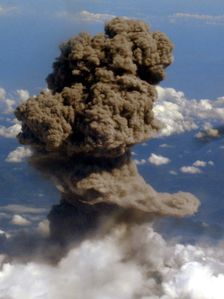 On the left, Raung - 1913 - picture archives Tropenmuseum .

Right, the plume Raung , 17.06.2008 - photo K.Kebaili / GVP

The last eruption was dated 12-17 June 2008, where she developed a rising plume at 4,500 m altitude.

Peaking at 3332 meters , this building has the typical form of a stratovolcano, with the exception of NO flank, attached to the Suket close volcano . Its summit is truncated by a caldera 2,000 meters in diameter, with steep walls . A prehistoric collapse of Gunung Gadung on its western flank caused a massive debris avalanche that traveled 79 km , almost reaching the Indian Ocean.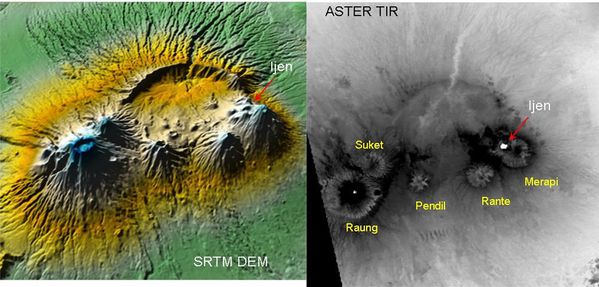 Images SRTM DEM and ASTER TIR of Ijen volcano complex - doc ULB be.
On the left image , the Raung is left - on the right image , two thermal anomalies are visible, at the Kawah Ijen and Raung.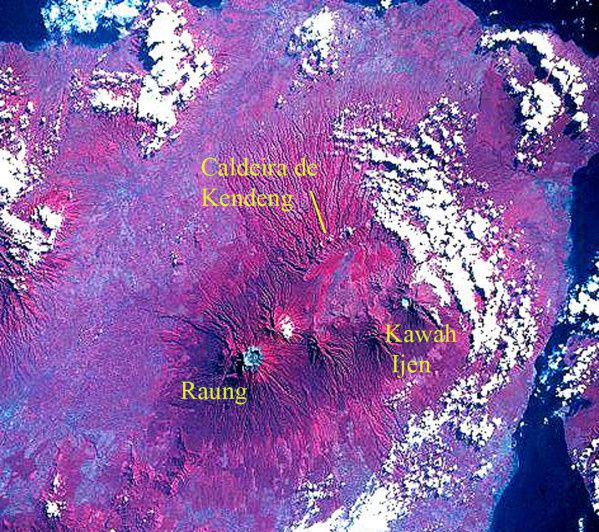 Raung and Ijen complex - in infra- red, lake Kawah Ijen and the bare summit of Raung appear clearly in another color - doc . ISS / NASA Photo ID STS049 - 097-050 , May 1992.

Cross section of the caldera Raung compared to the estimated height of G. Gadung before its collapse

Among the 127 active volcanoes in Indonesia , one has been upgraded to IV / awas the 24/11/2013 , the Sinabung .
Three are on level III / Siaga : the Karangetang since 03/09/2013 , the Rokatenda since 13.10.2012 , the Lokon on 24.07.2011 .
In addition Raung , seven are in level II alert / Waspada for more than six months: the Ibu since 10/12/2013 , the Lewotobi Perempuan since 30.09.2013 ; Kawah Ijen since 08/26/2013 , the Gamkonora since 01.07.2013 , the Soputan since 14/06/2013 , the Papandayan since 06/06/2013.
Sources :
- BNPB - Waspada untuk Gunung Raung - link
- VSI / Badan Geologi - link
- Global Volcanism Program - Raung

- ULB - The use of multispectral satellite data to retrieve temperatures from volcanic lakes - Prof.A.Bernard - link