St. Vincent is located north of the Grenadines in the southern part of the the Lesser Antilles volcanic arc. Oval , it measures 29 x 17.5 km.

A central volcanic chain has, from south to north, six extinct volcanoes , Mt. St.Andrew , the Grand Bonhomme, the Petit bonhomme, Mt. Hermitage, Richmond peak, and Mt.Brisbane, and an active volcano, La Soufrière St Vincent.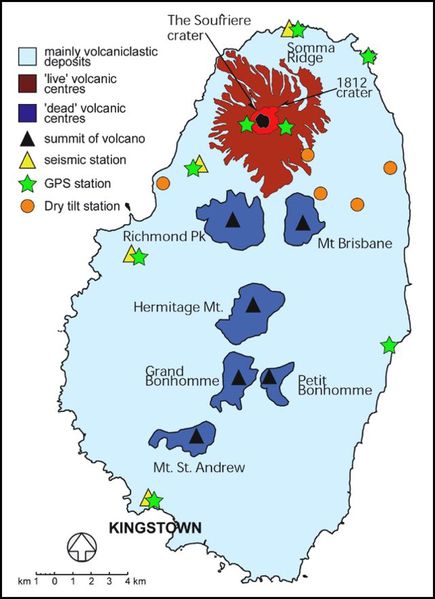 St. Vincent - location of volcanic centers and facilities monitoring - 2004 - GVP

This channel divides the island between a sloping east side and a west side jagged and rough. These stratovolcanic centers show a staggered migration activity from south to north and a formation dating between 3 Ma and 600,000 years . There are, however, after the migration of the main centers of activity northward to the Morne Garu and the Soufriere , small eruptions at Belleisle and Kings Hill to the south, which produced cinder cones ( Rowley 1978).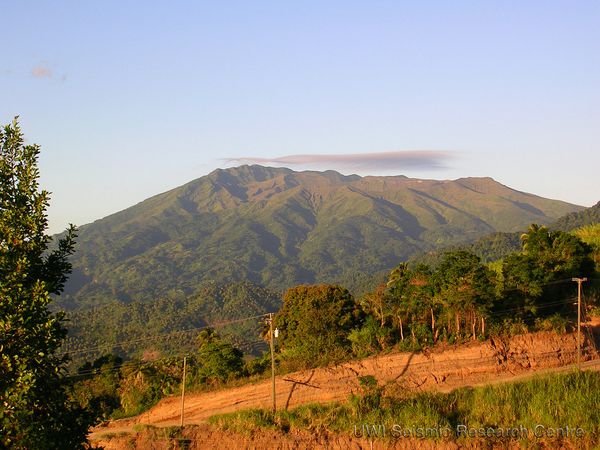 St. Vincent - La Soufrière - photo 10.08.2009 - photo University of the west Indies .

The Soufrière of St. Vincent volcano , 1,178 meters high , is the youngest volcano on the island . The summit crater, 1,600 meters wide, is located on the SW rim of the crater of a somma 2.2 km. wide, broadly breached on his southwest side by a flank rupture .

Frequent explosive eruptions, there are some 4,300 years, produced pyroclastic deposits, known as Yellow tephra formation that covered much of the island. The first historical eruption is dated 1718 ( VEI 3), and form, with that of 1812 ( VEI 4), two major events .
From May 1902 to March 1903 , the north of the island was devastated by a major eruption, VEI 4, which coincides with the catastrophic éruption of the Mount Pelee on the island of Martinique .

A lava dome took place in 1971 in the summit crater during a strictly effusive eruption , and formed an island in the lake filling the crater in 1979.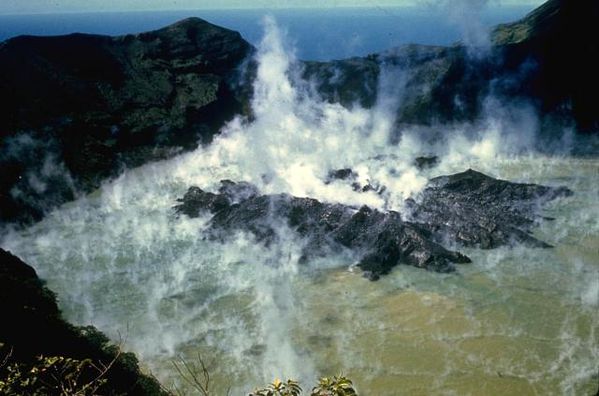 End of 1971 , a lava dome is growing in the crater lake of St. Vincent - photo Jack Frost.


St. Vincent - in 1977, the lava dome occupies the major part of the crater - photo Ron Howard / Harvard Univ.


St. Vincent erupting on 04/22/1979 - photo Richard Fiske / Smithsonian inst .

From April 13 to October 26, 1979 , an eruptive period is accompanied by explosions and extrusion of lava. Strong explosions in April produce large plumes of gas and ash, and pyroclastic flows forcing the evacuation of more than 17,000 inhabitants of the north of the island . April 14, 79, the main pyroclasticflow floods the Larikai river valley, and continued until he reach the sea.This éruption is described of VEI 3 by GVP .
The lake is then ejected in a series of explosions , the dome then replaced by another .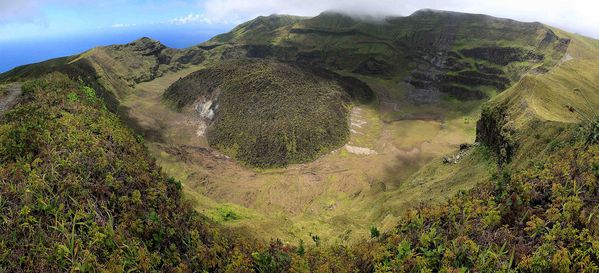 St. Vincent - the crater and the new dome in 2007 - photo University of the west Indies .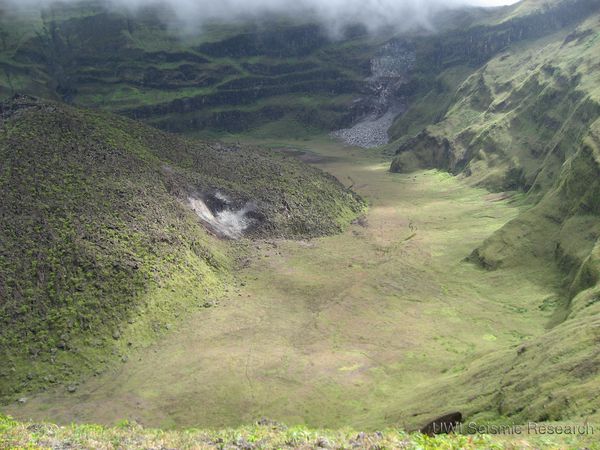 St. Vincent - 12.02.2007 - the crater , with a portion of the dome on the left - photo University of the West Indies .
Sources :
- The University of the West Indies - volcano profiles - St Vincent
- Global Volcanism Program - Soufrière Saint Vincent