Among the unexpected and recently "discovered " calderas , we saw large calderas Utah (Wah Wah springs ) . A document of M.T.U., by Richard Wunderman & William Rose, reveals a caldera located ten kilometers south of the Guatemalan capital : the caldera Amatitlán .

This caldera 16 km 14 is not a spectacular scenery and is not obvious to represent visually . It should not be confused with Atitlan caldera , located 50 km. further west .
It required a battery of different techniques to be interpreted .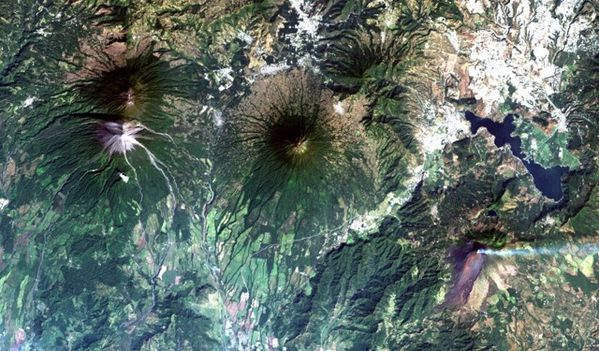 To the left, the Acatenango and Fuego volcanoes - Agua volcano in the center and at the bottom right, the Pacaya smoking, and north of it , the Amatitlán lake - the bright spot in the upper right corresponds to the Greater Guatemala City. - Doc. NASA Landsat 2000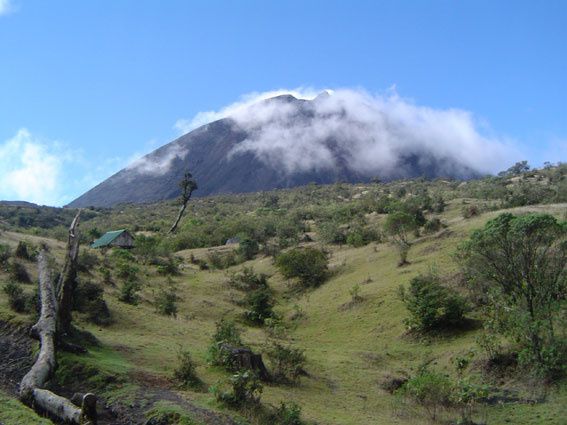 Pacaya, an active volcano, located south of the caldera Amatitlán - photo M.Castro

The caldera was not previously identified because of the coincidence between its east and west edges with faults, and the recovery of its northern border by pyroclastic material . The existence of this northern border was established by gravity data , and various geological observations , such as faults in circumference , the presence of hot springs , and data and lithological changes in sedimentary rocks .

A sequence of nine silicic pyroclastic deposits, totaling a volume of over 70 cubic kilometers of dense rock, comes from the caldera eruptions. These eruptions are dated from about 300,000 to less than 23,000 years ago.
Emissions from the caldera and associated vents consist of domes, not welded ignimbrites, ash and surges deposits, mostly rhyolitic or dacitic composition .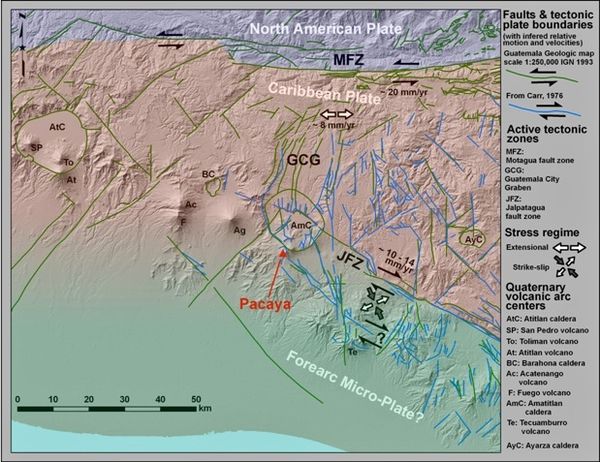 Tectonics of the southern region of Guatemala -doc . geo.mtu.edu
AmC : caldera Amatitlán - AtC : Atitlan caldera - JFZ : Jalpatagua fault zone - GCG : Guatemala City graben

These eruptions and the ambient tectonic suggest that the caldera must always be considered active , despite wide ranges of rest between phases of activity. It is in effect at the intersection between a shift in the volcanic chain bordering the Pacific, called Palin Shear, and the fault zone Jalpatagua .

The caldera has a resurgence dome, with faults and is intersected by a longitudinal graben . The alignment of the fault zone Jalpatagua and graben suggest a formation's link . Seismic data show a concentration of epicenters over the northern part of the dome resurgence , near a relatively young intrusion.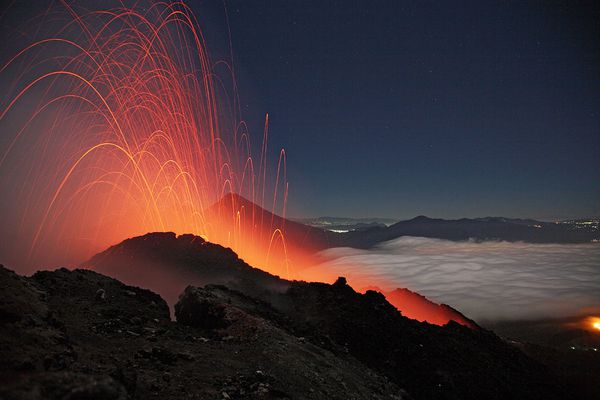 Pacaya - strombolian activity in December 2007 - at the bottom , a few lights of the Greater Guatemala City - photo Thorsten Boeckel

An eruption, even modest, in this area could affect the dense population , especially as the Pacaya volcano is still active ... more than a million people live within a radius of 20 km.

Extrapolating these recent data , the most common type of activity should be Plinian to phreatoplinian, or extrusion of a dome, or near Lake Amatitlán, or in the northern part of the caldera.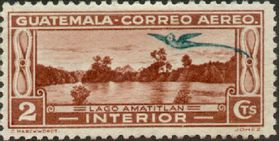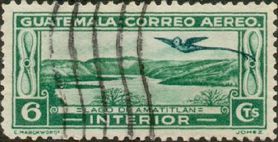 Amatitlán - Stamps 1935 - Printed in photogravure by Johan Enschede and designed by Carlos Marckwordt .
Sources :
- Amatitlan, an actively resurging cauldron 10 km south of Guatemala City – by Richard Wunderman & Will. Rose / Michigan Technological University - link

- Underthrusting and Quaternary faulting in northern Central America – by M.J.Carr