Two volcanoes are active in Sumatra at the moment: the Sinabung and the Marapi !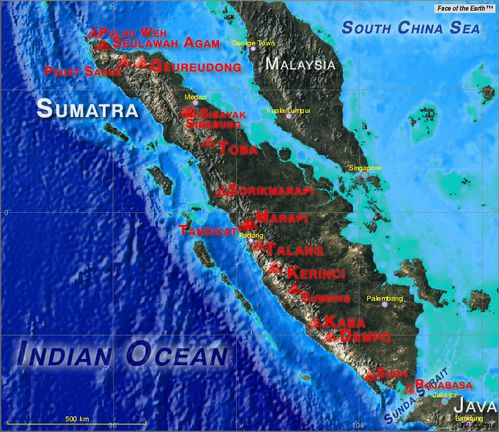 Location volcanoes on Sumatra - doc Face of the earth

Thursday, January 9 , Gunung Marapi recorded five explosives episodes between 5:34 p.m. and 7:14 p.m., PVMBG officials said, accompanied by small ash plumes amount to about 250 m above the top and a steam plume surmounted the volcano to 20h . The eruptions are due to increased seismicity since January 1 .
The VSI has maintained alert level II / IV , but recommended not to approach the volcano within a radius of 3 km. ( Republika on line )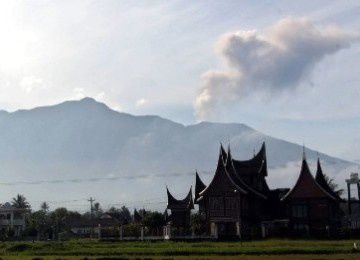 The Gunung Marapi - undated photo Antara / Arif Pribadi

The activity continues, stable and always intense, on Sinabung.
The dome is continuously fed and produced numerous pyroclastic flows , always in the same ravine , always of the same magnitude . The past 48 hours the only notable change is the direction in which it flows, towards the south -east in the beginning of crisis, however, still largely in the area of ​​7 km ( only a few flows are little more than 4 km long and the longer reach 4,5 km) .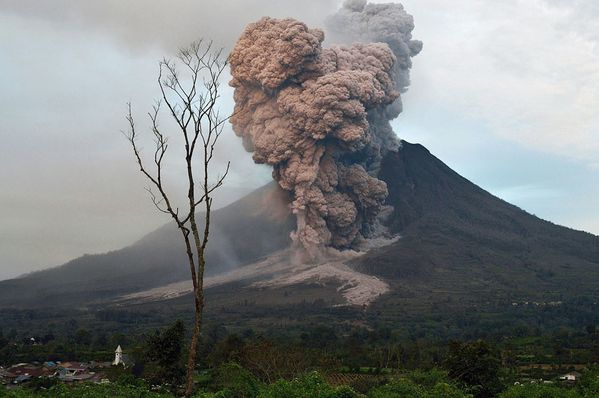 Sinabung - 01/08/2014 - Flow and co- pyroclastic cloud - light gray deposits of preceding pyroclatic flows - photo Sutanta Aditya / AFP

Ash cause a lot of inconvenience to the people : the ashes are deposited on the fruit, preventing photosynthesis and ripening of the fruit.
In contact with moisture and rain , they turn into a compact cement which does not allow breathing the soil, when they are not washed away, turning into lahars that carry plants.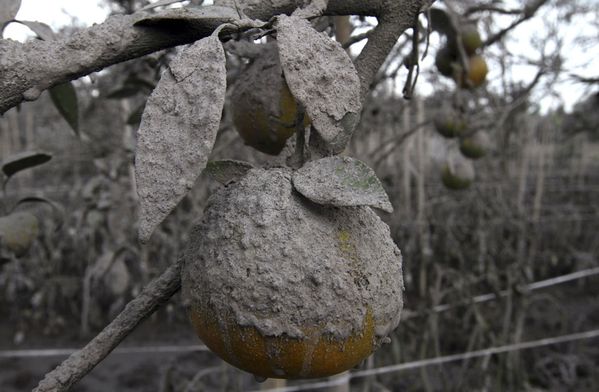 Sinabung - 10/01/2014 - ash stick on oranges and leaves, near the village of Sibintun town - photo Roni Bintang / Reuters

The gas and ash affect the airways of people, and play a key role in the development of pulmonary fibrosis (silicosis) ... inhaled crystalline silica is classified as a carcinogen . Gases are also due to acids rains by combination with moisture.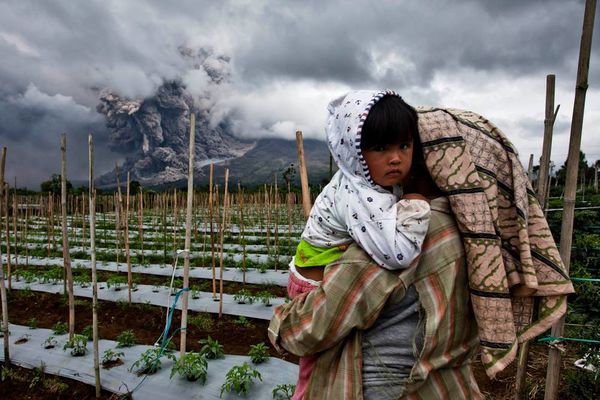 A woman carries her daughter up in his field , while the Sinabung emits a pyroclastic cloud - 04.01.2014 - photo Ulet Ifansasti / Getty Images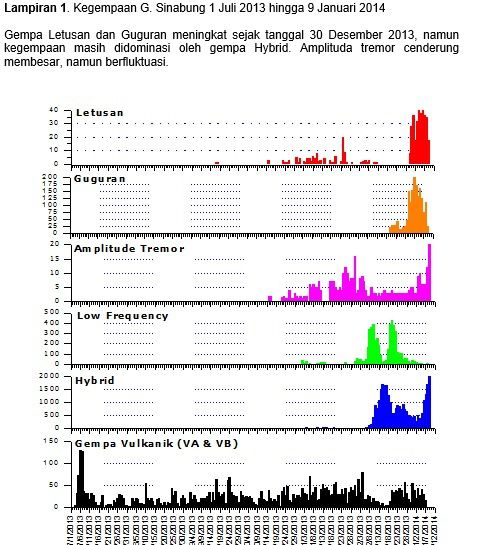 Seismic Activity of Sinabung in recent weeks - report VSI 3 to 10/1/2014
Sources :
- VSI - Badan geologi - link
- Presse locale : Jakarta post - Republika on line.