An INSIVUMEH's report of 11 January 2014/19 : 00 pm indicates the first Pacaya's strombolian eruption of the year, visible from the capital. It is accompanied by projections 100 meters above the crater and impact on the cone Mc Kenney.

After eight hours of this type of strombolian activity , it grew and grew to an outpouring of lava flowing in both arms toward the south and west.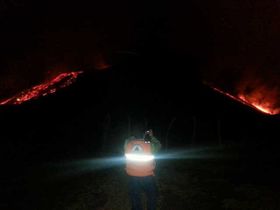 Pacaya- 11.01.2014 - left , photo wmorena - right , photo CONRED

Twelve hours after the onset of the eruption, two lava flows are powered by four craters. The lava flow have 3,000 meters long on the west side (flowing to the north, then to the west) , the other on the south side is 1,800 meters long and 600 meters wide .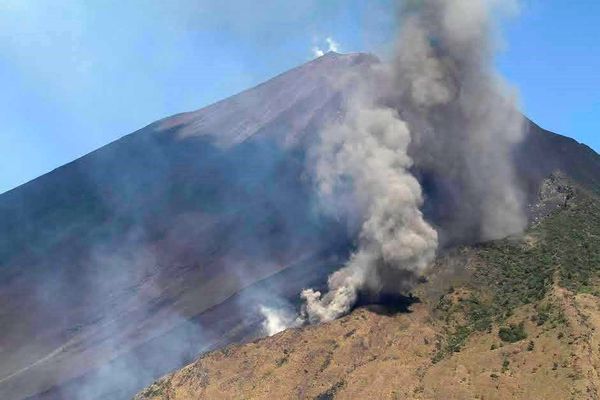 Pacaya - 11.01.2014 - in the foreground, the eruptive fissure north - in the background , the cone Mac Kenney - photo CONRED / Flickr

The CONRED made ​​the first evacuations and activated the emergency operations center in San Vicente Pacaya , with various locations to provide shelter and care to the residents.The Pacaya park is closed.
In its special report No. 7, the INSIVUMEH reported the appearance of three new emission of lava in the middle and bottom of the active cone , accompanied by explosions of steam and gas. From small craters on the eastern and western sides, flow out large quantities of fluid lava, forming a single flow at the base of the cone , reaching 5000 meters long and a width of 800 meters . This casting has set fire to the vegetation of coffee and avocado. Fires are fought by teams of volunteer firefighters.
the flow on the southern flank in the direction of Chupadero has smaller dimensions : 500 meters long and an average width of 250 meters.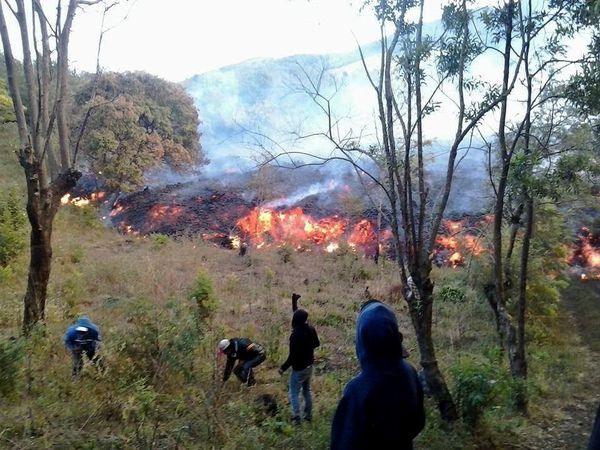 Pacaya - the Lava 11.01.2014 - photo Alexander Rodas / GT Meteorologia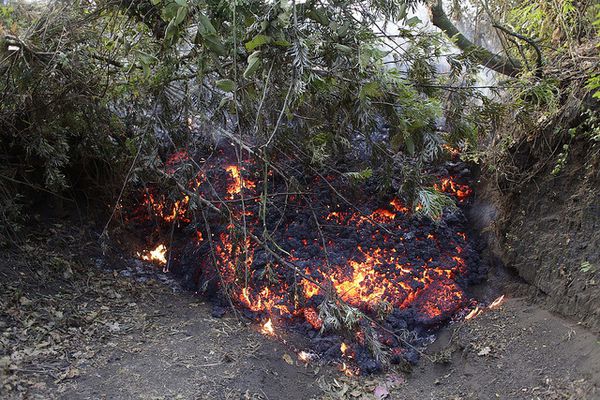 Pacaya - 11.01.2014 - Front of the "aa" lava flow in the vegetation - photo CONRED / Flickr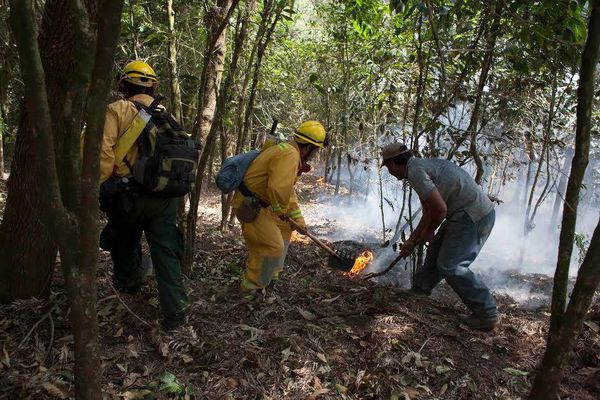 Pacaya - 11.01.2014 - fires are fought in vegetation - photo CONRED / Flickr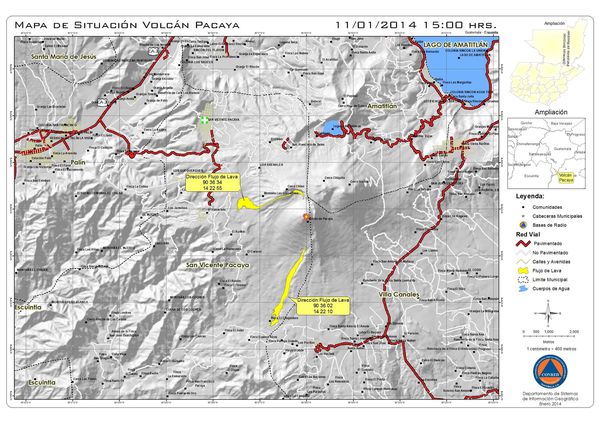 Map of the castings 11.01.2014 at 15h . - Doc. Conred

NB : According to the map and photos , the eruption involves at least two fissural effusive vents at the base N ( alt. 2250 m ) and S ( alt.1880 m) of the Mc Kenney, while reports cite three vents on the flanks E, O and S of the volcano.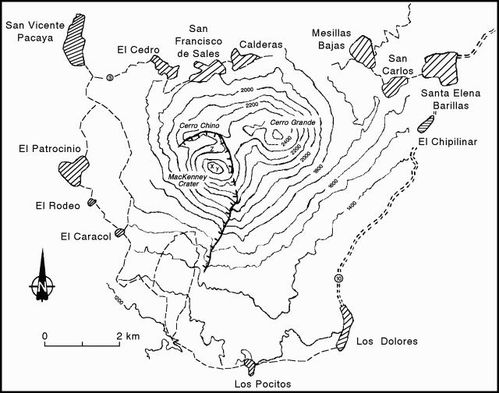 Simplified map of Pacaya , with the wall of the old caldera, and the villages surrounding the volcano - doc . GVP

Bulletin No. 9 indicates that the energy level dropped . The activity in the central crater decreased with small explosions sending incandescent material 100 m. above the crater, at the rate of one to three times per hour. The release of gas is continuous , in the form of a column of 200 to 400 m . above the cone . The volcano has entered a phase of stabilization ... however, the possibility of reactivation remains 25%.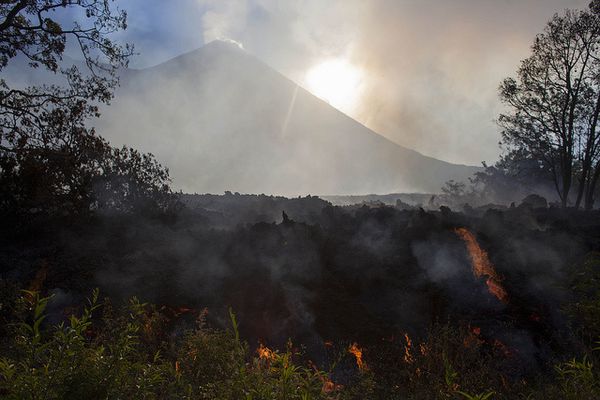 Pacaya - 11.01.2014 - photo CONRED / Flickr

On January 12 at 6:30 local , explosions remain at low level, with gas plume in white / blue. The flow of the east and west sides were reduced to 2800-3000 m. length and the South is no longer considered active .

Sources:
- INSIVUMEH - special bulletins 11-12.01.2014
- CONRED - reports 11-12.01.2014