Between North island / New Zealand and the Fiji archipelago, various structures are parallel : the Colville and Kermadec ridges, separated by Havre Trough, and the Kermadec Trench .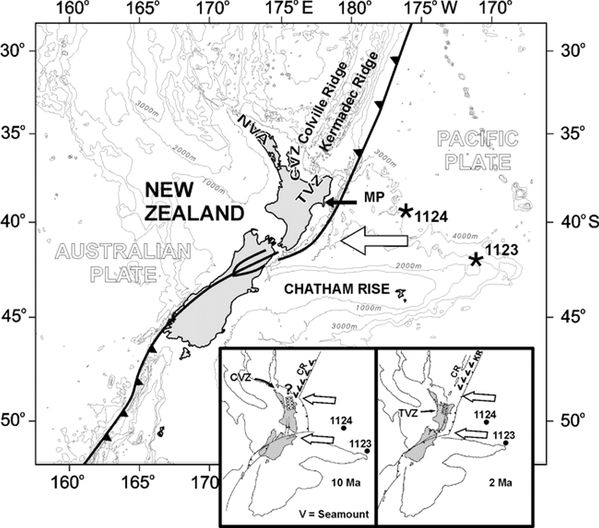 Tectonic of the Pacific and Australian plates around New Zealand, now and in the past: 10 and 2 Ma
NVA : Northern Volcanic Arc ; TVZ :Taupo Vocanic Zone , CVZ: Coromandel Volvanic Area; CR: Corville ridge ; KR: Kermadec Ridge .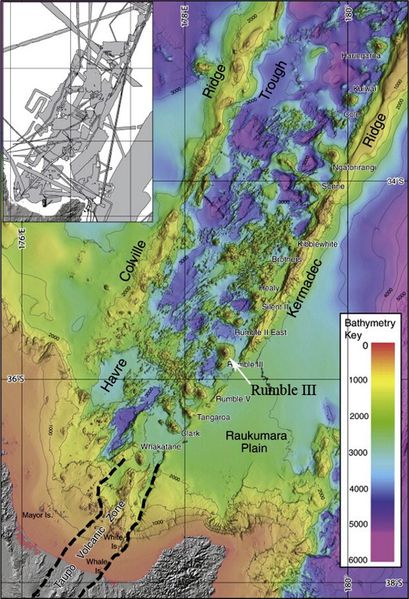 General bathymetric image of Corville and Kermadec ridges, made ​​during the exploration of the Kermadec Ridge by NOAA in 2005 - doc . GVP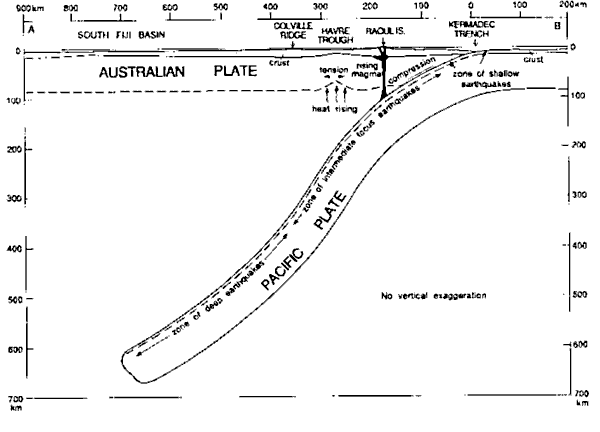 Subduction of the Pacific plate beneath the Australian plate and dive up to 600 km. deep - In sub-surface, from right to left : the Kermadec Trench , Raoul Island in the Kermadec arc, the Havre Trough, the Colville ridge and the South Fiji Basin - doc . GNS Science

Regional tectonics is related to the subduction of the Pacific plate beneath the Australian plate and the formation of marginal basins .

A thorough bathymetry of the Kermadec ridge was performed in the past, by cons the Colville parallel ridge has been little studied. Yet it is an important structure , with peaks dominate the floor on either side of 2,000 meters.

This has just been done by teams of GNS Science, in collaboration with NIWA - National Institute of Water and Atmospheric Research - and Oregon State University.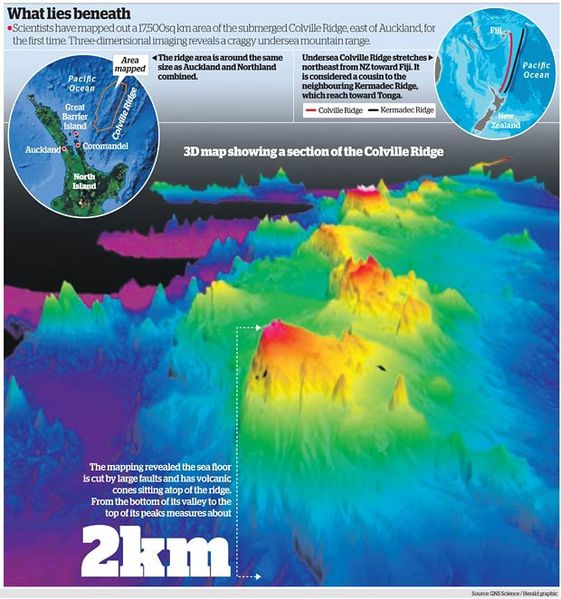 Localisation of the Colville ridge and first 3D picture - doc . GNS Science / in The New Zealand Herald

It validated the hypothesis that the Colville and Kermadec ridges were originally united before a rift, the Havre Trough, separates them there are a few million years ago .

Morphological differences were observed between the two ridges and interpreted as a reflection of collapse phenomena , lifting and significant erosion on the Kermadec Ridge, contrasting with lower uplift and erosion on the Colville ridge.

New data shows more than the Colville ridge is not exclusively volcanic , rocks found forming a mix of sedimentary and volcanic rocks .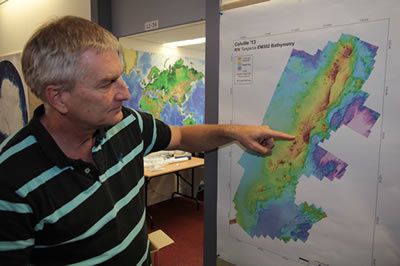 Dr in marine geology Cornel de Ronde commenting on the new bathymetric map of the Colville ridge - photo GNS .

We found numerous faults crossing the area , most oriented NE-SW , and deepening to the E . These issues suggest a presence of minerals on the ocean floor, reassembled along faults from hot fluids containing various metal compounds in solution . The search for these metals will be carried out by Germans and Japanese research institutes, in collaboration with researchers of New Zealand , and through autonomous underwater vehicles in 2014-15.
Sources :
- The New Zealad Herald - Sea floor map result stuns experts - link
- GNS Science - Origin of seabed more complex than scientists first imagined - link
- Morphology and Evolution of the Remnant Colville and Active Kermadec Arc Ridges South of 33°30′ S - by Ian C.Wright - link
- Subductions et ouvertures océaniques dans le Sud-Ouest Pacifique - Oceanic subductions and active spreading in the Southwest Pacific - by
Etienne Ruellan and Yves Lagabrielle