A new study on the geothermal potential of the Akutan volcano brings to light .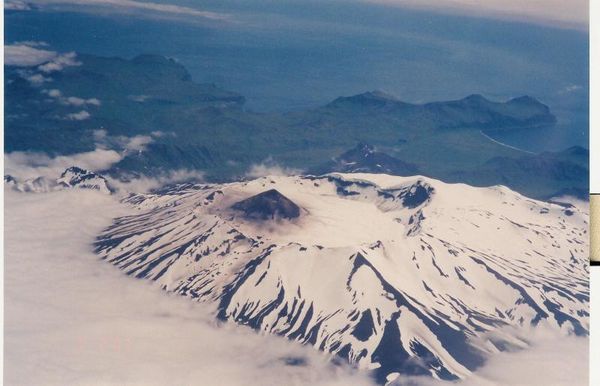 Akutan - summit caldera and active cinder cone - photo Jeff Winn - in AVO- USGS

Located in the Aleutian volcanic arc , the Akutan is a stratovolcano capped by a large caldera 2,000 meters wide, containing an active cone.

An ancient caldera, largely buried, was formed between the late Pleistocene and early Holocene. Two volcanic centers are located on the northwest side : Lava peak is dated Pleistocene cinder cone one , located on the lower side, produced in 1852 a lava flow, which expanded the island and formed Lava Point.

The young caldera was formed during a major explosive eruption there 1,600 years and contains three lakes and is deep of 60-365 meters.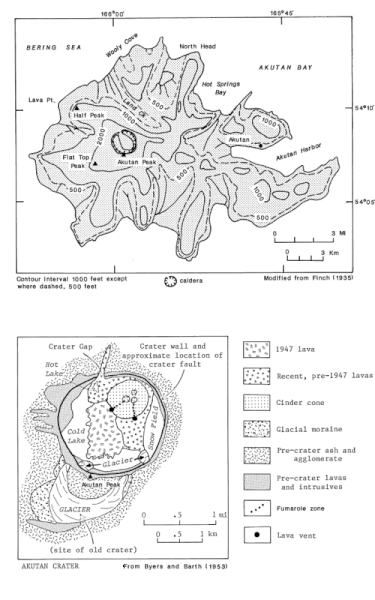 Akutan geological map - doc . geol.map Byers and Barth ( 1953) / AVO- USGS

In the NE part, an active cinder cone, high of 200 meters and a diameter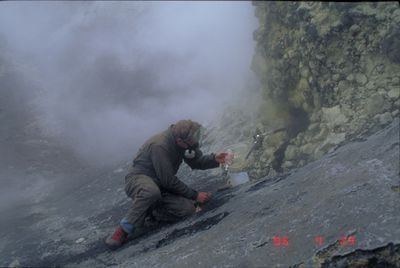 of 1,000 meters, is the source of frequent eruptions and lava effusion that has spread on the floor of the caldera. In 1978, a lava flow progresses by a breach in the north wall to the sea. Its last eruption in 1992.
Fumaroles are present at the base of the cinder cone , and hot springs are located northeast of the caldera, at the forefront of Hot springs Bay valley and along the shore of Hot springs Bay. For three decades , the USGS study the possibilities of these hot springs.

A member of the CVO sampled fumaroles in the crater of the Akutan cinder cone in 1996 - photo G.McGimsey / AVO- USGS

According to Deborah Bergfeld , head of research, there are good indications for a possible creation of a unit of geothermal production, the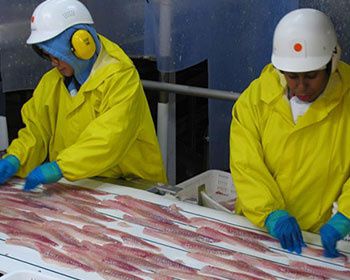 hot springs currently producing 29 megawatts.
Knowing that each megawatt can supply in power 750 homes , the potential appears to be an opportunity for residents of the town and its main business, Trident Seafood .
Photo Trident Seafood

This last harvest , processes and markets seafood in Alaska and the north-west Pacific . Its power by geothermal energy is a source of economy and have some ecological contribution, factories operating until today thanks to imported fuel. Balance can only be favorable !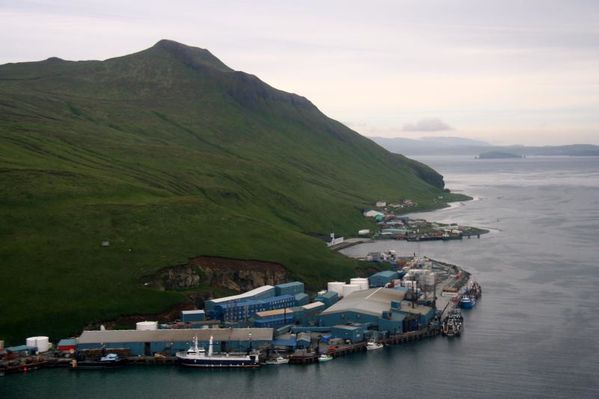 Akutan - the village, the Trident Seafood plant and the volcano - photo Helena Buurman / AVO - Univ. Alaska Fairbanks
Sources :
- AVO - Akutan volcano - link
- Global Volcanism Program - Akutan