Fuerteventura - La Montaña Tindaya - Photo Virtual sacred places

The oldest of the Canary Islands and the closer to the African coast , Fuerteventura, is dated about 20 million years, formed by the Canary hotspot. The majority of the island was created there 5 million years , and since that time, wind and marine erosion done its work .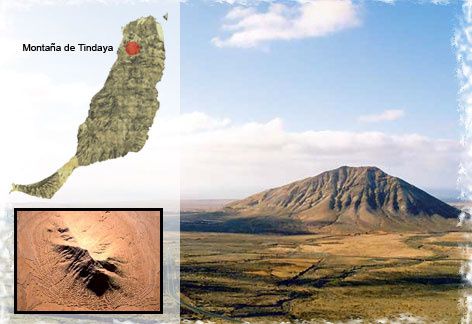 Fuerteventura - La Montaña Tindaya - doc.Mundo Guanche

The Betancuria massive has thus been eroded , leaving appear an emblematic landscapes of Fuerteventura : Mount Tindaya formed of trachyte (*), stronger .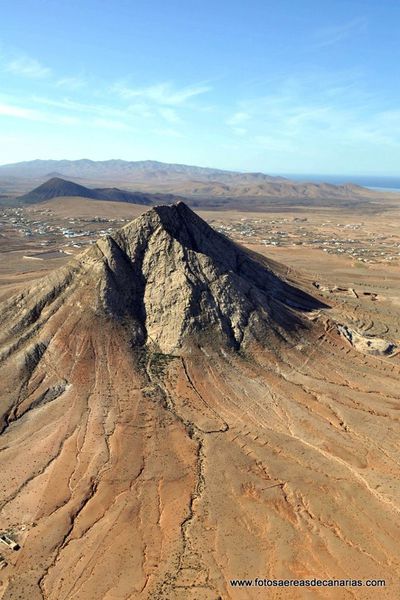 Fuerteventura - La Montaña Tindaya - foto aereas de canarias

This mount has impressed the first inhabitants of the archipelago, the Guanches . This people is paleoberbere origin and should be migrated between 5 ° and 3 ° millennium.

Mount Tindaya was considered by them as a sacred place whose boundaries extend far beyond the island, and reserved for sacrifices.
Aborigines chose this place , not only because it was a mountain, but due to many special features : its relationship with the Moon, the fertility of its soil on a practically deserted island, the composition of the rock, trachyte, which occurs only Tindaya .

There are very ancient petroglyphs , known under the name podomorphes (foot shape , foot impression ) . They are made only on trachyte at the expense of basalt, which is deprecated . These strange aborigenes engravings, numbering of 312 , were discovered in 1978 at the top of the promontory rising to 401 meters.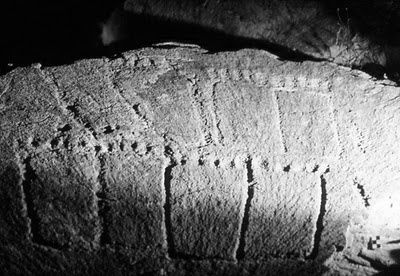 Tindaya - podomorphes petroglyphs - doc. Grabados de Tindaya de noche. Publicada por iac.es

It was determined that they were carved according to a non- random orientation model, which could hide a archeoastronomic justification - orientation relative to the winter solstice and other associated phenomena - and archeotopographic - orientation relative to Teide / Tenerife and Gran Canaria ( Perera et al . 1996 - . Belmonte et al 2001)


Chart of orientation of the podomorphes prints - doc . IAC - Instituto de Astrofisica de Canarias


Tindaya - podomorphe petroglyph - photo Klingon / Megalithic Portal

These engravings are related to an astral worship.
According to the Institute of Astrophysics of the Canary Islands , 80% of podomorphes are oriented in the same quadrant, between Pico de Las Nieves on Gran Canaria and the Teide on Tenerife .

The theory considers Tindaya as aboriginal symbol of union between the earth and the sea is supported by the discovery of burials at the four cardinal points at the base of the mountain, and the relationship with a sacrificial place is the discovery of human teeth on the mountain top.

The site degrades at high speed, lack of protection status set. An extension project for conferences and exhibitions , called El lugar escondido ( a hiding place ) on the archaeological treasures of the Canary Islands is organized by the Circle of Fine Arts and the Directorate General for Cooperation and Cultural Heritage of the Canaries.

( * ) The Trachyte, from the Greek τραχύς / rough ... when breaking, is an effusive igneous rock , leucocratic ( white , gray , greenish ) , microlithic and fluidal ( trachytic structure ) , little or not porphyry , often lightly as a little porous.
Sources :
- BienMeSabe. org - Tindaya, con 312 grabados podomorfos, fue un lugar sagrado que trancendio Fuerteventura
- IAC - Instituto de Astrofisica de Canarias - Orientación astronómica de los grabados podomorfos de Tindaya