The new crater southeast of Etna is, from the night of January 21 to 22, seat of strombolian activity .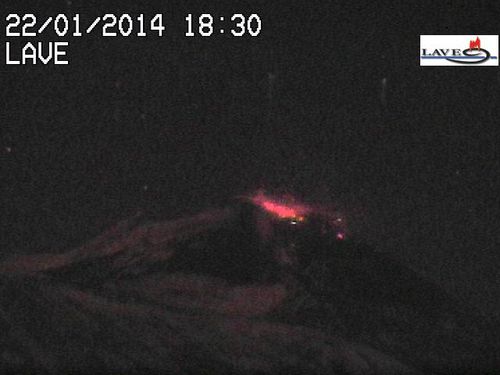 Etna NSEC - incandescent summit around 18:30 on 22/01/2014 - webcam LAVE

An explosion of ash to 10:40 p.m. was followed by a gradual increase in the frequency of explosions and that the tremor . A small lava flow began to flow from the eastern flank of the cone around 23 h., to go a hundred meters.

The eruptive activity of the central area of the crater fell sharply with the opening of the fracture, then continued slowly and sporadically during the rest of the night.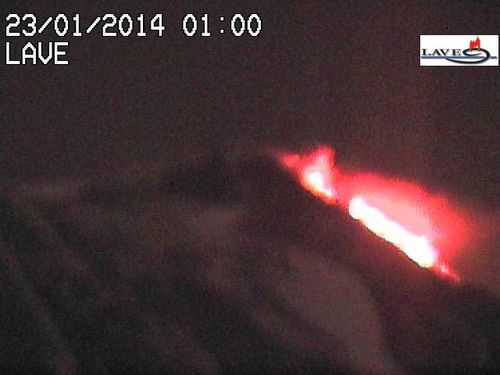 Etna 23/01/2014 / 1:00 - strombolian explosion and lava flow on the flank of the cone - webcam LAVE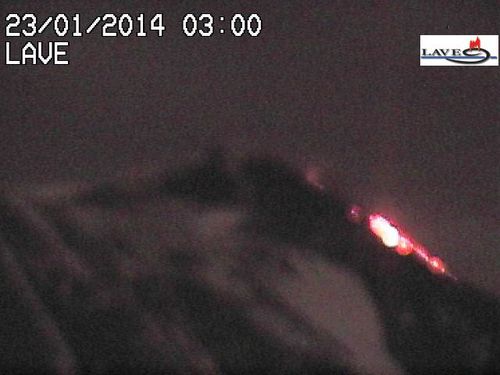 Etna - NSEC 23/01/2014 / 3:00 - lava flow on the flank of the cone - webcam LAVE

Some weak ash explosions mark the morning of 23 , and at 13:05 , a small steam plume marks the base east/northeast of the cone, for five minutes, and the opening of a new fracture. A new lava flow is escaped towards the Valle del Bove . It continues to 15h . and low activity explosiveà within the NSEC .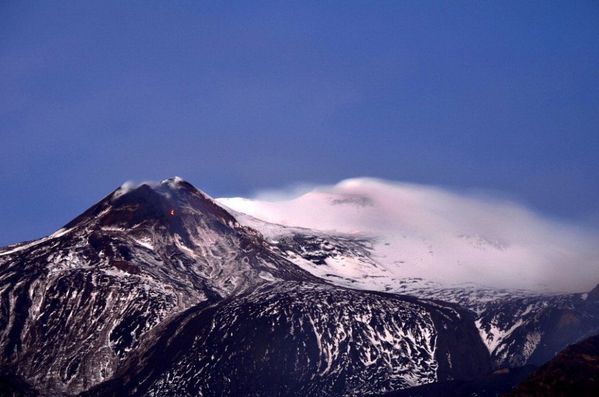 Etna NSEC - 23/01/2014 - a light glow marks the position of the lava flow on the flank of the cone - photo Turri Caggegi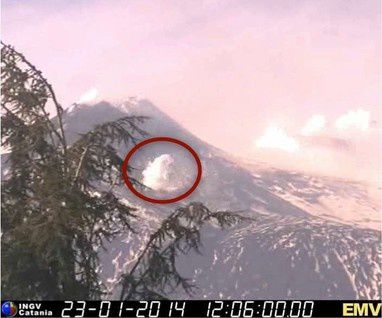 Etna NSEC - a small steam plume marks the opening of a new crack - INGV webcam 1:06 p.m. GMT / site via FB il Vulcano Etna

Etna - curve of the tremor 23/01/2014 at 15h 26 - doc . INGV Catania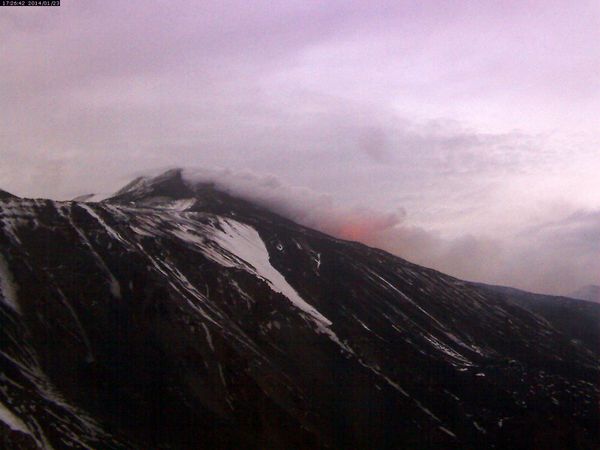 Etna NSEC - at 5:26 p.m. , we see the reflection of the lava coming out of the new crack at the eastern base of the NSEC - webcam Etnatrekking Schiena dell'Asino .

Sources:
- INGV Catania
- Etna Walk and Etna il Vulcano