A project of the University of Syracuse, the Lava Project, developed by the geologist Jeff Karson , Professor, Department of Earth Sciences , and the sculptor Bob Wysocki , assistant professor in the Department of Arts, includes the areas of artistic creation, scientific experimentation in collaboration with students from other universities, education and interaction with the audience during the meetings .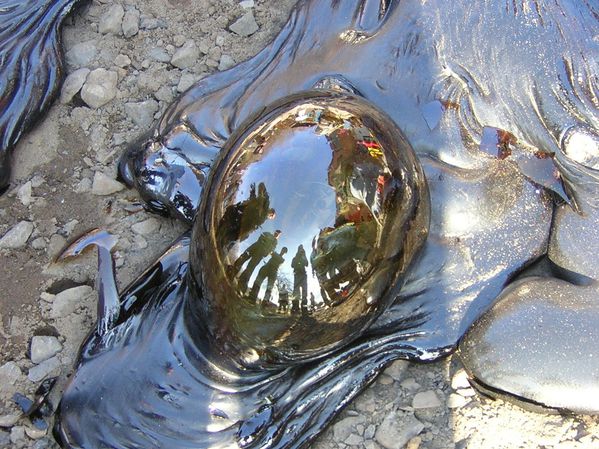 Reflection on a lava bubble - photo St Lawrence University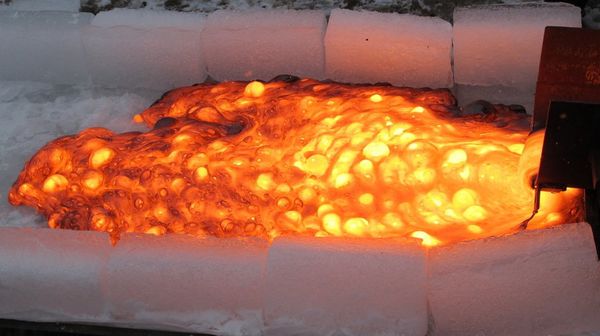 Artificial lava flow on ice - photo St Lawrence University

It's a collaboration at all levels between art and science :
The natural beauty and the special properties of lava are the basis of the sculptor project. The scientific part is the study of basaltic lava in various controlled conditions .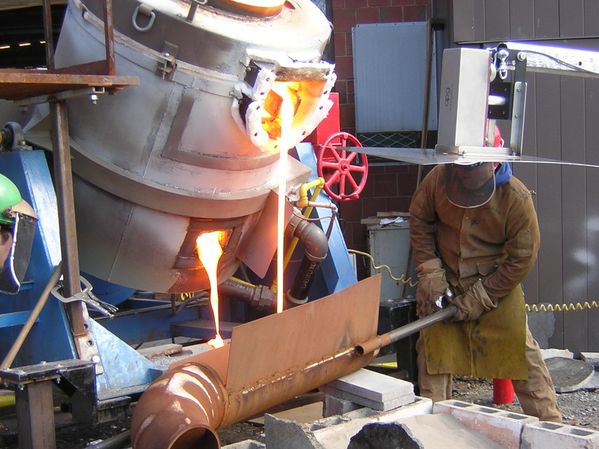 The Lava Project - stove and conduct of the lava flow - photo St Lawrence University

The basic material is the commercial basalt gravel from the continental rift in northwest Wisconcin . Old of one billion 100 million years, it comes from lava flows similar to those encountered in the African rift , Iceland or Hawaii.
It is loaded into a furnace fueled by natural gas, initially used for melting metals, and heated to 1200°C. After casting, the lava can be recycled for a part and recast.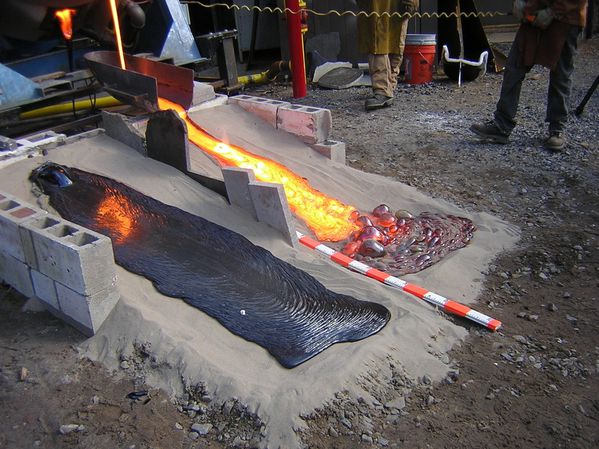 Two parallel streams under different conditions - photo St Lawrence University / Lava Project.

The first heats were held in January 2010, with only small volumes. Students of Fine Arts project to create works by casting into molds or by casting on various surfaces, such as sand or ice. Ultimately, the program is to create a lava field, scale of ten meters, to school or museum. Experiments on the behavior of the lava was done by adding metal rods , this insertion in the casting has reduced cooling and contraction leading to thermal cracking ... and bring to the production of larger parts.

Public cooperation admitted when casting is sometimes unexpectedly ... more young people are cooking their mashmallows, or are throwing apples in the flow, all are mesmerized by this molten mass, forming complex shapes and structures when flowing .

The public can not always see a natural lava flow, then here is the volcano that comes to them !

Great pictures ( to enlarge ) copyrighted to see on the site of the Syracuse University
and the behavior of the artificial lava flow on sand or ice , in videos: