Two volcanoes were active in the 1880s on the island of Hawaii , Kilauea and Mauna Loa . They were illustrated by a non- indigenous artists group who painted spectacular eruptions night scenes , grouped in the "Volcano School " which Jules Tavernier was a prominent member .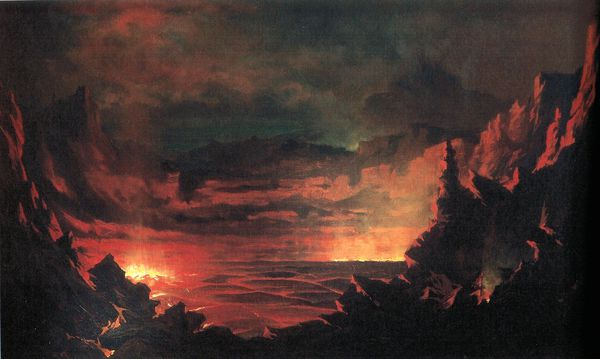 " The Kilauea caldera " - oil on canvas by Jules Tavernier - 1885

Born in Paris in April 1844, Jules Tavernier claims that his parents were of English descent , belonging to one of the old Huguenot families . He spent his youth in London, before returning to Paris , where he was admitted to the Ecole des Beaux- Arts in 1861 in the workshop of Felix Barrias .

He finally left Europe in 1872 for the United States. He worked as an illustrator for various magazines, including Harper 's Magazine.
Posted in California, he moved to San Francisco and became a recognized personality in artistic circles . Founder of the Bohemian and Palette clubs, vice president of the San Francisco Art Association member , these works are popular and sell at a high price ... but its festivals , its alcoholic consumption , its quarrels , and debt ever-increasing , he was forced leaving California to escape his creditors. He arrived in Honolulu in 1884.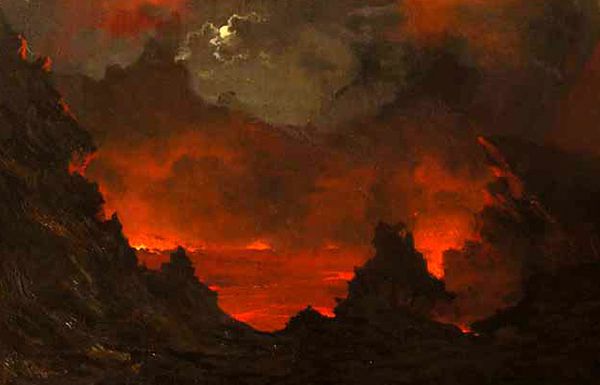 "Full moon over Kilauea " - Jules Tavernier 1887 - Doc. ds . public domain / Wiki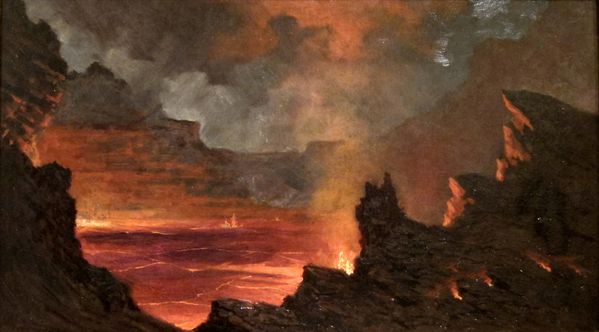 " Halema'uma'u Crater, Kilauea Volcano" - Jules Tavernier 1887 / Isaacs Art Center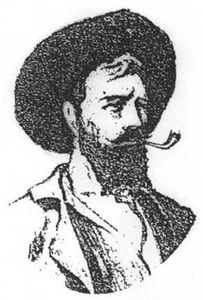 In less than five years , it produces a hundred works , including an amazing view to be displayed in a circular manner and admired by the viewer in the center.
Despite to be shown there for a short time , however, it is designated as the master of painting volcanoes.
Newspaper sketch of Jules Tavernier from the San Francisco Call Sunday , April 6, 1911.
But those old demons continue, and to the vicious circle of drinking and debt , his wife leaves him ... he is not allowed to leave Hawaii before performing his debts. The drink will kill him in 1889.
Friends of Bohemian Club of San Francisco offered him his tombstone ...
" among French artists of California, it is probably the most talented and tragic ."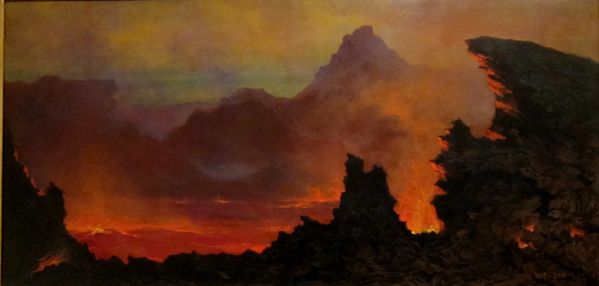 " Kilauea Caldera, Sandwich Islands" - Jules_Tavernier 1886 / San Diego Museum of Art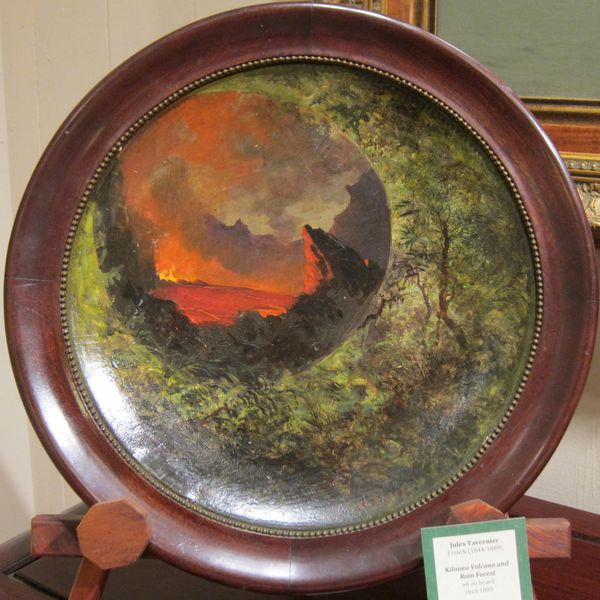 " Kilauea Volcano and Rain Forest" - oil on board painting by Jules Tavernier , c. 1885 Isaacs Art Center
Sources:
- Society of California pioneers - Jules Taverneir - link
- Volcano Scool painters - link