A recent exploration program conducted by an international team including Italian participants of IAMC -CNR ( Institute for Costal Marine Environment of the National Research Council) and INGV / Roma, aboard the research vessel " Universitatis " in

Tyrrhenian Sea , was interested in Europe's largest volcano and the Mediterranean :

the Marsili submarine volcano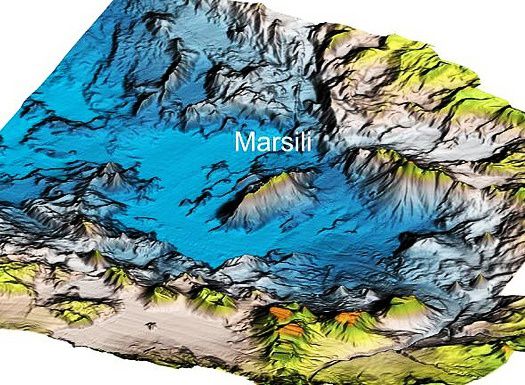 Image 3D of the Tyrrhenian abyssal basin, with the Marsili volcano at the center and in the foreground , the Aeolian volcanic arc .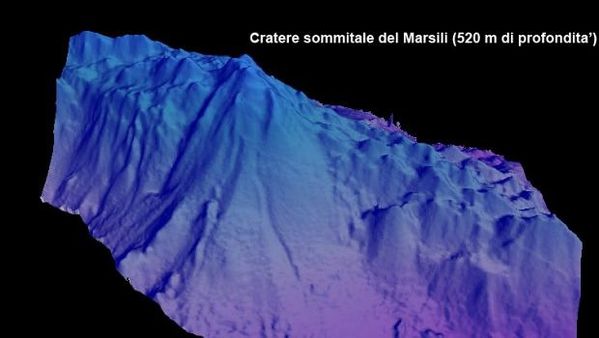 Located south of Naples, this giant, of 60 km.
long, 30 km wide, has a height of 3,000 meters.
Its summit is immersed in 520 m.
below the level of the Tyrrhenian Sea.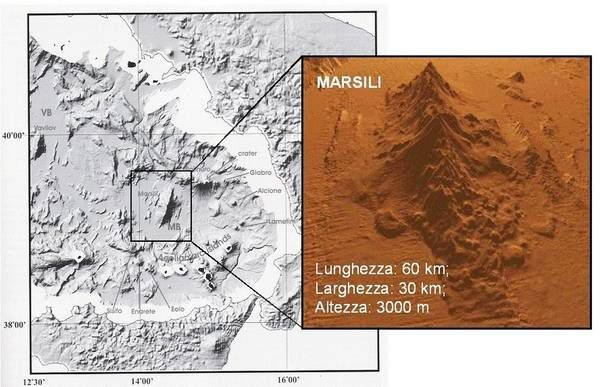 Signs of seismic and hydrothermal activity have been informed by a previous campaign in 2010 ... However, the most likely hypothesis , in the absence of historical eruptions, traced his cessation of work at least 100,000 years .
Recent cores have allowed carbon-14 dating of sediments containing volcanic ash , which indicates an activity that dates back 5,000 to 3,000 years ... that might be worth it to get

into the list of active Italians volcanoes

, as well the
Campi Flegrei , Lipari, and other volcanoes with a known activity , as indicated by Guido Ventura , researcher at INGV .
The results of this study were published in the newspaper " Gondwana Research ."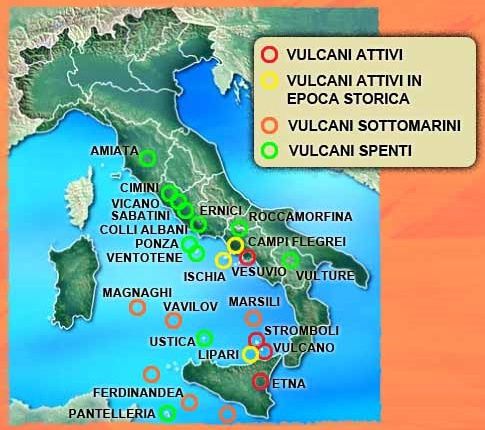 The different Italians volcanoes : currently or in historical times active , submarine, and considered extinct volcanoes - doc .
Ortolani Franco - vulcano - Marsili tsunami
Research in 2010 had warned against the possible massive collapse , related to potential tsunamis on the Italian coast .
In the light of recent findings, the researchers call for the implementation of a monitoring system to assess the risks of a possible submarine eruption .
Sources :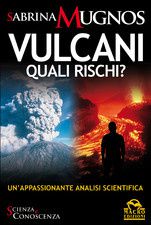 - INGV - From CNR and INGV, new evidence on Marsili explosive volcanic activity - link
- Earth of fire - le volcan sous-marin Marsili sous haute surveillance ? - link article du 30.03.2010

- Evocation de cette découverte dans l'émission "Mystère" / Italie 1, ce 30.01.2014, par Sabrina Mugnos, auteur de "Vulcani, quali rischi ?".
- ac-grenoble - La mer Tyrrhénienne - link

ienne - link