Publié le par Bernard Duyck
NOAA
and the University of
New
Hampshire
will
perform
a mapping
expedition
of

the
Mendocino ridge

,
off the
Pacific
coast of California
,
between
September 23
and
October 12
.

Obtaining detailed framework should contribute to a better understanding of the geological processes at an active plate boundary.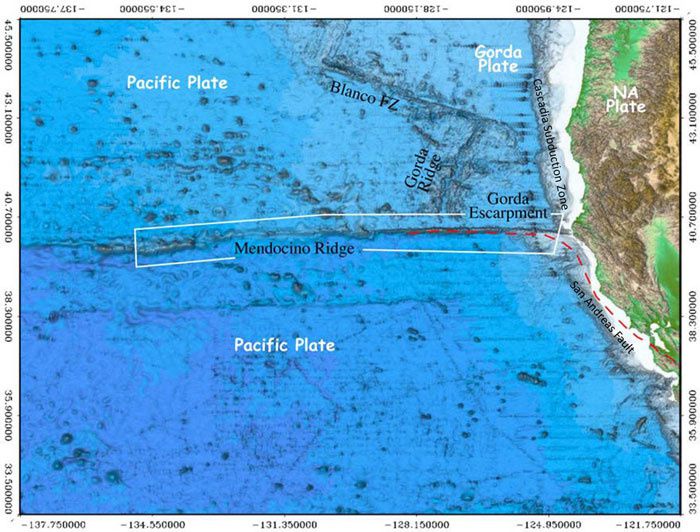 The North American, the Pacific and the Gorda plates - the Mendocino Ridge in the white box - Doc. NOAA / CCOM
The Mendocino Ridge is a narrow structure on the seabed, coupled with the Mendocino fracture zone, which stretches more than 5,000 km away. in the eastern Pacific Ocean. North of the Mendocino Ridge, the Gorda plate dives under the North American plate along the Cascadia subduction zone. Near Cape Mendocino, three tectonic plates, the Pacific Plate, Gorda plate and the North American plate, come together to form a "triple junction point" migrating northward.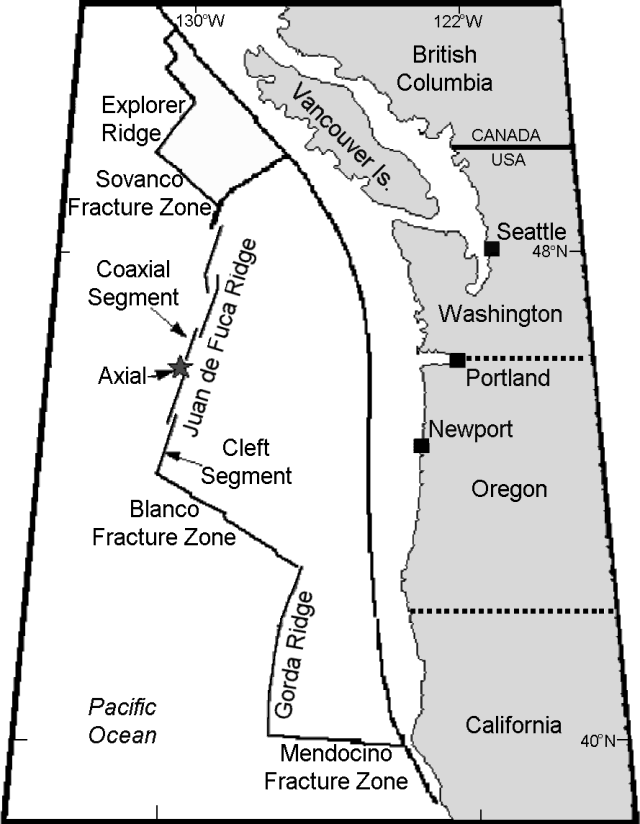 The North American, Pacific and Gorda plates, with the direction and the speed of the movement - Doc.GVP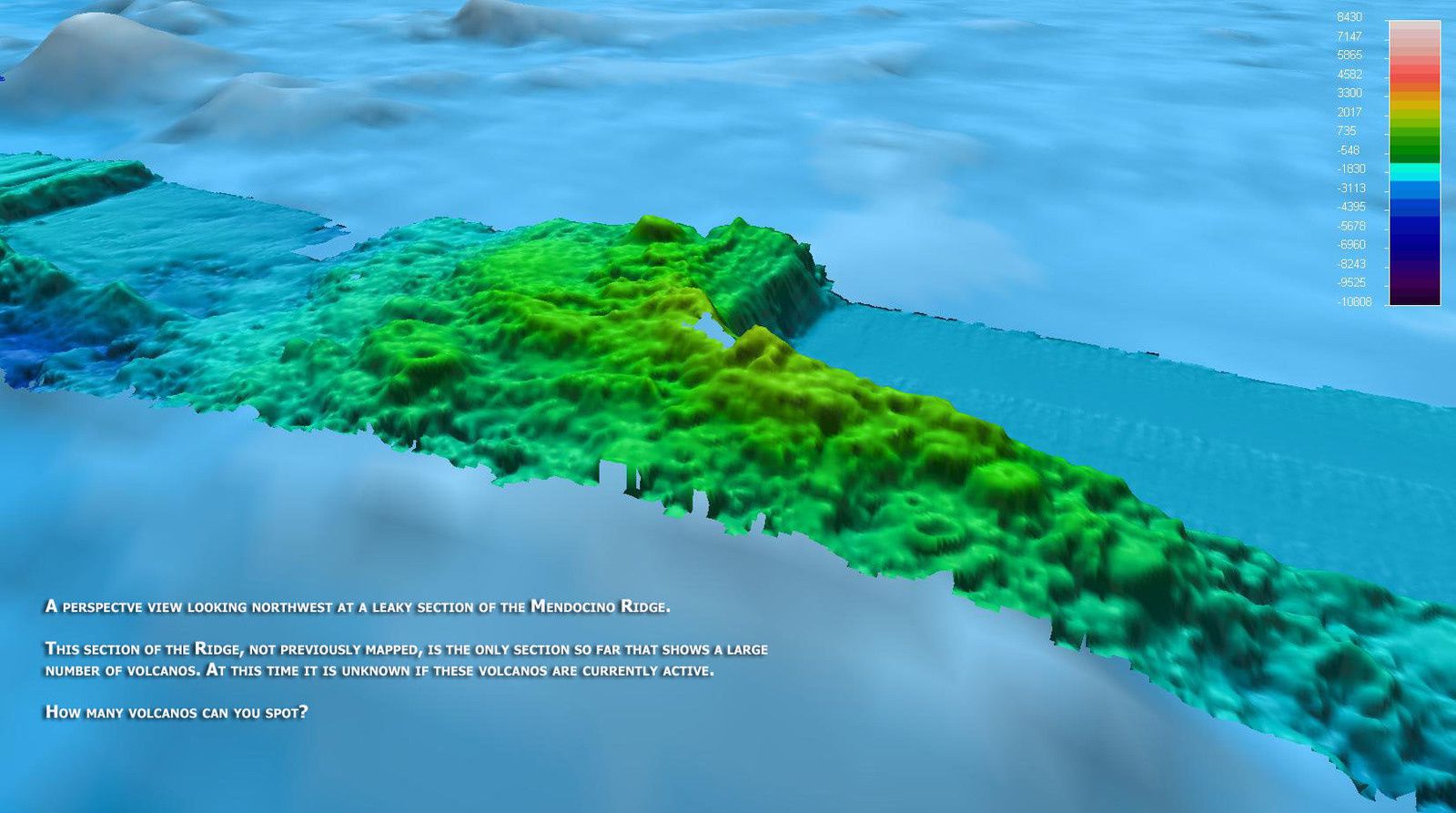 Portion of the dorsal Mendicino, with volcanoes whose status is not yet known - Doc. NOAA ocean explorer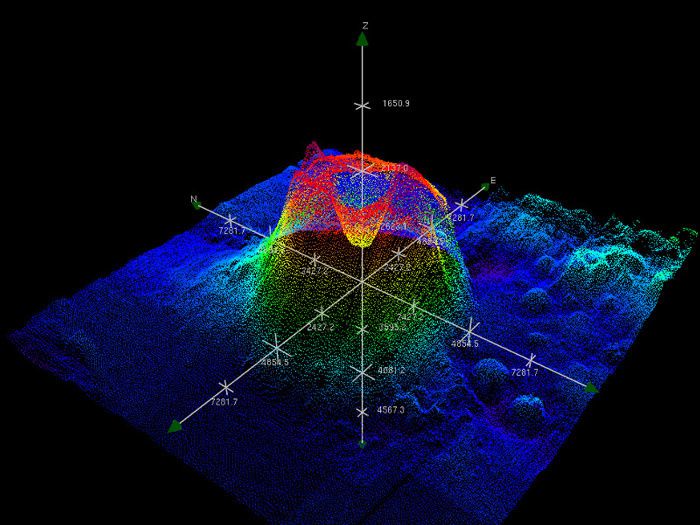 Mendocino ridge - 3D view of the southwest side of a submarine unnamed volcano - Doc. Center for Coastal and Ocean Mapping. - NOAA
The research vessel Atlantis, from the Woods Hole Oceanographic Institution, discovered around the ridge an area rich in small volcanoes and mounds (smaller than Seamont structure, and between 500 and 1,000 meters).

Among these mounds, the bathymetry shows a round-shaped structure like an underwater volcano, 7 km from basal diameter, having slopes estimated at 40 °, located at 400 nautical miles NW of San Francisco. She has not been named yet.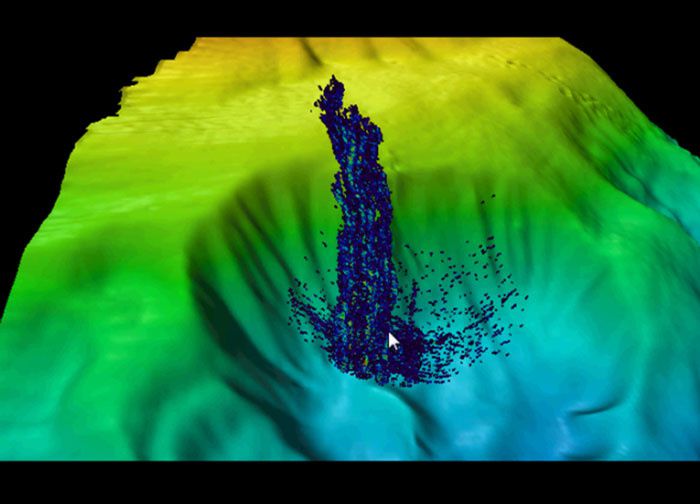 Mendocino ridge - a rising gas plume from an structure in amphitheater - Image courtesy of NOAA-University of New Hampshire.
In 2009, the NOAA's ship Okeanos Explorer revealed, north of the Mendocino ridge , a methane plume rising about 1,400 meters above a large depression in amphitheater on the ocean floor.
Sources :
- Return to Mendocino Ridge: U.S Extended Continental Shelf Project, Exploratory Mapping Expedition - link
- Center for coastal and ocean mapping joint Hydrogrephic center - Return to Mendocino Ridge - link