Publié le par Bernard Duyck
After the phreatic explosions of 16 June 2015, the Bulusan resumed on Friday, June 19th at 14:55. This explosion was accompanied by an ash plume 1,500 meters high, which drifted WSW, said Phivolcs.

According to the National Disaster Risk Reduction and Management Council, the explosion of Friday would have affected 6,884 families (over 34,000 inhabitants) in the villages of Barcelona, ​​Bulusan, Irosin, Casiguran and Juban in the Sorsogon island.

On June 20, at 8 am, a low cloud, which can be due to a small pyroclastic flow, is indicated on the upper slopes NO, partially covered by clouds; this episode is followed by emission of a plume reaching 250 meters, moderately loaded inash and after of steam.

The Phivolcs inform of low energy emission of steam and ashes on June 21 at 13:15, accompanied by a small plume 150 m high and ash fall on the summit of Bulusan.


The Level 1 alert remains in force, indicating instability of the hydrothermal system that may lead to phreatic eruptions, and linked to a restricted area of ​​4 km radius.
Sources :
- PHIVOLCS rapports des 19 et 21.06.2015 - link
- National Disaster Risk Reduction and Management Council - 20.06.32015 - link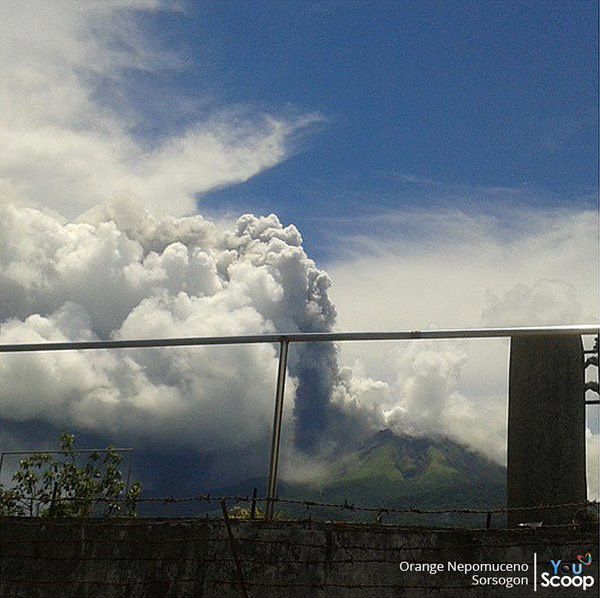 Bulusan 16.06.2015 - photo Nakuhanan ni YouScooper @SeekGoodLife ang pagputok ng Mt. Bulusan ngayong umaga
On the island of Sumatra, the Sinabung lava lobe still has collapsus, that are accompanied by avalanches of blocs and pyroclastic flows; in the course of the night, around 11:35 p.m., a flow traveled over 3,000 meters to the south-east, and on 1:13, about 4,000 meters, leaving after passing burned materials.