Publié le par Bernard Duyck
The weekly report of the Global Volcanism Program of 29.04 - 05.05.2015 reports the observation by PVMBG of white plumes amount to 350 meters above the main crater of Karangetang, and to 25 meters above the crater II from 22 April 29.

Nocturnal glow marks the lava dome; lava flows began on April 22, resulting, depending on the topography, in glowing avalanches from the lava front of a casting, measuring 150 m long, having covered up to 2,000 meters towards drainages Batuawang and Kahetang between 22 and 29 April.

On April 26, a pyroclastic flow traveled 2,200 meters in Kahetang drainage. On April 28, explosions generated plumes and ejected glowing material to 50 m high.

The site Mirova indicate a radiative activity since April 26, while the VSI remains the alert level at 3 on a scale of 4 (since September 2013) / with advice not rise above 500 meters asl.

On May 7, at 14 pm, pyroclastic flows have marked the southern flank of Karangetang and destroyed homes in the village of Kora Kora, fortunately evacuated by its inhabitants.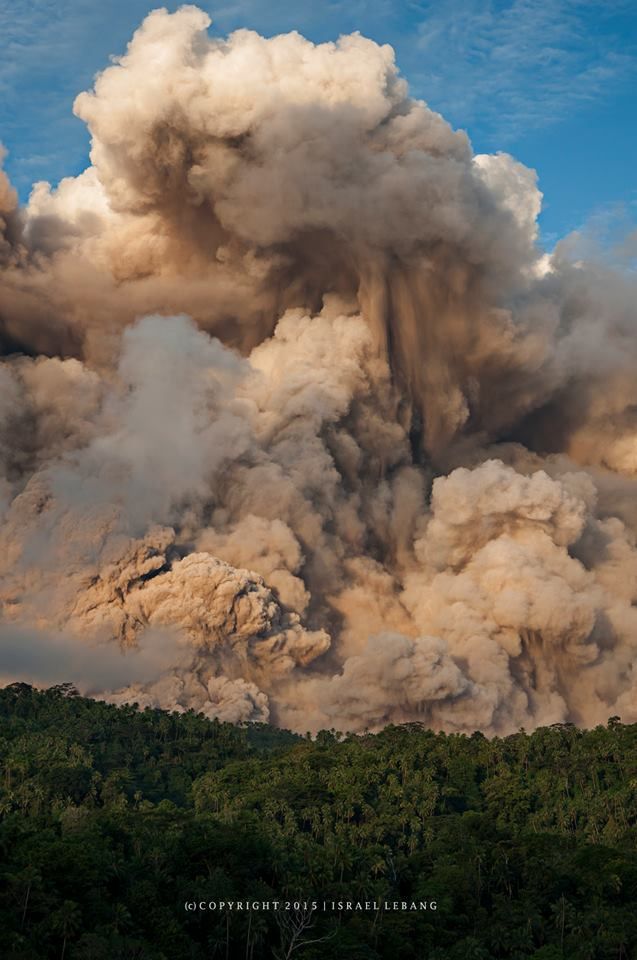 Karangetang - pyroclastic flow and co-pyroclastic cloud of May 7, 2015 - photo Israel Lebang / via Twitter
To the left, map of volcanic hazards of Karangetang - Doc. PVMBG - right, Karangetang's location on the island of SIAU to the north of Sulawesi - one click to enlarge
The Karangetang, also called Api Siau / the fire of Siau, is a stratovolcano peaking to 1784 meters, and wearing five summit craters aligned north-south.

Located on the island of Siau, north of Sulawesi, the volcano has had more than 40 major eruptions since records began in 1675.
In the 20th century, frequent explosive activity was accompanied by pyroclastic flows and lahars, and lava dome built in the summit craters. Pyroclastic flows have occurred in conjunction with the collapses of lava fronts. (GVP)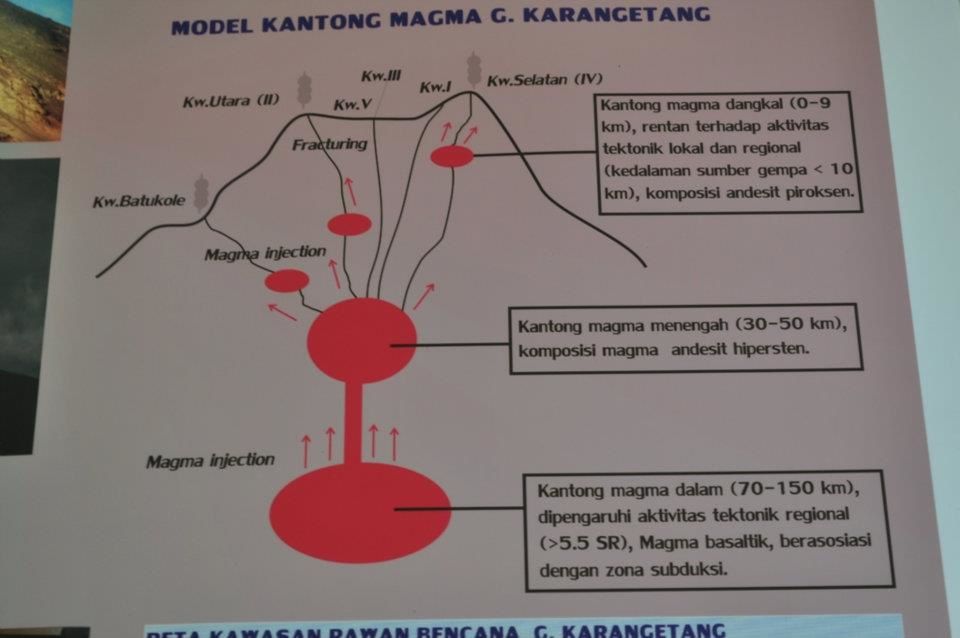 Silhouette of Karangetang, with its 5 craters and deep and shallow magma chambers - Local explanatory panel.
Sources:
- Médias locaux & Twitter - Facebook
- VSI - Badan Geologi - link
- MIROVA - Karangetang - link
- Global Volcanism Program - Karangetang (Api Siau)