With one day late on Day 14 due to rash Kelud , here is the "Heart of the Atacama " proposed by ESA - European Space Agency.


Miscanti and Miniques lakes surrounded by volcanoes - photo ESA / ALOS - Advanced Land Observation Satellite / 30.05.2010

This satellite picture shows us the Miscanti lake, heart-shaped , and its smaller neighbor , the Miñiques lake. These salt -altitude lakes are located south -west of the Atacama Desert, which extends along the west coast of Chile.

Different volcanoes frame the lakes :

- To the south, Miñiques a complex basalto - andesitic to dacitic , consisting of a stratovolcano and lava domes nested. Its summit has three craters and peaks at 5,910 meters. The date of last activity is not known, but a prominent lava flow extends from the top on its flanks and separates the two lakes.


The volcanic complex Miniques - photo Gerard Prins 2009

- To the east, the volcanic massif Cordón Puntas Negras covers 500 km ². It is composed of 25 eruptive vents , represented by stratovolcanoes , pyroclastic cones , lava domes and maars .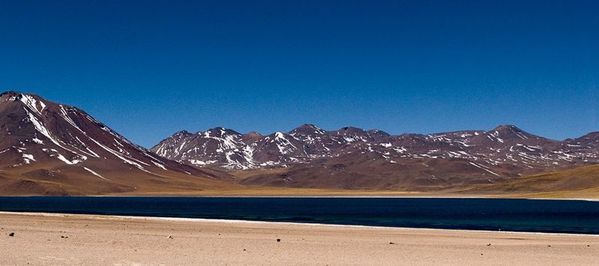 The volcanic massif Cordón Puntas Negras , seen from the Laguna Miscanti - photo Gerard Prins 2009

- To the north -northeast , the Cerro Miscanti and the Chiliques .
The latter is a stratovolcano, 5,778 meters high , topped with a 500 meters wide crater. Different lava flows dress its flanks , the largest on the northern flank reaches more than 10 km. length . Although considered as dormant , NASA spotted in 2002, by Aster, a few hot spots in the summit crater and upper flanks .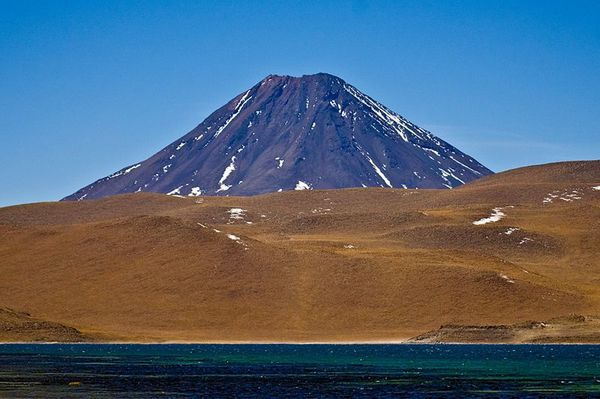 The Chiliques , seen from Lake Miscanti - photo Gerard Prins 2009
Sources :
- ESA - Space in images - link
- Global Volcanism Program - Miniques
- Global Volcanism Program - Chiliques
- Global Volcanism Program - Cordón de Puntas Negras