Pam cyclone of Category 5 ... the stronger, passed over the Vanuatu archipelago.

Satellite photos show that this monster covers 83 islands, inhabited by some 260,000 inhabitants, particularly affecting the islands to the east of the archipelago.


Earlier Saturday, the east side of the eye of the storm passed on Tanna Island (population 30,000 inhabitants), where it was noted winds of 300 km / h (Fiji's Weather).

The east coast of the island of Tanna was particularly struck: the first reports speak of incredible destruction, end of the world ... "it is as if a bomb had fallen on the city center; there is no electricity, more water, more media ". The streets are littered with trees, roof pieces of metal. The New Zealand High Commission in Port Vila, supposed to withstand cyclones, was heavily damaged.

Whole villages were destroyed in remote areas.

The death toll would be around a dozen, and about twenty wounded, but UNICEF workers say it will take days if not weeks before we know the full impact of this disaster.
The airport of Port Vila, the capital, is flooded and trees litter the track. The closure of this airport prevents a rapid humanitarian response. The local government wants to open it to military flights and Australia and New Zealand have units on standby (IRIN)

The islands of Erromango and Aneityum, less populated, were directly affected then.

The cyclone is moving now towards the north-eastern tip of New Zealand, and should lose its violence this Sunday or Monday. Heavy precipitations are expected in this area.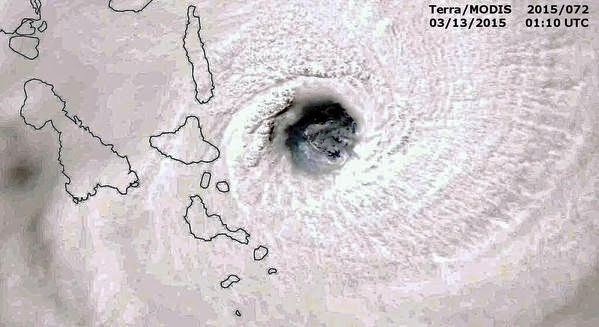 The cyclone over the eastern side of the Vanuatu archipelago - Doc. Terra Modis 13.03.2015 / 1:10 UTC
Humanitarian needs are going to be huge ... to contribute to the efforts of local institutions that assist victims, you can do so via the following websites:
Sources :
Unicef Vanuatu, IRIN, Stuff.nz