The Laguna Caliente of the volcano Poas is customary of phreatic eruptions.

On 29 April the OVSICORI reported 6 episodes between 8 h30 and 14h , respectively, 8:16 , 8:19 ​​, 9:45 , 3:54 p.m. , 2:17 p.m. 1:20 p.m. .

The thermographic image of the first phreatic eruption of the day shows ejection of fluids , water and acid gas at a temperature of 70 ° C , 5 meters above the level of the lake. The apparent temperature of the acidic water of the lake is 49 ° C , equal to the average temperature measured by thermocouple .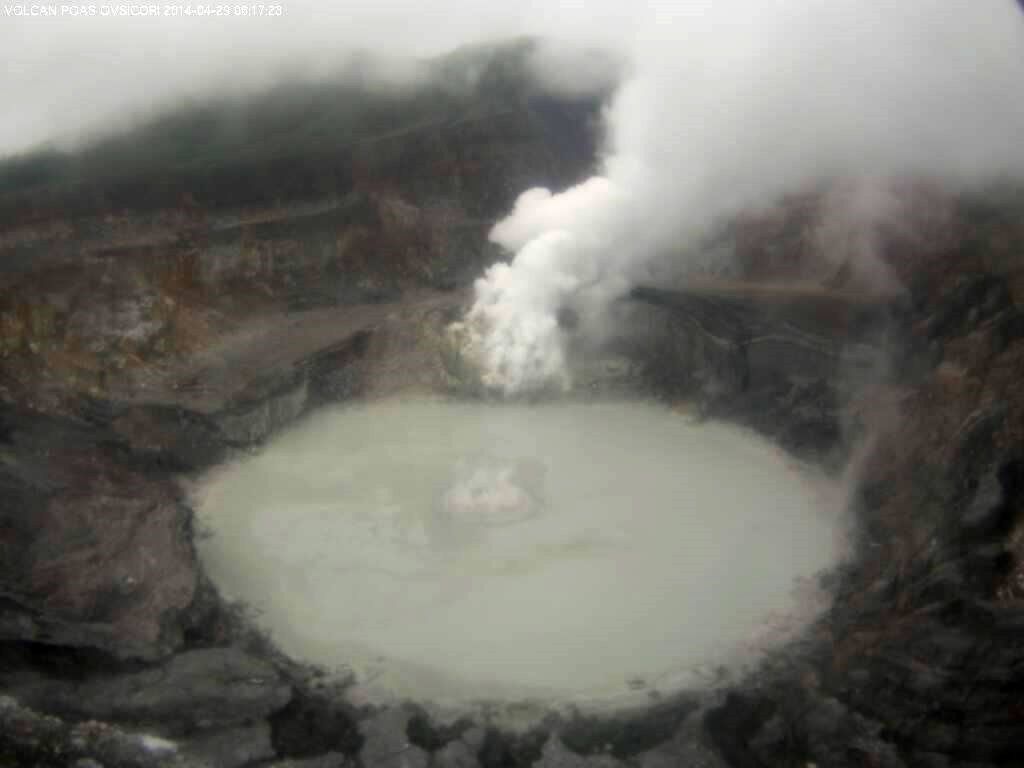 Poas - Laguna Caliente on 4/29/2014 / 8:16 . - Small phreatic eruption in the lake ( barely visible on the webcam) and fumaroles at the dome - webcam OVSICORI
A tour made by the volcanologists of RSN on May 4 reveals that the surface of the lake is covered with small pieces of sulfur , while his level dropped a meter ten over the last month. According to observers, the Laguna Caliente have lost 58.000m ³ of water during the same period. The dome wall , by which liberate gases , has a temperature of 500 ° C , and shows occasionally a glow .

Involved, the lack of rainfall in the region of Poas ... situation that could favor the emission of gas generators of acid rain, that may affect the land around the crater.


The report notes that the phreatic activity began in March 2006, with large and small eruptions of gas, water and mud.

In recent months , there has been two major eruptions : on March 30 , with ejection at 180 meters , and on April 30 , another at 30 meters , accompanied by the release of large quantities of semi -solid sulfur at the surface .

The night of May 3 to 4 , the phreatic eruptions have released more sulfur , visible from the lookout as small rafts. RSN specifies that the hydrothermal system of Poas releases sulfur gas from the sulfur melting due to increased temperature of the lake bottom .

The activity of the volcano is however considered as "normal".
Sources :
- OVSICORI –UNA
- Red Sismologica Nacional
- La Nacion – 06.05.2014 / 12h. - link