The Holuhraun's eruption could last at least until early this summer, and even later in the year, according Andri Stefánsson, professor of geochemistry at the University of Iceland.

What concerns scientists, it is the accumulation of pollution - sulfur, fluorine, chlorine and heavy metals - in snow cover in the area of the eruption, and its impact on humans and the environment and animal plant .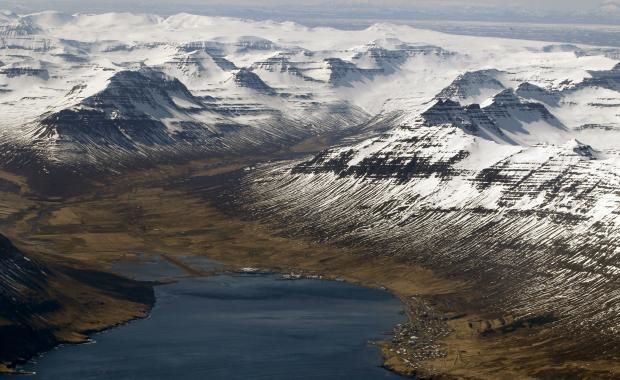 One of the sensitive sites: Norðfjörður fjord where is located the small town of Neskaupsstaður (1,540 inhabitants) - photo Pjetur Sigurðsson / Iceland Magazine
During the spring snowmelt, pollution will be released into the environment and mix with drinking water.

Forty percent of rainwater are already considered polluted by the gases emitted, both by sulfur dioxide and fluorine. The conversion of acid rain in SO2 is closely monitored ... with visible effects in the east, where new zinc roofs are rusting this winter. The effects of fish mortality on acid rain have already been recognized in the Nordic countries, as well as mouse death in Iceland.

New measurement equipment was installed two weeks ago on the eruptive site, under the Futurevolc project in collaboration with the University of Palermo and the British Geological Survey: a weather station (humidity and speed and wind direction measurements) and a measurement MultiGAS (H2O, SO2, CO2, H2S and H2), with data transmission to the Met Office services.

According to him, the eruption happening now about 20 tons of sulfur dioxide per day, against 30 to 40 tons / day in the first moments of the eruption.

Sources:
- Icelandic Met Office - daily reports
- Iceland Magazine et Iceland Review