Axial seamount, an active underwater volcano located 300 miles off the coast of Oregon and Washington in the western United States, seems to be erupting late April ... according to the prediction made in last September by the geologists Bill Chadwick / Oregon State University - OSU, and Scott Nooner / North Carolina Wilmington University.

They based their prediction on the inflation model of the ocean floor before, during and after the eruption since 1998.
Since last Friday, a swarm of earthquakes marks the seamount, a sign of magma movements towards the surface; these earthquakes, and declining level of 2.4 meters from the ocean floor, indicating that magma was removed from the magma chamber beneath the summit, suggest an activity.

According to Chadwick, "It isn't clear yet whether the earthquakes and deflation at Axial are related to a full-blown eruption, or if it is only a large intrusion of magma that hasn't quite reached the surface ... There are some hints that lava did erupt, but we may not know for sure until we can get out there with a ship. " An expedition is scheduled for August ... it may be advanced in May.
Axial seamount is an ideal laboratory for scientists, because of its proximity to the NW coast of the United States, and its unique structure.

Located on a thin portion of oceanic crust, the plumbing system is simpler than that of most land volcanoes. In 2006, Chadwick and Nooner had declared that an eruption could occur there before 2014 ... that was in 2011 ! Since last eruption, they have refined their forecasts and announced an eruption for 2015, based on an increase in the inflation ratio of 400% since.

"We've learned that the supply rate of magma has a big influence on the time between eruptions," Nooner said. "When the magma rate was lower, it took 13 years between eruptions. But now when the magma rate is high, it took only four years"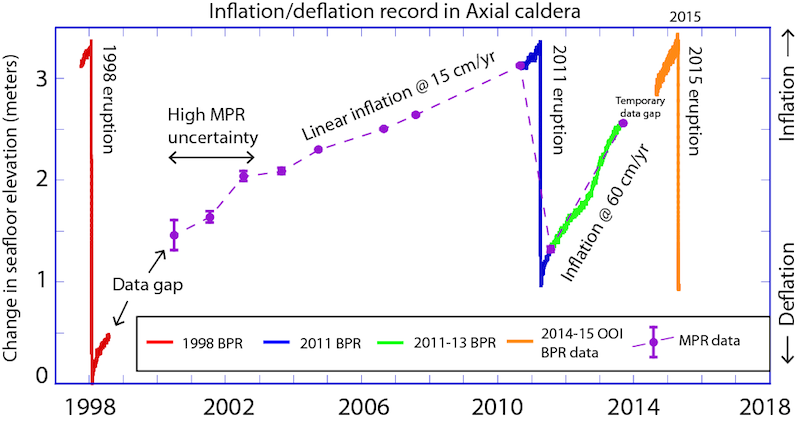 Plot of the long-term time-series of inflation/deflation at the center of Axial Caldera on which the 2015 forecast was based, updated with the 2015 eruption in orange (using OOI Cabled Array data). - doc. NOAA / PMEL
Sources :
- OSU / 30.04.2015 - Researchers think Axial Seamount off Northwest coast is erupting – right on schedule - link
- NOAA / PMEL - Successful forecast of the 24 April 2015 eruption at Axial Seamount - link
- OSU / 2011 - Scientists find eruption at undersea volcano - after forecasting the event