The use of drones in all fields entered in the uses. It is undeniable that these provide an approach to volcanic phenomena without direct risks for the user, and a surprising images harvest. (See the article ""Drones de volcans"" 04.2013)

This will not be the case in Yellowstone National Park or in other areas controlled by the National Park Service, where they are, from June 2014, forbid by the interest of public safety, disruption of wildlife and potential impacts on visitors and staff.

Despite this prohibition, a number of recent incidents in Yellowstone National Park led the authorities to crack down harder.

On 17 July, a drone was damaged in the Yellowstone Lake, near the marina in West Thumb. Its German owner is charged with prohibited use of aircraft flying, false statements, and commercial image taken without permission.
On 2 August, a drone crashed in the Grand prismatic ... his Dutch operator, although cooperating with investigators, is considered violating several federal laws, and risk $ 5000 fine and / or six months imprisonment and / or five years' probation.
On August 19th, an American was charged of prohibited overflight above the Midway Geyser Basin, too close to the bison.

Other incidents were reported in Grand Teton Park nearby, but also in Yosemite and the Grand Canyon of the Colorado.
We must remember that the hot springs of Yellowstone are fragile sites, and a remarkable habitat. The slightest disturbance can cause irreversible changes in some cases.

That may have caused damage as the input of a drone in a hot spring at 160 ° C as the Grand Prismatic? ... What kind of change can happen by leaving it in place, or even getting to remove it?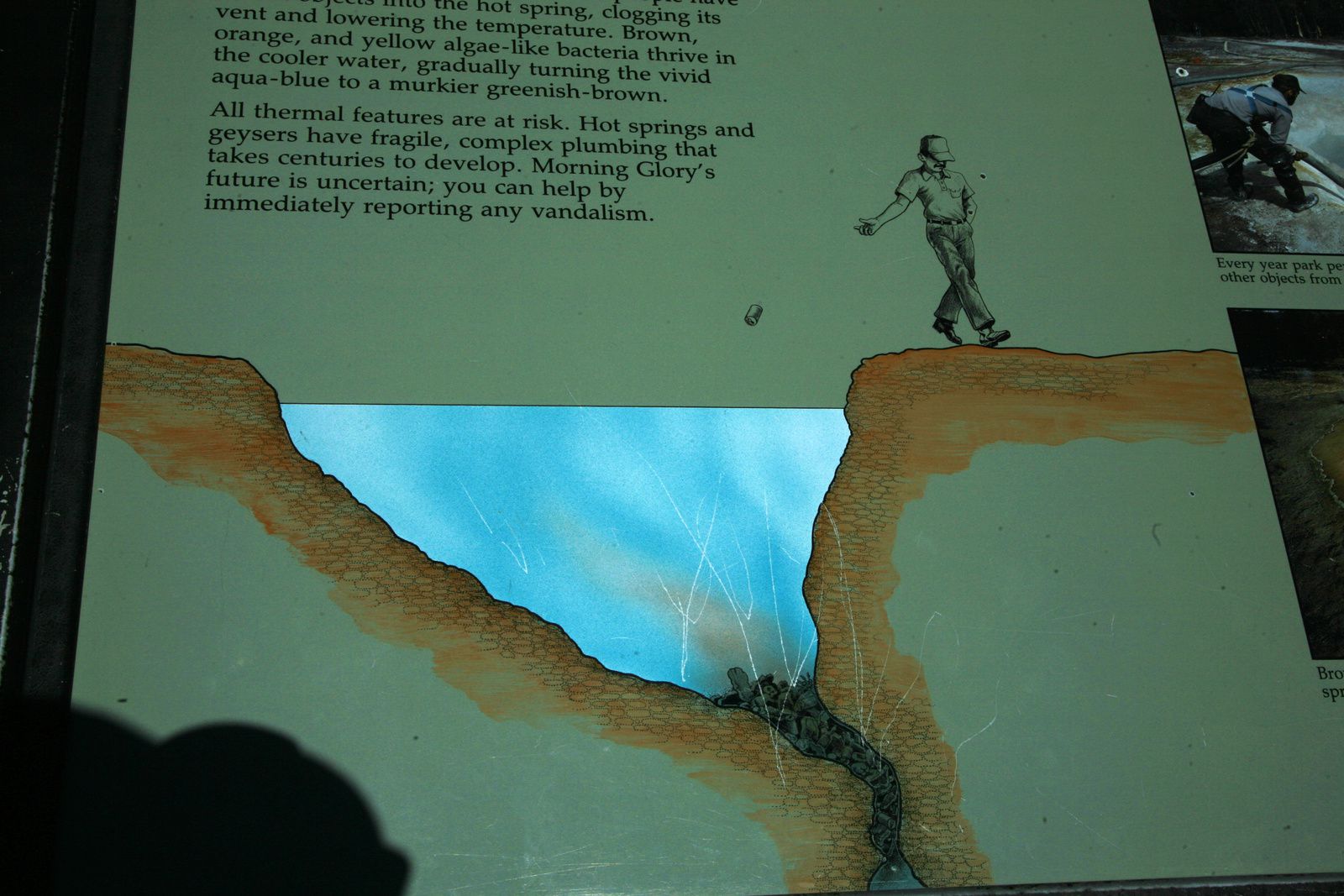 Just remember the changes in feeding and water temperatures occurred in Morning Glory Pool by introduced waste, leading to a modification of thermophilic and therefore a change in color of this hot spring. (see previous article: "Morning Glory ... nostalgie automnale" ).

The drones are valuable investigative tools, but their unregulated and sometimes outrageous use should not be admitted.
Sources :
- National Park service / Yellowstone Enforcing Ban On Unmanned Aircraft Operation - link
- The prohibition on operation of unmanned aircraft in Yellowstone National Park was included in the 2014 update to the Superintendent's Compendium - link
- Live Science - Banned Drone May Have Damaged Yellowstone Spring - link