The eruption of Gunung Sinabung, which has been ongoing since September 2013, seems to reactivate in October.

The BNPB reported four eruptive episodes, accompanied by pyroclastic flows on October 5. The first at 1h46 with a long cast of 4,500 meters and co-pyroclastic plume reaching 2,000 meters. The other three, respectively at 6h38,7h36 and 7h53, generated pyroclastic flows of a length between 2,500 and 4,500 meters, and plumes rising to 3,000 m. Press mentions two other episodes at 9h and 12 o'clock.


The Jakarta MVO notes plume reaching 5,200 meters and drifting southward on October 7.

The corridor used by the pyroclastic flows is a little west of the previous lava flow; the topography is different in this place ... the steep slope allowing to a significant acceleration of the flows, likely fueled by a more gas-rich magma. The affected area extends further southwest, threatening the village of Payung at the boundary of the area of 5 km.

The press reports of consecutive evacuations these pyroclastic flows.

The webcam of the VSI and Twitter regularly provides images of the pyroclastic flows of 8 and 9 October.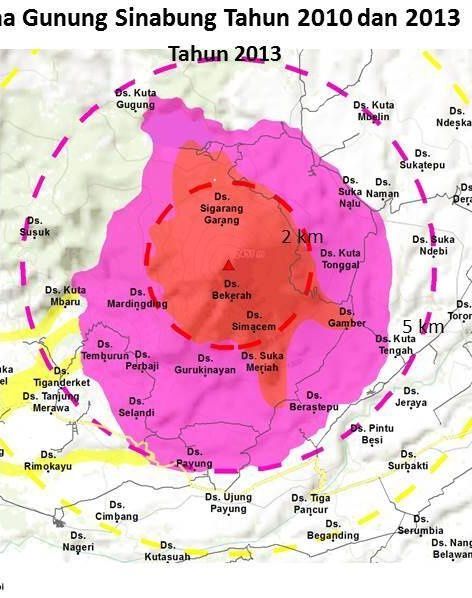 Map of areas at risk from 2013 to Sinabung - in red: impactable area by pyroclastic flows ( to extend) - in pink: touchable area by falling ash - in yellow: areas at risk of lahars. - Doc. BNPB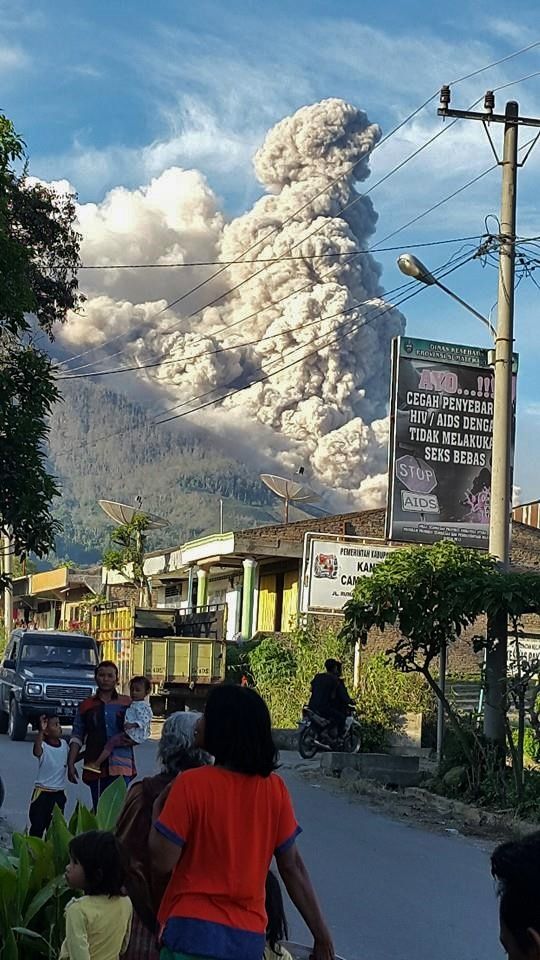 Sinabung - locals seem indifferent to the volcanic activity - photo 2014.10.08 Martin Ledanto Sinulingga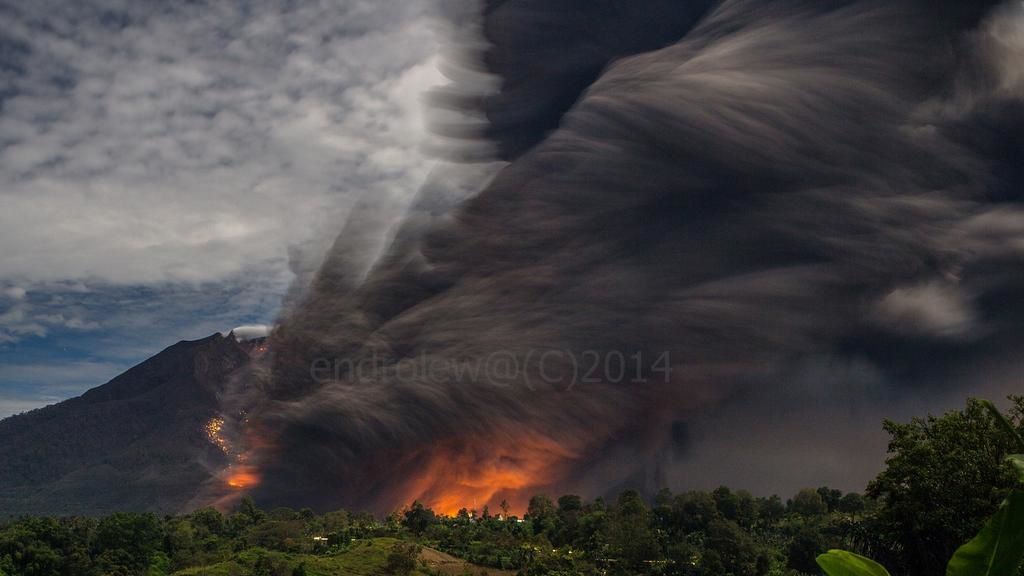 Sinabung on 08.10.2014 / 10:44 p.m. - starting of the flow and formayion of the co-pyroclastic plume - photo Mbah Lewa
Sinabung - two images of the webcam 09/10/2014, 6:38 ET 10:24 respectively - one click to enlarge - doc. VSI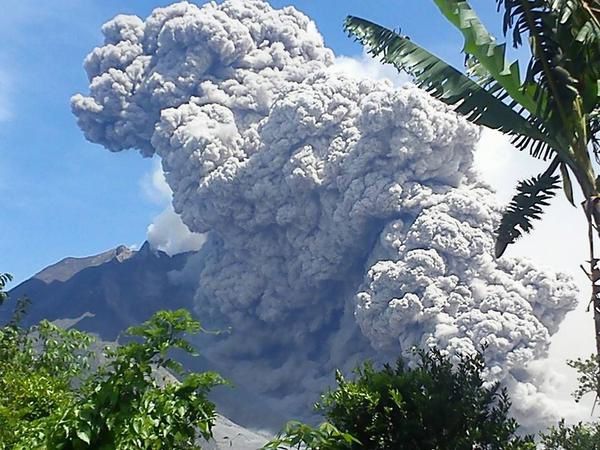 Pyroclastic flow of the Sinabung 2014.10.09 / 11:05, from Payung ...it approaches dangerously of this area - Photo Yudhi - volcano observatory staff / via Twitter.
Ash fallout disrupts the city of Berastagi, located 23 km from the volcano. The rural economy is paralyzed and many traders have closed their shops for fear of their goods and fruits / vegetables are covered by ashes. The administration and schools continue to operate, staff and students wearing masks.

MAS, AirAsia and Firefly airlines of Medan canceled flights this 09.10. because of the ash emitted by the volcano.

The alert level remained at 3, despite this increase in activity. According to Mr Putra, head of the observation post to Sinabung, the transition to the next level would result in forced evacuations.
Sources :
- Badan Nasional Penanggulangan Bencana - BNPB – link
- Global Volcanism Program - Sinabung / weekly report - link
- médias : Jakarta Post / Jakarta Globe
- réseaux sociaux : Twitter et Facebook