In search of Gebirgsstein quarry, we borrowed various agricultural or quarry roads, to find ourselves in front of a disused quarry, does not correspond to our research, but photogenic and showing a wall where outcrops of basalt.
Gebirgsstein quarry :

To get there directly, in the center of Oberbach, turn right towards Gefäll and find the parking lot after a rise of 4,700 meters. Take the road for about 400 meters and take the dirt road to the right towards the "Rhönklubhütte Oberbach" and the quarry.

The significance of this visit is to discover the eroded remnants of a cinder cone and basalt prisms.
During a first phase of volcanism, there are some 20 million years, eruptions have formed a cone made of slag and bombs. A second phase is characterized by less explosive issue of basalt, which formed a lava lake inside the cone previously established. This lake of lava cooled and solidified by filling the crater.
Site of Gebirgsstein Vulkankrater - Formation : 1. left, cinder cone - 2. right, formation of the lava lake - doc. Geotope Bayern
Site of Gebirgsstein Vulkankrater - 3. left, before erosion - 4. right, today situation - doc. Geotope Bayern
Erosion has leveled the crater rim, and quarrying dug the center of the lava lake. Basalt there was exploited between 1937 and 1962, as railway ballast, making pavers and other construction materials for roads. The tuff or slag, forming the walls of the cone, less interesting, was not recovered.

The end of the operation left a wall of tuff, about 30 m high, on the banks of which fragments of basalt prism remain. Trees and shrubs were removed to make more readable the different layers. The fact that the heads of basaltic prisms are rotated in all directions toward the center of the quarry confirms the ancient topography.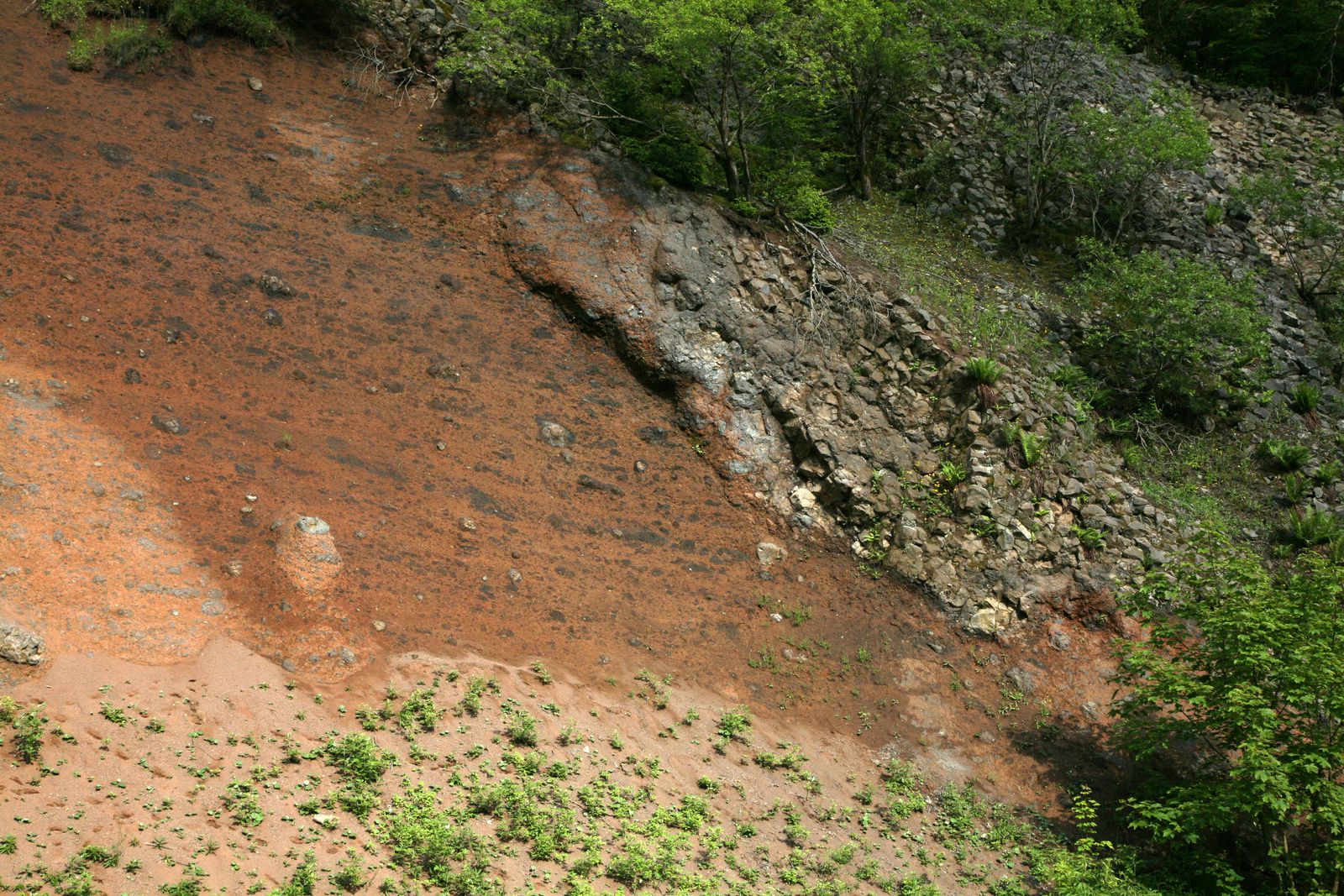 Crater Gebirgsstein - Detail on the wall of tuff (scoria and bombs) and basalt of the lava lake remains - Photo © Bernard Duyck 05.2014
The DVG – Deutsche Vulkangeologische Gesellschaft - projecting to add the spot of Gebirgsstein in the Deutsche Vulkanstrasse. It is also planned to include the Gebirgsstein quarry in the Basaltweg Extratour - Extratour of "road basalt"
Sources :
- Geotope Bayern - Vulkan krater gebirgsstein - link
- Geocaching - Vulkankrater Gebirgsstein - link
- Rhönklub Oberbach - link