Rhön form a territory shared between the Bundensländers Hesse, Thuringia and Bavaria, east of the massif Vogelsberg. It covers approximately 3.500km ², with an oval shape 90 km. N-S, 50 km E-O.

This moderately hilly and heavily eroded massif has however a typical volcanic appearance. Its name comes from the Celtic Raino, meaning hilly. It rises to 950 meters at the top of Wasserkuppe (Hesse), the highest point in Bavaria is located in Kreuzberg, 927 meters.

The area is renowned for its thermal baths, as indicated by the names of several cities: Bad Kissingen, Bad Brückenau, Bad Neustadt, its winter sports and competitions of gliding.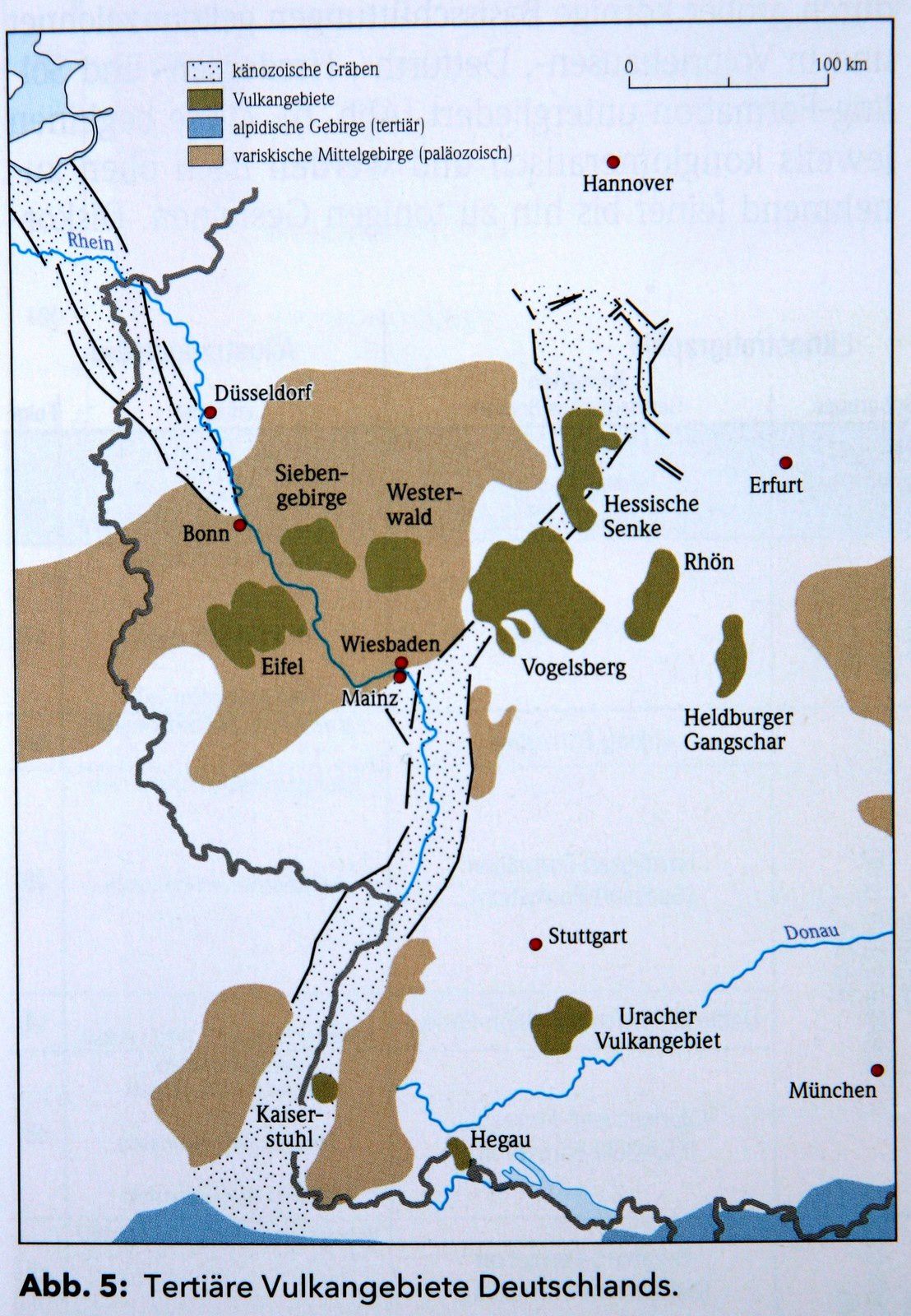 Tertiary volcanism in Germany - doc in Die Hessische Rhön-im Land der Geotope offenen fermentation - Umwelt und Geologie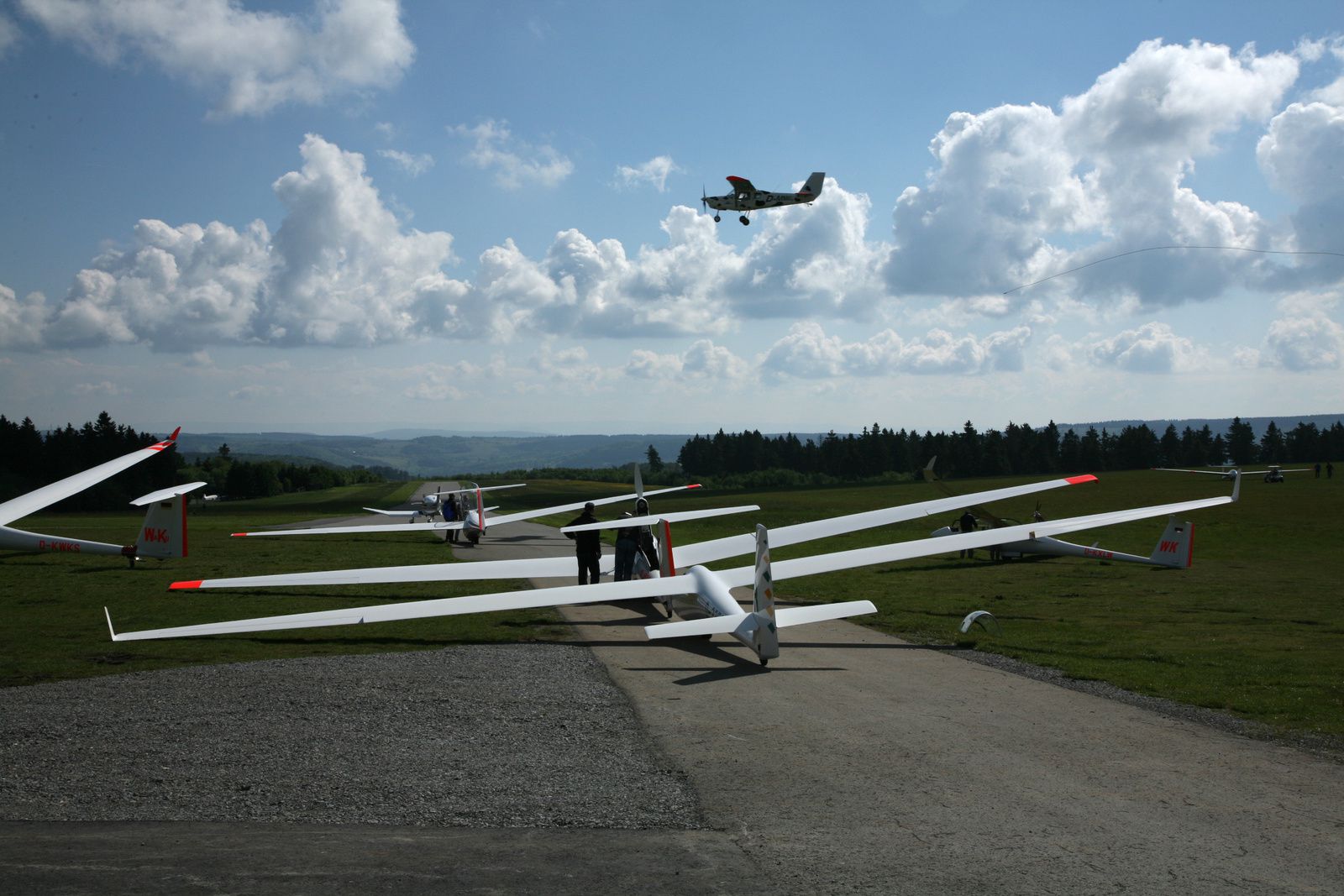 At the Fliergerschule Wasserkuppe, towing gliders succeed at a high rate - Photo © Bernard Duyck 05.2014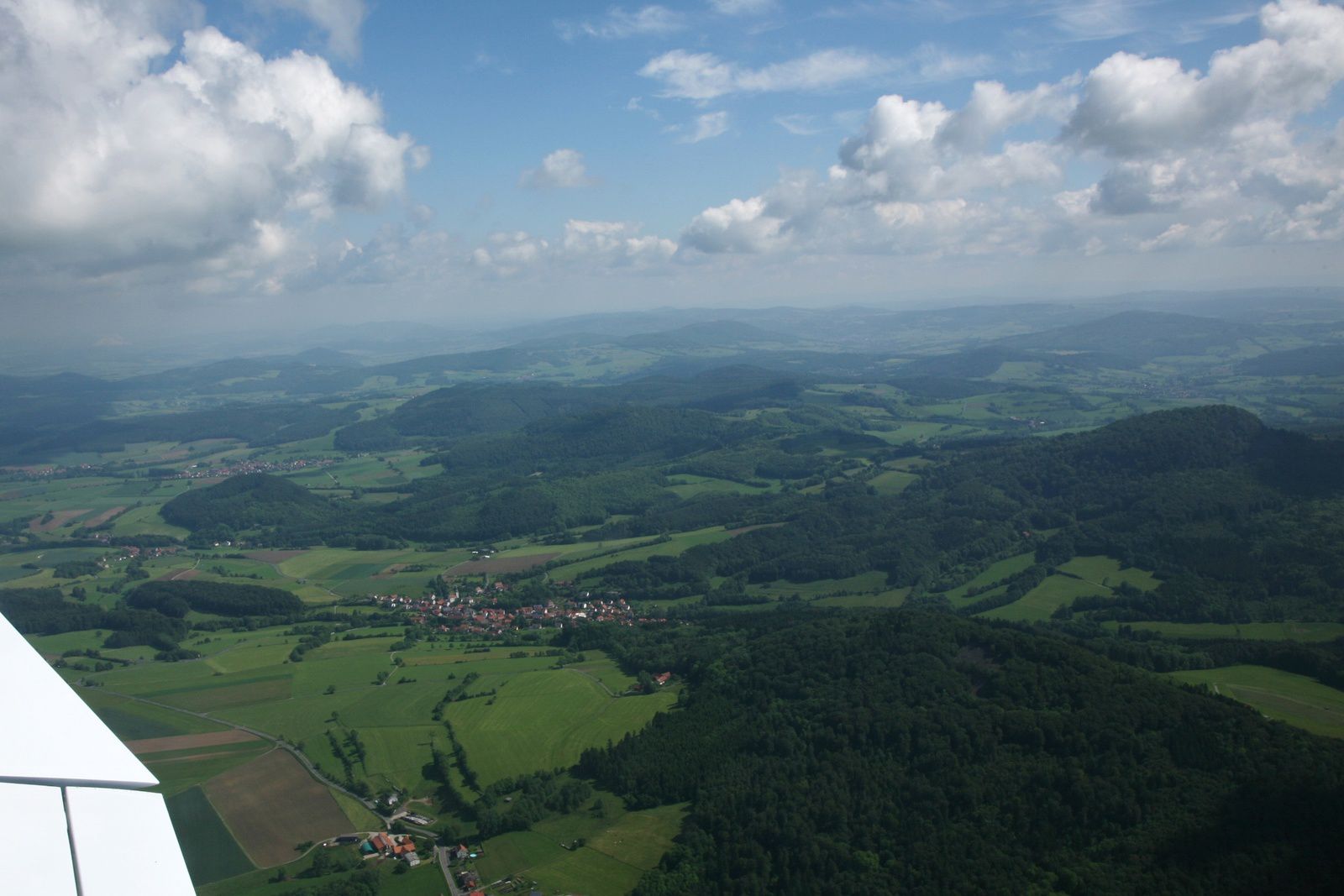 Rhön / Wasserkuppe - semi-open landscape of the Hohe Rhön after Fliergerschule's take off - photo © Bernard Duyck 05.2014
Volcanism and geology are comparable to outline those describing the Vogelsberg, with a Tertiary activity mainly between 22 and 18 Ma. Unlike Vogelsberg where volcanism was mainly effusive, most gas-rich magmas produced Rhön more explosive volcanism, whose impact products have been eroded and leave flush basalt and phonolite only in places, especially in the south.

Phonolite, gray to greenish, consists of feldspar, feldspathoid and scarce glass paste. She debit in slab; as its name, derived from the Greek implies, it transmits well the sounds.
Basalts are declined in all varieties: basanite, népéhlinite, tephrite, trachyte, andesite, trachyandesite, alkali basalt.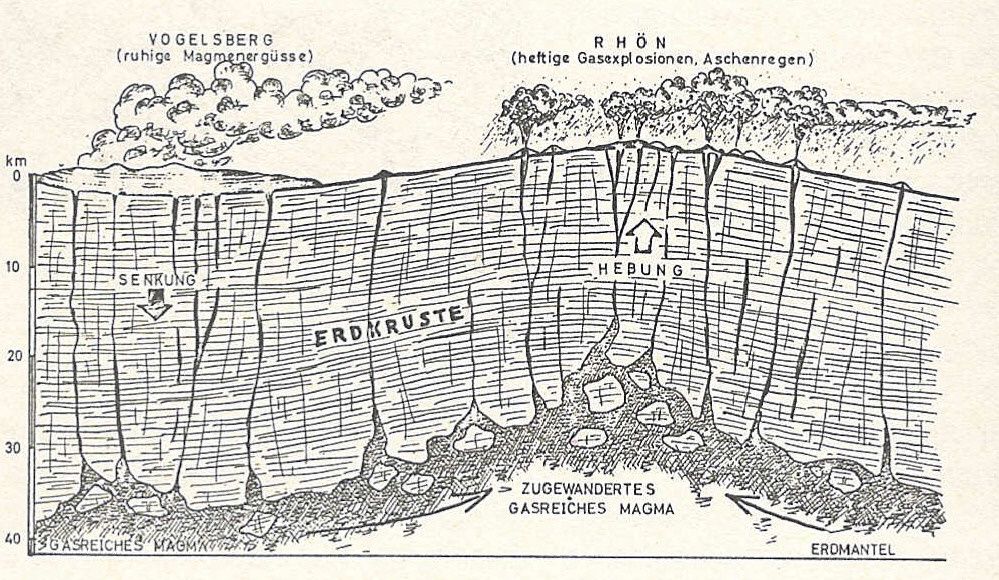 Comparative scheme of the more effusive volcanic activity in Vogelsberg, and Rhön most explosive - Rhön was curved from Pliocene to Pleistocene in dome, which has contributed to the erosion of volcanic rocks giving the current reliefs - doc Geology & vulkanismus der Rhön / Rhön-blog Stefan von Etzel
Two major phases of activity can be distinguished:

An early phase characterized by relatively rich magmas in SiO2, mainly in the west and northwest of the Rhön, with production of tephrite, trachyte and phonolite. It is accompanied by pyroclastic flows and eruptions ignimbritic.

A second, more recent, phase, characterized by magmas with a lower proportion of SiO2 produced alkali basalts, basanite and nephelinite. The most effusive volcanism produced lava flows from which the plateau of the Hohe Rhön is built.

Exposed volcanic structures are numerous and I discuss here a few spots visited: Wasserkuppe Schafstein, Gangolfsberg and Gebirgsstein.

Fliegerdenkmal, a memorial to fallen airmen during World War I, was built in 1923.
The base is made of basalt columns welded by concrete.; it is surmounted by an eagle sculpted by Augustus Gaul, initially set at the entrance to the garden of the villa of a Hamburg shipowner, and sold by his widow. Become part of Wasserkuppe, it serves as a benchmark.

Sources :
- Die Hessische Rhön- Geotope im land der offenen fermen - Umwelt und Geologie - Hlug.de
- Rhön-blog von Stefan Etzel - Géologie & vulkanismus der Rhön
-Rhön tourism portal