To the east of Wasserkuppe, located between the summit and the town of Ehrenberg we found - with difficulties - the site of Schafstein.

This high hill of 832 meters consists of basalt overlying the shelly limestone, covered by forest. As the region is classified as a forest reserve , no human intervention came disturb the growth, life and death of trees and bushes. In this natural area, two seas of basalt blocks completely bare form gray scars in the green ocean
.
These huge boulders are the remnants of the volcanic activity that marked Rhön Tertiary. Located in an area of ​​permafrost, between vast glaciers covering northern Europe and the Alps, the Massif of Rhön suffered extreme weather conditions ... the organs of alkali basalts from the top of Schafstein crashed and overturned forming a Sea of blocks covering the flanks at an elevation between 700 and 800 meters. These blocks form a layer 20-30 m thick, the interstices of which are filled with small fragments of basalt, humus and earth, and surmounted by a layer of 5 to 10 m thick formed only by blocks.

This sea of blocks covers not only his own basalt body, but also areas underbody made differently ... on approximately 3.6 hectares; it forms the greatest accumulation of blocks of the Rhön.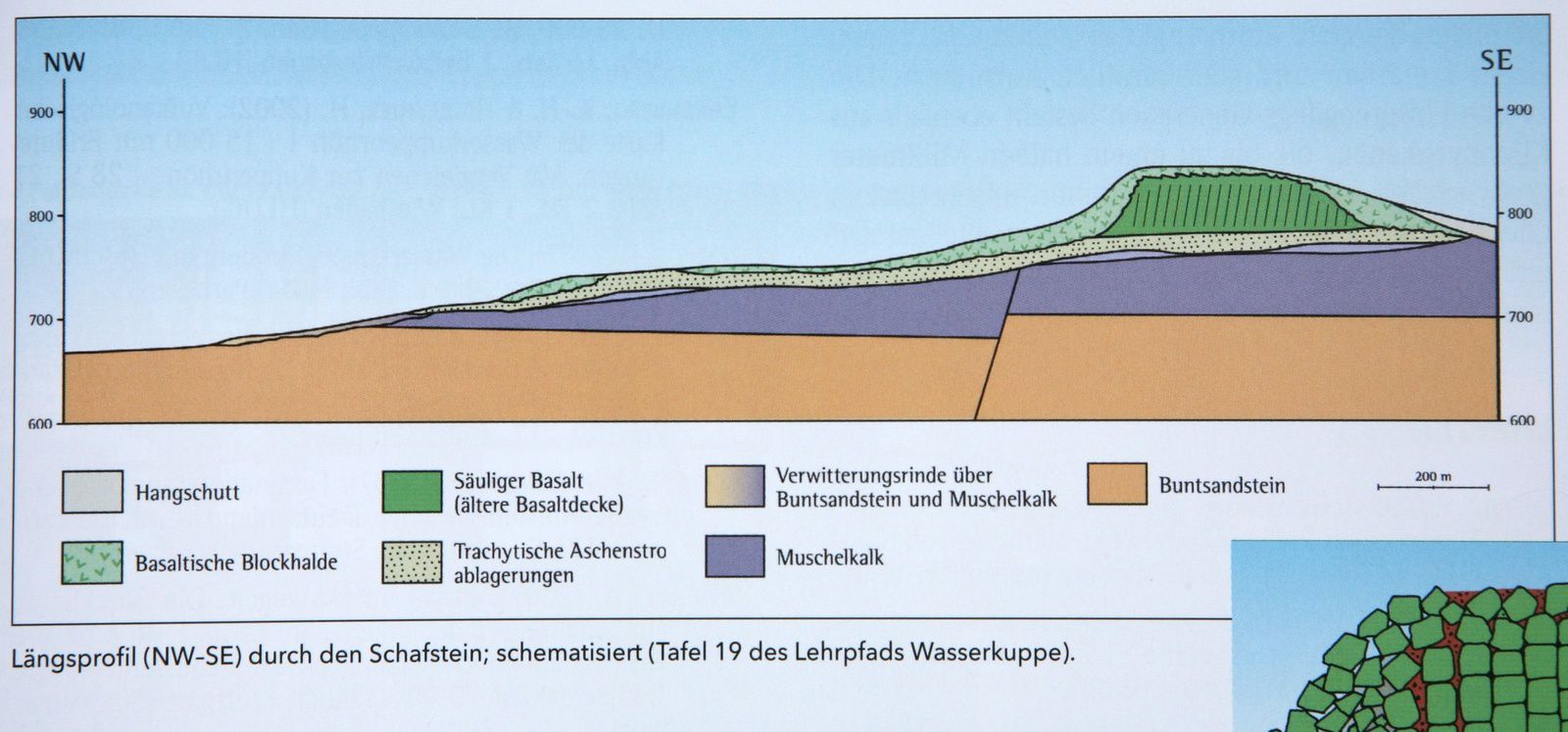 Schafstein - schematic cross cup NW-SE - in the box to the right, schema of transformation of basaltic columns of the top into block - doc. in Die Hessische Rhön- Geotope im land der offenen fermen
This particular biotope allows only the installation of rare mosses or lichens. Specific climatic conditions are recorded : in summer, areas in front of the sea of ​​blocks can freeze, while in winter, there is the presence of hot air at the top. Measurements made by scientists suggest that ice can still keep today deep beneath the blocks.

Access: on the B284 between Gersfeld and Wüstensachen, turn left towards Reulbach, and find a small parking after 300 meters. From here a steep forest trail leads in zigzag to the top of Schafstein, where we have a view of the sea of ​​basalt blocks.

GPS: 35 ° 69'250 - 96'730 55 °.