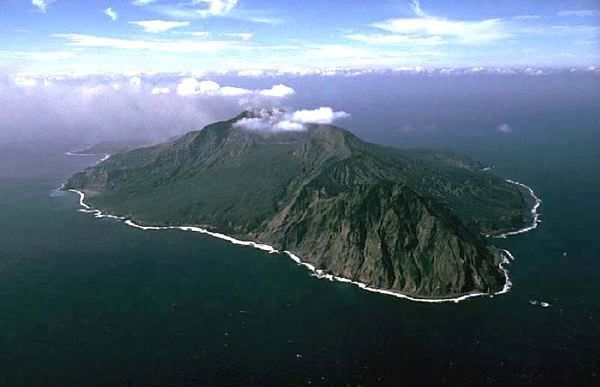 Suwanose-jima, for the NE - left of the photo, Sakuchi caldera (center of the island) - right, the volcano Tondashidake - photo H. Seo / Geological Survey of Japan
Suwanose-jima in fact consists of the coalescence of four volcanic body, often seen and referred as volcanoes : Tondashi-dake, Suzaki, O-take-dake and Negami, oriented in a NE-SW axis. They form a long island, 9 km on its longest axis, peaking at 799 meters.

Although it is unknown to the general public, he is one of the most active volcanoes in Japan, like its neighbor, Sakura-jima.

South of the island, a sequence presents rhyolitic pumice deposits 3 m thick, and a pyroclastic deposit from a height of 15 meters, both having an insular source. They have over 23,000 years, as they are covered by the "ashes AT" from the eruption of Aira caldera, located well north (and encompassing the modern Sakurajima).

These ancient eruptions are superior in magnitude to that historical time, characterized by frequent but moderate eruptions of slag. They concern andesitic-basaltic lavas of andesitic nature.

Suwanos-jima - to the left, simplified map of the volcanic units / Photovolcanica - to the right, topographic map with the different craters, whose Otake (Oc) and caldera Sakuchi - doc Taketo Shimano 2008 - one click to enlarge
In 1813-1814, the eruption "Bunka", of VEI 4, is characterized by significant tephra deposits on the island, issuing of two andesitic flows starting from the crater SO, that have elapsed until to the west coast. At the end of the eruption, a sector collapse won the NE summit crater "Otake", created a huge debris avalanche and formed the caldera ironhorse shaped Sakuchi, which extends to the east coast. After the eruption, the island was abandoned for 70 years.

The eruption 1884-85was less powerfull, resulting in an outpouring of lava, known as Meiji casting, which reached the East Coast.
Since 1985, eruptions have as seat the summit crater northeast, the O-take and are Strombolian to Vulcanian kind. The most recent in 2001-2003 and 2004-2014 ... JMA reported explosions in June 2014.

Access to the top of Suwanose-jima is regulated by the park administration, and often banned because of the risk of ballistic projectiles and electrostatic discharge. A closet marks the entrance to the restricted area. The access path, abandoned, is severely eroded in places and covered with vegetation.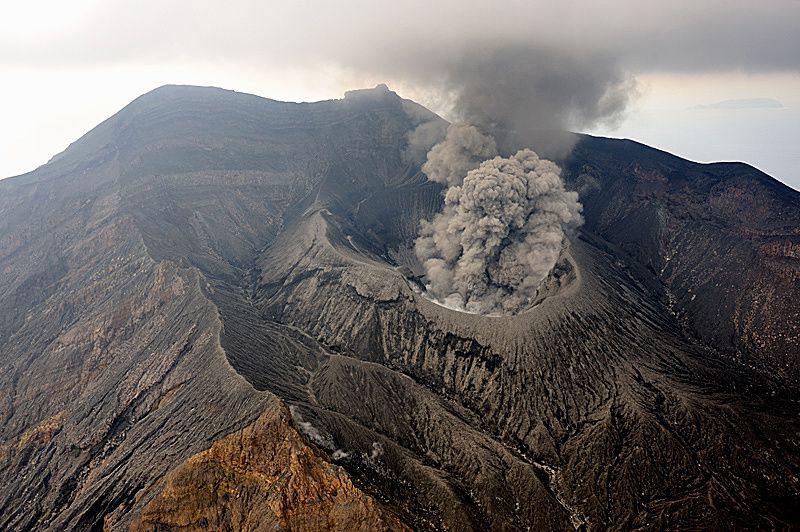 Sources :
- Geological survey of Japan – Suwanose-jima
- Global Volcanism Program – Suwanosejima
- Photovolcanica - Suwanosejima
- Thorsten Boeckel – Japan : Kyushu and Tokara islands 25.12.2009/09.01.2010 - link