Kuchino-shima is located in the north of the islands forming the Ryukyu volcanic arc, between Nakano-shima and Kuchinoerabu-shima.
The small population is concentrated in the north of this tiny land 3 km. on 7, in the villages of Nishinohama and Kuchinoshima.

Two andesitic stratovolcano and a chain of lava domes, oriented NW-SE, characterize it. The composite dome Maedake highest point 628 meters, stood at the east of the summit of the flat roof stratovolcano Yokodake top of 501m.

The Global Volcanism Program reports only four eruptions, in 6750 BC, in 900 BC, in 750 and one in 1190. In 2001, discoloration of the ocean indicate always thevolcanic activity.
Kuchino-shima - in the center, the lava Dome Maedake seen from north , the stratovolcano Yokodake on the right - photo S.Nakano 2005 / GSJ
Among the many domes, the dome Moedake has an explosion crater still emitting fumaroles.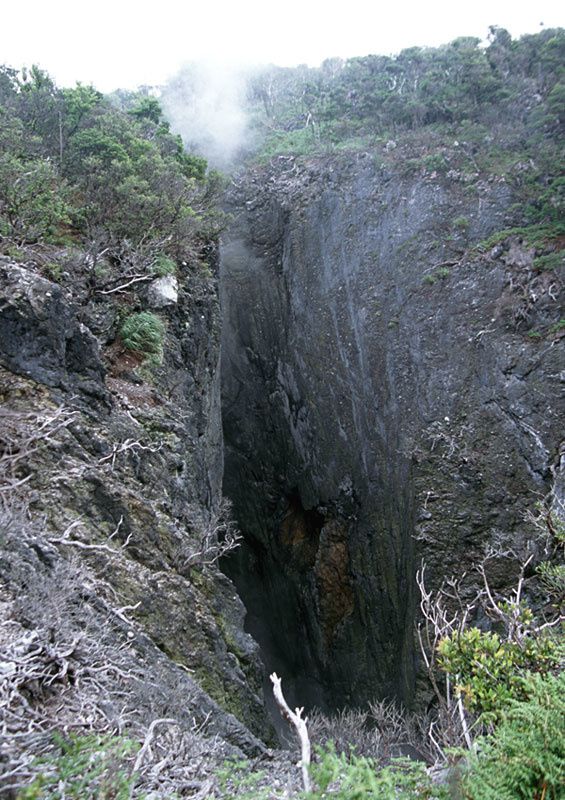 Kuchino-shima - Activity fumaroles in the crater of explosion of dome Moedake - Photo S. Nakano / GSJ
The island is home to indigenous cattle in small number, retaining the characteristics of the oldest breeds of Japan described in ancient documents, the Kuchinoshima Ushi. They are thin (300-400 kg), small sizes, with a broad chest and a tiny waist.