Echoing an article by Jessica Ball on its "Magma cum Laude" website , Scotland is required
as a geological dream destination.

This relatively small area has a strong geological variety. Its oldest rocks are Lewisian gneiss, dating from Archean , more than three billion years. In Precambrian , they are Torridonian sandstone that form, followed in the Cambrian , by sedimentary deposits. This area is part in Silurian, between 443 and 416 Ma, of the continent Laurentia , bordered by the Iapetus Ocean. During the Caledonian orogeny , the continent Laurentia collides with the continent Baltica ... after this collision , volcanic activity is recorded in Scotland , characterized by volcanoes and other igneous intrusions.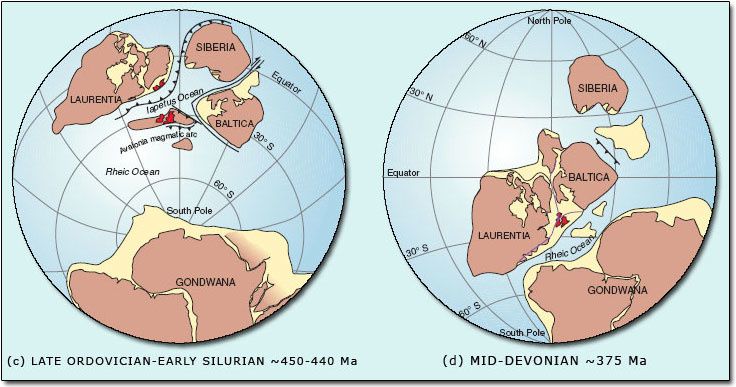 Evolution of continents between 450 and 370 Ma - on the map of the left is the current UK (in red) still separated into two entities .
Edinburgh , the Scottish capital, as a geological hot spot :

The city is built on a series of volcanic hills, which are as many points of view on the city.

Edinburgh is dominated by its castle built from the 7th century on Castle Rock, a volcanic neck dated 350 Ma ( Carboniferous) , remains of a diatreme overlapping sedimentary rocks and formed of dolerite . The passage of glaciers on mixed terrain left a " crag and tail " formation , a hard and tough rock protecting a tail, as opposed to the attack of the glacier. This rock, exceeding 80 meters on average around, formed a formidable fortress , but with a disadvantage to the impermeable nature of the dolerite , and the water ran out despite a well 28 meters deep during the siege of 1573.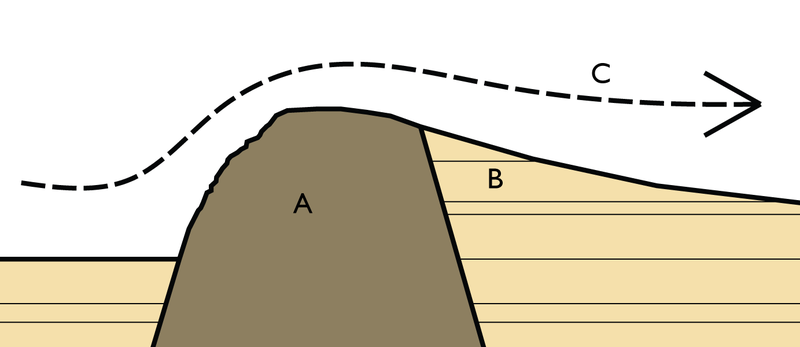 Scheme of a "crag and tail " formation - A: Crag formed by hard volcanic rocks - B : tail formed by sedimentary rocks - C : direction of movement of the glacier - doc . Jonathan Oldenbuck
To the southeast of the city, and contemporary of Castle Rock, is a hill of 250 meters and resembling a lion lying down : Arthur 's Seat.
Two former craters form the head, Lion's head , and hip, Lion's haunch . Basaltic lavas and tuffs were eroded by Pleistocene glaciers , leaving the cliffs to the west and detritus of a medial moraine to the east.

Arthur 's Seat is often mentioned as a possible site for Camelot , the legendary castle of King Arthur and the Knights of the Round Table.

This set is part of the current Holyrood Park, property of the king at the origin and site of SSSI / Site of special scientific interest.
Between Arthur 's Seat and the city center of Edinburgh, Salisbury Crags form the same type a basalt cliff .

A dolerite sill , known as " section Hutton " - James Hutton is considered as one of the fathers of modern geology , and a native of Edinburgh - , shows how magma forced its way in sedimentary rocks.