Japanese and Salvadorans anthropologists found three skeletons, dating from 1,600 years, in the site of Nueva Esperanza, located 70 kilometers southeast of the capital San Salvador.

The bones match those of two adults 25 to 35 years, and a child from 7 to 9 years old, in good condition. Two of them are sitting with crossed legs, similar to the position of remains found on archaeological sites in Guatemala, Kaminaljuyú and in Mexico, Teotihuacan, both centers of power in pre-Columbian Mesoamerica.

The skeletons were discovered under a layer of volcanic ash about two meters thick, which allowed a good storage.

Region Nueva Esperanza was covered by ash gigantic eruptions of the volcano Ilopango between the 5 and 6th centuries, which led to the conservation of prehispanic archaeological evidence of a pueblo, probably living fishing and salt production.
Left, presentation of burial by Akira Ichikawa, a Japanese archaeologist - photo KPMR News - right, excavations - Photo AFP / ChinaPost
Ilopango caldera :

Ilopango caldera, 11 km.on 8, is occupied by one of the largest lake in Salvador, 72 km ². It is under the control of regional faults of Salvadoran central graben. Four major explosive eruptions, of rhyolitic-dacito nature, are reported from the late Pleistocene to Holocene, accompanied by pyroclastic flows and deposits that covered the country.
The final collapse, which produced the current caldera results from the eruption Terra Blanca Joven / TBJ, which devastated the Mayan cities.
According to Robert A. Dull, University of Texas at Austin, the TBJ eruption would produce 84 km ³ of tephra (revised volume based on TBJ deposits found in Nicaragua and offshore), twenty times more than the St Helens eruption in 1980. Its volcanic explosivity index and dating were reviewed respectively VEI 6.9 (about the eruption of Tambora in 1815) and between 526 and 536 years.

This Plinian eruption and deadly pyroclastic flows accompanying could explain "the hiatus Maya", a collapse affecting the Mayan society in the southern Lowlands at the end of the Preclassic period.

It would also be involved in the overall cooling of years 535-536, 18 months of covered sky, poor harvests and famine, described by Roman and Chinese historians.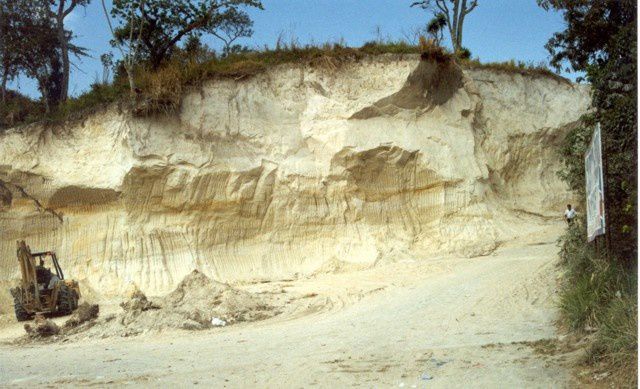 Deposits of Tierra Blanca Joven eruption in a quarry near Cojutepeque, 9 km ENE of the Ilopango caldera - Photo Giuseppina Kysar, 1999 (Smithsonian Institution)
Sources :
- KPMR News - Descubren tres osamentas de al menos 1.600 años de antigüedad en El Salvador – 07.04.2014 - link
- Emol – Cinecia y Tecnologia - El Salvador: Hallan osamentas humanas de 1.600 años bajo las cenizas de un volcán – link
- Global Volcanism Program - Ilopango
- Historica - Volcán de los Cerros Quemados. – link