In late September, an anniversary at St. Helens : the resumption of the volcanic activity after the eruptive crisis of 1980-1986.

On September 23, 2004, after four years of "seismic calm," a swarm of small-magnitude and shallow earthquakes begins under the lava dome that has formed in 80-86.

Seismicity will increase, until it opens on October 1, 2004 on a series of explosions associated with ash plumes, starting from a vent located on the SW edge of the old dome. A quieter stage follows next.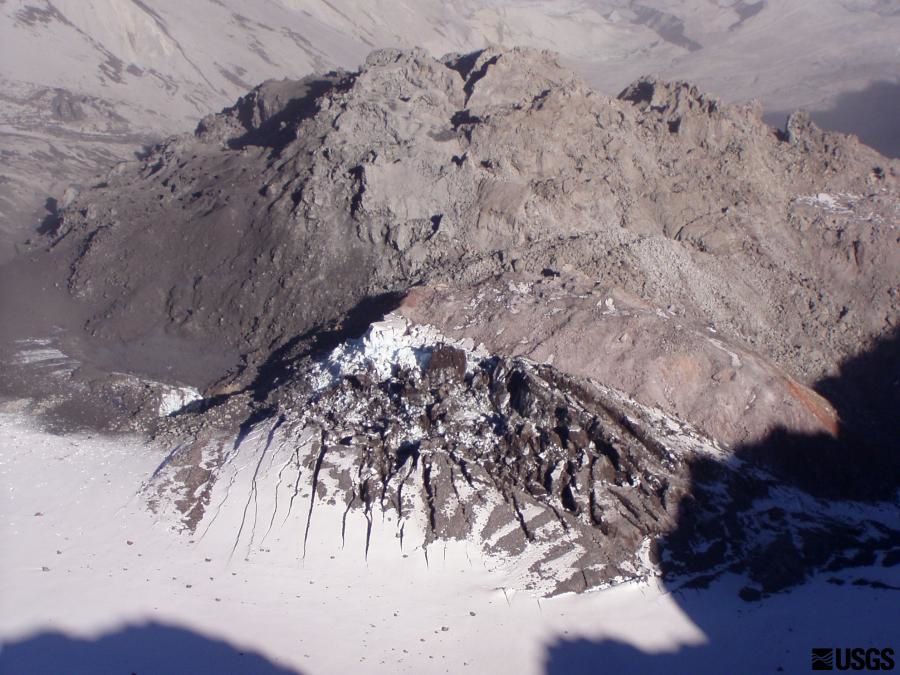 Cracks in the Crater Glacier S. Helens on 2.10.2004 following the consecutive inflation due to the new activity - photo Mike Poland / USGS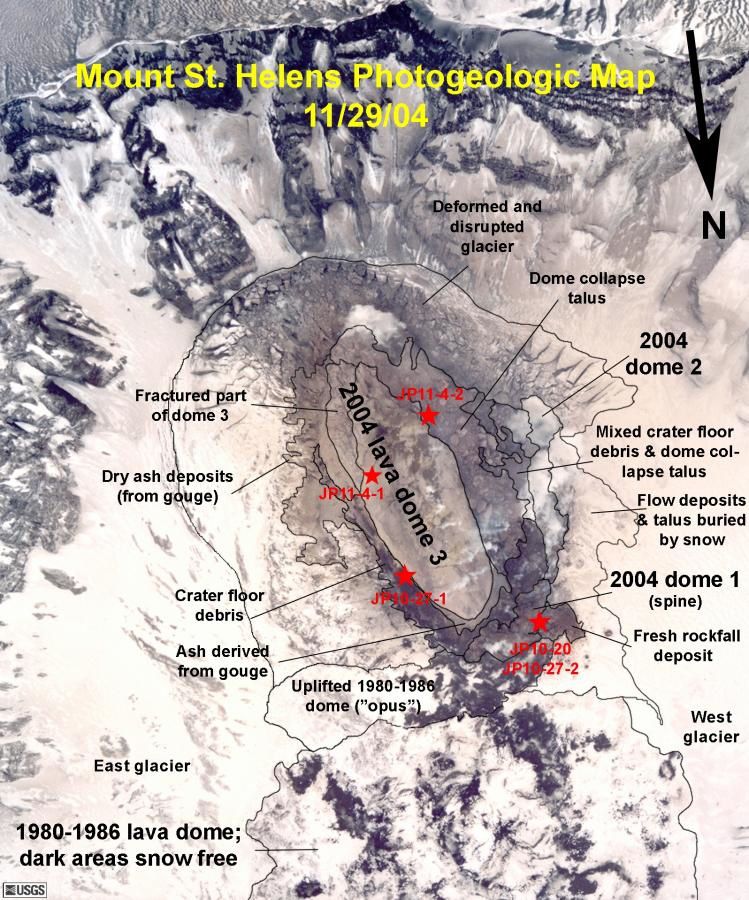 Photogeological map of the crater of St. Helens on 29.11.2004 - different new domes in late November and their position relative to the dome 1980-86. Note that the new dome bisects the Crater Glacier, now called East and West Glacier - Doc John Pallister / USGS
On October 11, a new phase of construction of the dome begins with hot lava hardened spines that dot the surface of the glacier. These successive spines will accumulate for three years to form the new dome with a height of 460 meters.

Lava spines characterize peleans type domes, surmounted by protrusions or "needles". (classification Blake 1990 / in Bardintzeff 1998)

Between 2004 and 2008, the growth of the dome is made, not by effusion, but by a continuous extrusion of lava spines, strongly degassing.

The volume of extruded lava onto the crater floor is estimated at almost 92 million cubic meters.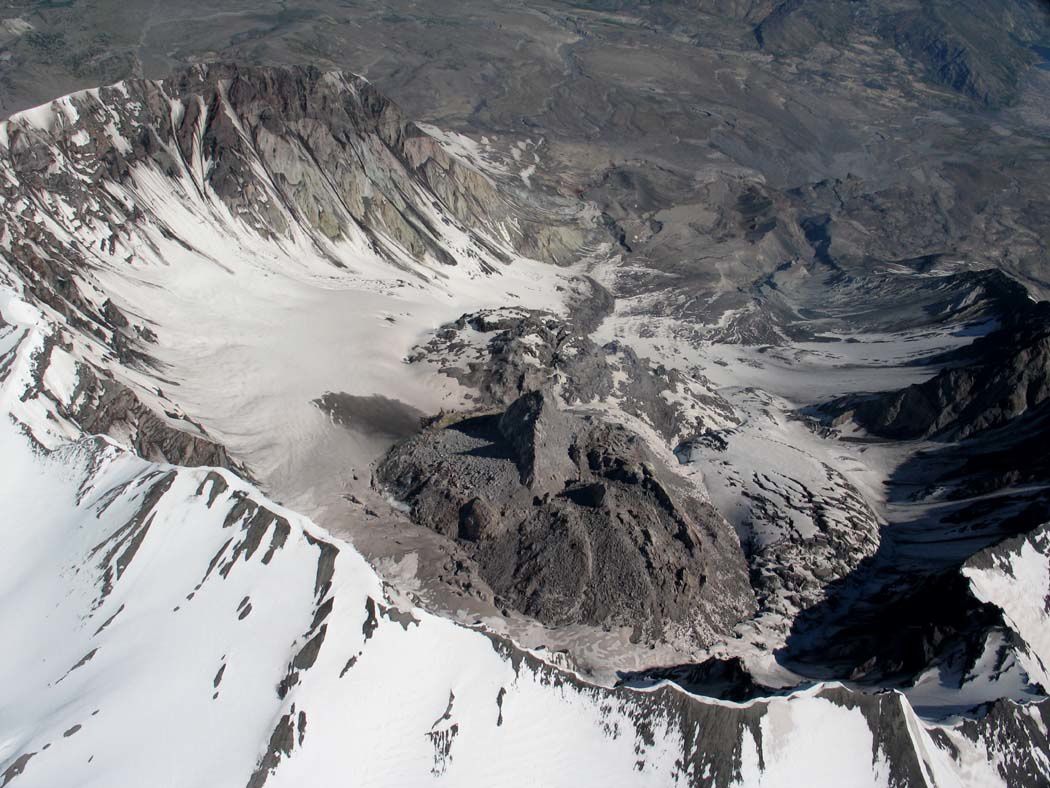 St. Helens crater - the new dome and the spine (in the foreground ) 27.05.2005 - photo JHScurlock / USGS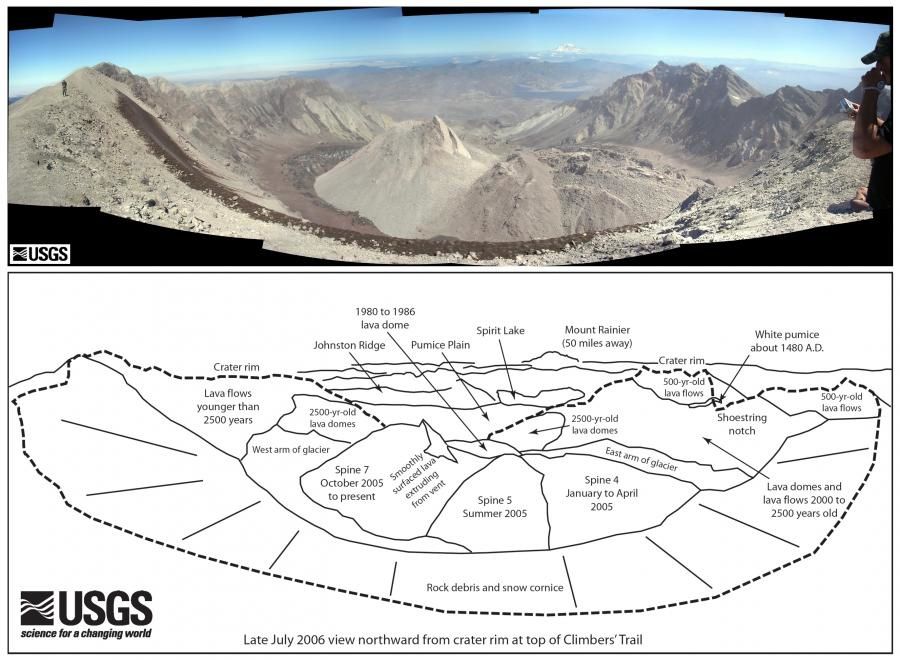 St. Helens - Panoramic from south crater rim on 27.07.2006 - photo and annotations Willie Scott / USGS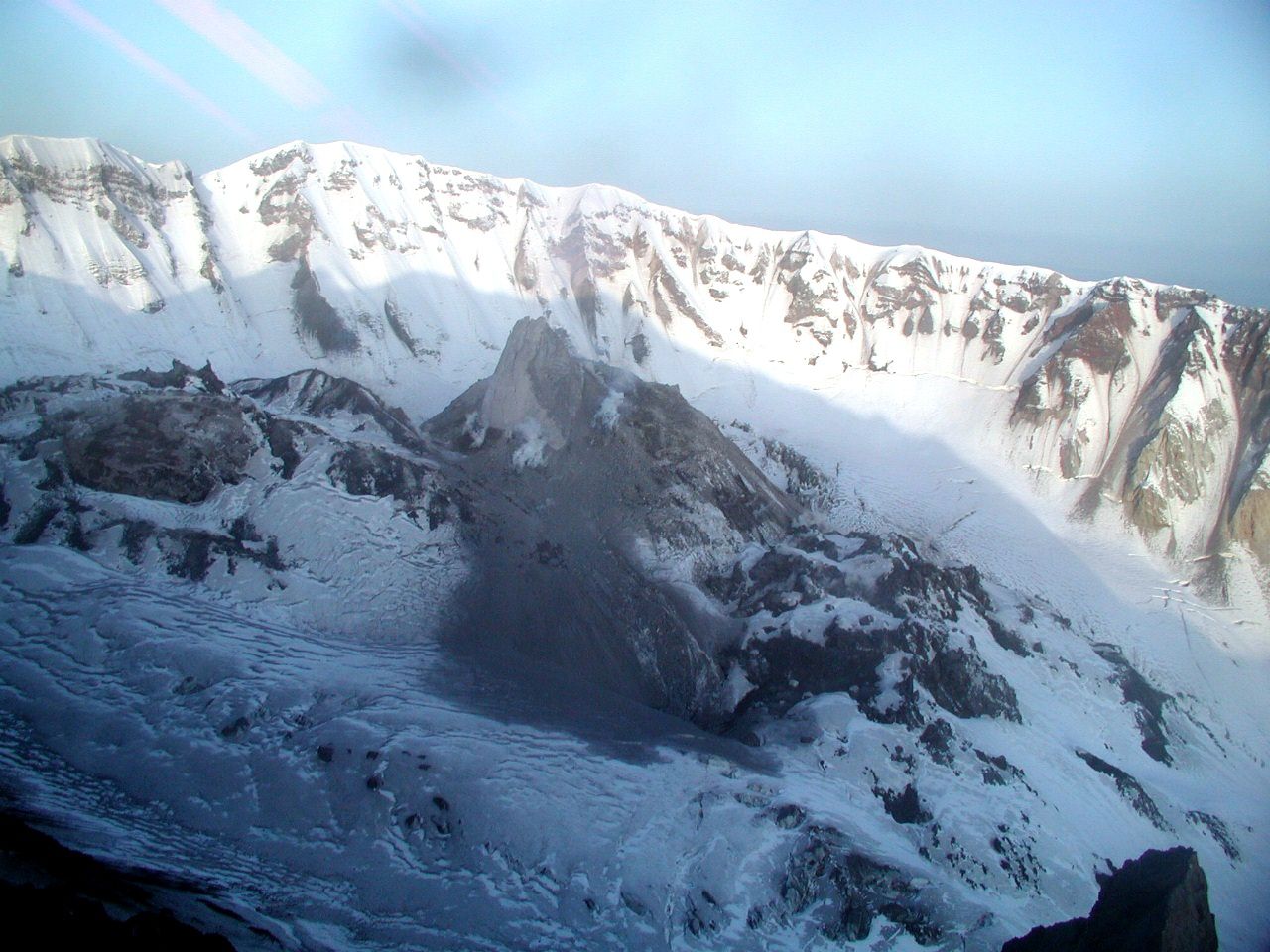 St. Helens - the new dome and her spine, that cut the Crater Glacier into two - the 05.10.2006 - USGS Photo
The period 2004-2008 was only marked by two major explosions, the first January 16, 2005, without notables warning signs. The second takes place on March 8, 2005, after a "subtle" increasing of the seismicity in the previous hours.

Sources :
- USGS Volcano hazards program : St Helens 2004-2008 renewed volcanic activity
- photos d'archives USGS / Cascade volcano observatory.