Following a high level of explosive activity at the NE and NO crater, and a strong degassing of the central crater of Stromboli, Emergency Preparedness has closed the access to the summit on August 5.

Between 9:13 and 17:23, on August 5, deformation of the outer flanks of the northeast crater has been detected ... the location is important for the following events.

On August 6, a new lava flow began with an overflow between the N1 and N2 vents / crater northeast. The beginning of the lava flow coincides with collapses between 2:06 p.m. and 2:51 p.m.. The emission of lava is made in several successive castings, who joined the coast line. The effusive activity continued overnight juqu'aux early hours on August 7.

On August 7, a significant collapse accompanied the opening of a new effusive mouth, to 5h 18, at the northern base of the NE crater. A rising tremor confirmed the schedule (see above).
Stromboli - thermal anomaly from 5:30 am to 5:36 loc - doc Webcam therm. INGV / via Volcanodiscovery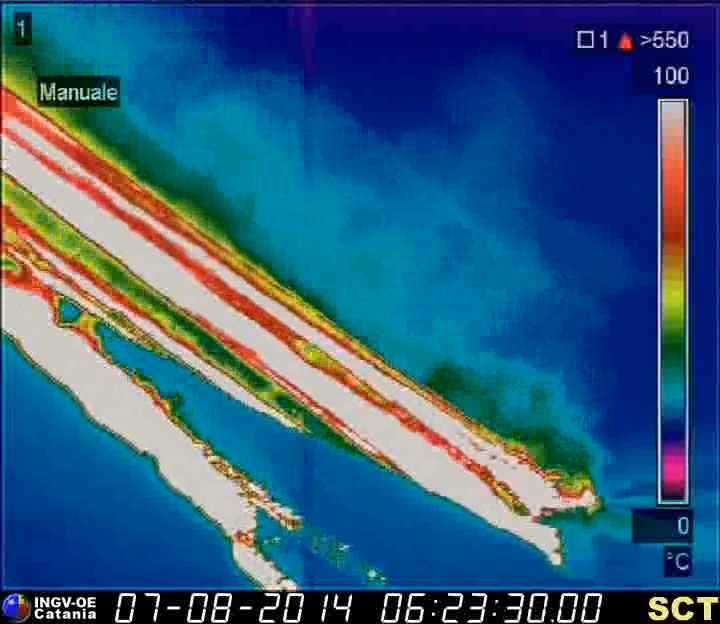 Stromboli - 07.08.2014 / 6:23 local - three lava streams enter the sea and others will get there - Doc. INGV Catania - camera SCT
A large thermal anomaly marked the slope at the base of the NE crater, indicating a new flood of lava. It had to cross the ledge, created in 2002-2003, which separates the cone northern from the rim of Sciara del Fuoco, then plunged into the sea.
The effusion ratio is high, and much higher than those characterizing the overflows of previous years; in a short time, the flow is separated into various arms of lava, accompanied by landslides. The arrival of the flow at sea generated significant plumes of steam.
The thermal anomaly was still clearly visible on the local thermal webcam 16h.
Stromboli - Time-lapse video of the overflow of August 6 and 7 - Doc. Volcanodiscovery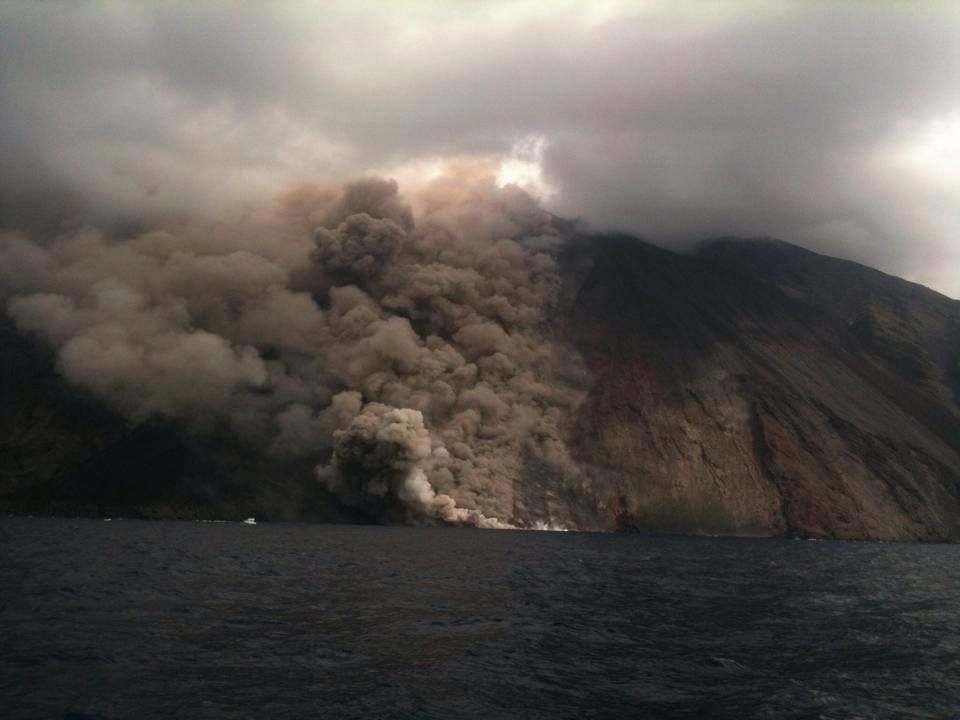 Stromboli - lava flow and blocks reaching the sea by the Sciara del Fuoco, 08/07/2014 - photo Mike Schuler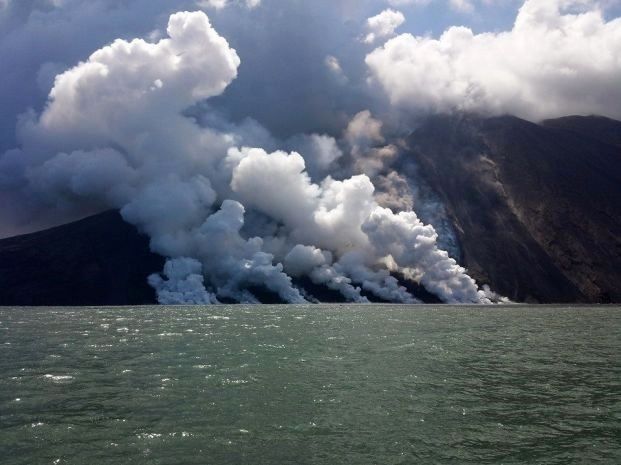 Stromboli - 07/08/2014 - lots of lava entries in the sea generate steam plumes - photo website Meteoweb
Sources :
- INGV Catania
- Volcanodiscovery news
- You reporter.it
To Etna, the eruption of subterminal type that marks the NE crater continues a month after its beginning.

Boris Behncke describes the activity during a field visit on August 6: it varies between powerful Strombolian explosions, the "flashing arcs" ,and "almost silent" ash and bombs emissions.


Sources :
- Boris Behncke / Facebook & You Tube
- EtnaWalk / Facebook
- Turi Caggegi / iEtna