Publié le par Bernard Duyck
La Tasmanie, au sud-est de l'Australie, possède la plus grande exposition de dolérite au monde : 30.000 km², et un volume de 15.000 km³ (Hergt & al.1989).
Cette dolérite est particulièrement visible au Cape Pillar, sur la côte de la péninsule Tasmane, et au sommet du Mont Wellington, qui domine la ville d'Hobart.
Une intrusion majeure de dolérite s'est produite au Jurassique, lors de la rupture du Gondwana, en une période courte au niveau géologique : en environ 165 millions d'années, la dolérite a recouvert plus d'un tiers de la Tasmanie. Cette intrusion a également affecté l'Antarctique, l'Argentine et l'Afrique du sud, il y a 183 millions d'années, pour former la Province ignée Karoo-Ferrar.
Cet épisode pourrait être la cause de l'extinction Toarcienne par un évènement anoxique océanique conséquent. Le magma a cuit le charbon et les schistes bitumeux produisant jusqu'à 27,4 tératonnes de dioxyde de carbone, dont une partie s'est diffusée dans notre atmosphère.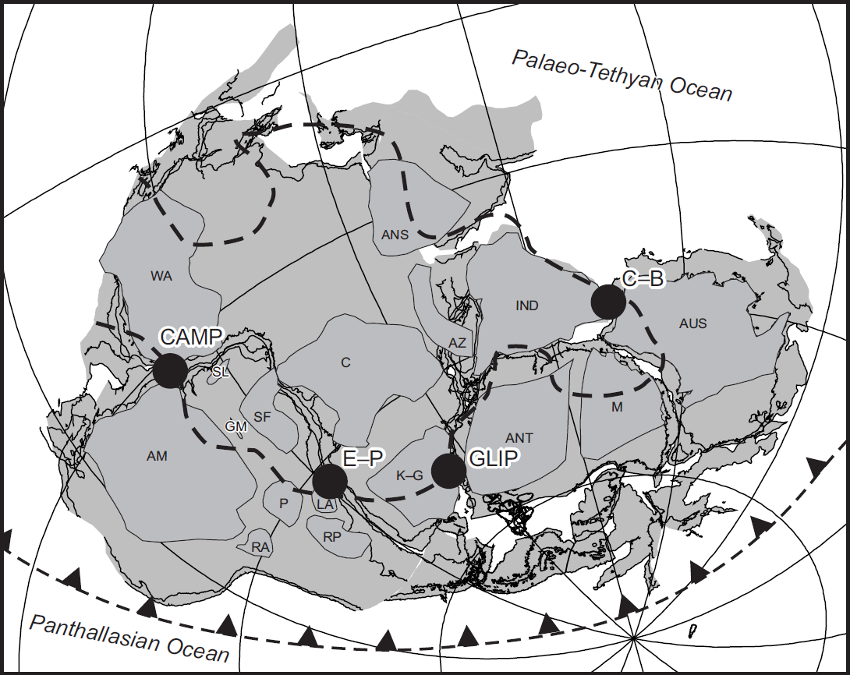 Reconstitution du Gondwana il ya 180 Ma - le bloc Australie/ Tasmanie est à droite - Gondwana reconstruction for 180 Ma (modified after Pankhurst & Vaughan 2009) showing major cratons and projected outline of the African LLSVP (heavy dashed line) from Torsvik et al. (2010). Major post-Permian large igneous province centres associated with the break-up of Gondwana are marked: CAMP – Central Atlantic Magmatic Province, 200 Ma (after Marzoli et al. 1999); GLIP – Gondwana Large Igneous Province, 180 Ma (after Storey & Kyle 1997) ; C–B – Comei–Bunbury LIP, 134 Ma (after Zhu et al. 2009); E–P – Etendeka–Paraná, 132 Ma (after Peate 1997). Craton labels are after Pankhurst & Vaughan (2009) and are as follows: ANS – Arabian–Nubian Shield; AM – Amazonia; ANT – Antarctica; AUS – Australian cratons; AZ – Azania; C – Congo; GM – Goias Massif; IND – Indian cratons; K-G – Kalahari–Grunehogna; LA – Luis Alves; M – Mawson; P – Paraná; RA – Rio Apa; RP – Rio de la Plata; SF – Sao Francisco; SL – San Luis; WA – West Africa. - carte modifiée d'après Pankhurst & Vaughan 2009./ Large igneous provinces
La majorité des intrusions se présente sous forme de sills (fillons-couches) atteignant jusqu'à 500 mètres d'épaisseur, le reste sous forme de cônes et dykes. La dolérite est une roche magmatique très peu vitreuse, de structure intermédiaire entre un basalte et un gabbro. Sa composition est de 40% de plagioclase, 20% de clinopyroxène, 20% de quartz, 5% d'ilménite et quelques % de feldspath et amphibole potassique. La roche est altérée par l'eau en smectite et kaolinite, contenant le quartz inaltéré.
Les falaises de dolérite de Cape Pillar, hautes de plus de 300 mètres, sont séparées par les eaux du Pacifique, et une grotte inondée en partie.
Deux spots de l'escalade, parmi d'autres en Tasmanie : Totem Pole Candlestick.
Toute cette côte fait partie du Parc National de Tasmanie, et abrite des phoques, des fous, des albatros, des aigles, des faucons pélerins, des cormorans ; on peut y voir évoluer des baleines et des dauphins.
Le Mont Wellington domine Hobart ; il culmine à 1.271 mètres.
Les parties basses de la montagne sont formées de dépôts marins qui se sont formés quand toute la région de Hobart formait une vaste plate-forme sous-marine et qui ont lentement émergé. La partie haute s'est formée de façon plus violente: par intrusion d'un sill de roches ignées qui se sont introduites entre les roches plus anciennes lorsque le continent australien s'est détaché de l'Antarctique et séparé du Gondwana.
Sources :
- AGU – The Field – Surveying the rugged beauty of Tasmania's coast - link
- Tasmanian Geological Survey – The geology and mineral deposits of Tasmania - link
- Large igneous provinces commission - The links between large igneous provinces, and continental break-up: evidence reviewed from Antarctica - link