Publié le par Bernard Duyck
The construction of a high-speed train line has made it possible to discover, near Naples, a village preserved for 4,000 years by the ashes of Vesuvius.
The Early Bronze Age village of Afragola is exceptional for the quality of its preservation, especially when compared to other archaeological sites across Europe.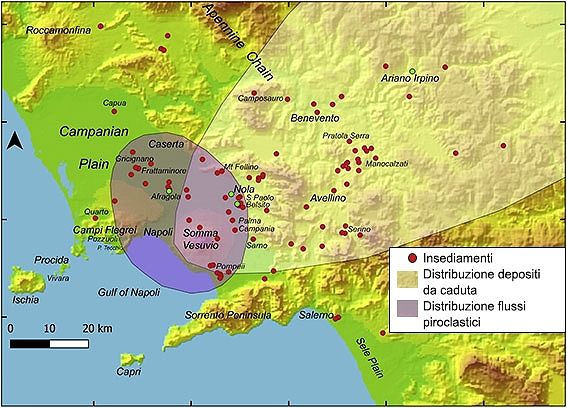 Human sites occupied before the Somma eruption 4,000 years ago, and distribution of eruptive products - Doc. Osservatorio Vesuviano
The "Pomici di Avellino", a Plinian eruption of Somma Vesuvius (3,945 + 10 cal BP) of estimated VEI 6, making it far more catastrophic than the more famous and documented Pompeian eruption of AD 79, engulfed the village under almost 1 m. volcanic ash. The eruption takes its name from the deposit of pumice stones it generated, abundant in the Avellino region of Campania.

A huge explosion from Vesuvius would have sent debris northeast of the volcano. The inhabitants of Afragola, located further west, would thus have had time to flee, leaving behind them several footprints of adults and children, which explains why, unlike Pompeii, no trace of human remains remains. was found.
Then the direction of the wind would have changed, depositing an abundant quantity of ashes on the deserted hamlet.
During the phreatomagmatic phase of the eruption, a wave of mud slowly penetrated the structures, burying their contents. The solidification of the mud (cinerite) then created casts of the entire village and surrounding landscape.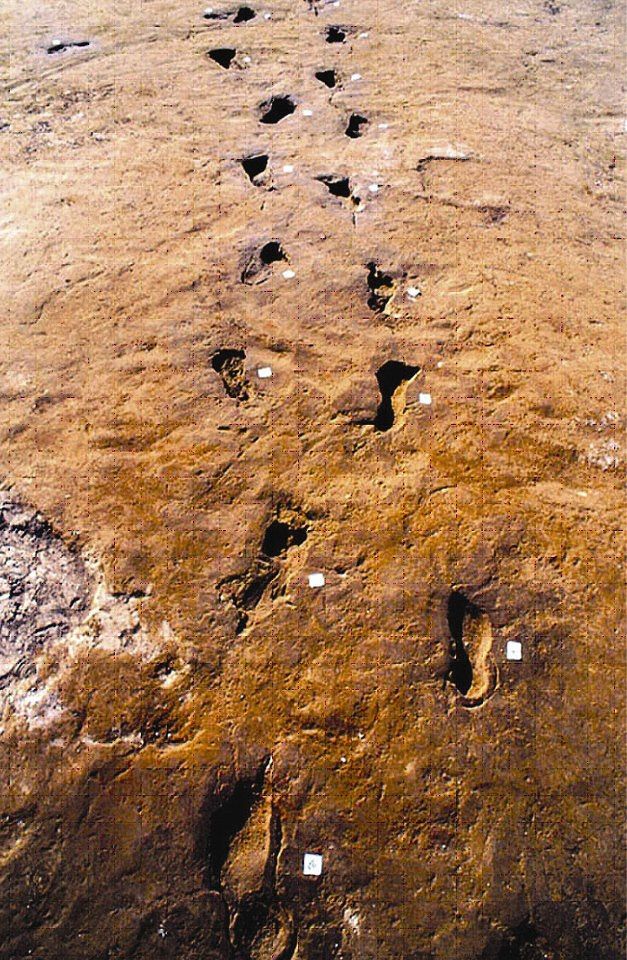 Footprints in the surge deposit of the "Pomici di avellino" eruption of Vesuvius - doc. Pierpaolo Petrone - Proceedings of the National Academy of Sciences vol. 103 / Wikipedia
The exceptionally rich and varied archaeobotanical record preserved at Afragola resulting from this sudden eruption can aid in understanding early Bronze Age life in Campania.
The Campanian Plain was home to a rich diversity of food sources at the time, including a variety of cereals and barley, nuts (especially hazelnuts), crabapples, dogwoods, pomegranates and cornelian cherries, all well preserved following the volcanic eruption, which made it possible to specify the autumn season of the eruption, based on the defoliation of deciduous species and on the fruiting periods of ripe edible fruits found in synchrony with their foliage at the base of trees and shrubs imprinted in cinerite.
Sources:
- Journal of Archaeological Science / 29,09,2022 - Preliminary archaeobotanical evidence from Early Bronze Age Afragola reveals the season of the Plinian eruption of the Pomici di Avellino (Southern Italy).
- INGV Osservatorio Vesuviano - L'eruzione delle Pomici di Avellino (4.000 anni fa)
- Arkeonews - The bronze age village of Afragola buried by the plinian eruption of Mount Vesuvius 4,000 years ago.
- Historia / archeology – National Geographic – The "Pompei of prehistory" reveals its secrets.
- Nola – Croce del Papa. A villaggio sepolto dall'eruzione vesuviana delle Pomici di Avellino