Publié le par Bernard Duyck
Io is Jupiter's most volcanologically active moon, with more than 400 active volcanoes emitting sulfur gases that give it its white-yellow-orange-red colors, when they freeze on its surface.
Io, which like our Moon, always faces Earth from the same side, has volcanic activity due to the process of "tidal heating": its non-circular orbit and the gravitational pull of Jupiter's other moons cause large amounts internal friction and heat.
Io has an atmosphere, extremely thin (a billion times thinner than the Earth's atmosphere), which can give us information about its volcanic activity. When Io passes in the shadow of Jupiter, and is no longer directly exposed to the sun, the cold conditions cause the sulfur dioxide to condense. Only gases emitted by volcanic activity are then present in the atmosphere.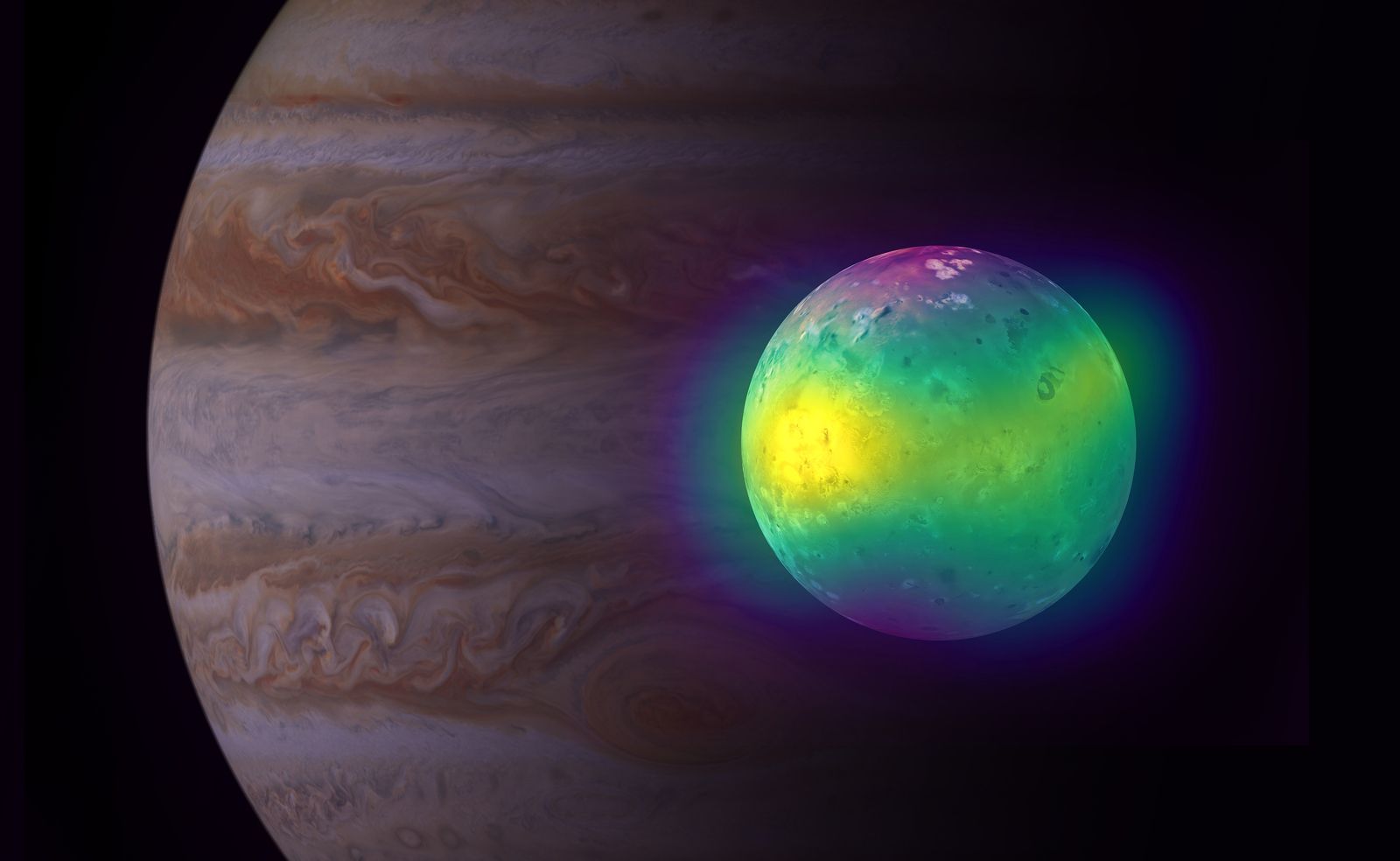 Composite image showing Jupiter's moon Io in radio (ALMA) and optical light (Voyager 1 and Galileo). ALMA images of Io show for the first time plumes of sulfur dioxide (in yellow) rising from its volcanoes. Jupiter is visible in the background (Cassini image). Credit: ALMA (ESO / NAOJ / NRAO), I. de Pater et al .; NRAO / AUI NSF, S. Dagnello; NASA / JPL / Institute for Space Sciences - one click to enlarge
Using the resolution and exceptional sensitivity of ALMA / Atacama Large Millimeter Array, an international astronomical installation, we were able to highlight the plumes of sulfur dioxide, and sulfur monoxide emitted by volcanoes. It has also been argued that the atmosphere of Io was produced 20-50% by active volcanoes.
Another gas, potassium chloride, has been discovered in areas without these sulfur gases, showing that magmatic reservoirs are different under other volcanoes in Io.
Thanks to images taken from the Atacama, we see for the first time the direct effect of volcanic activity on the atmosphere of a satellite of Jupiter.
Subsequent measurements, over a longer period, will make it possible to determine the temperature prevailing in the lower atmosphere of Io.
Sources:
- Planetary science Journal - "Alma observations of Io going into and coming of eclipse"
- NSF -ALMA observations of Io entering and exiting Eclipse "by Imke de Pater, & al. - Journal of Planetary sciences
This video, to be opened in full screen, shows images of Jupiter's moon Io on radio (made with ALMA) and in optical light (made with the Voyager 1 and Galileo missions). The ALMA images were taken when Io passed in the shadow of Jupiter in March 2018 (eclipse), and from the shadow of Jupiter in the light of the sun in September 2018. These radio images show for the first time plumes of Sulfur dioxide (in yellow) rising from volcanoes on Io. Credit: ALMA (ESO / NAOJ / NRAO), I. de Pater et al .; NRAO / AUI NSF, S. Dagnello; NASA