Publié le par Bernard Duyck
May is "Volcano Awareness Month" in Washington State, where 5 active volcanoes dominate the skyline. The peaks are often snow-capped and appear serene, but recent eruptions, steaming vents and occasional earthquakes remind us of their volcanic origins and potential for future eruptions.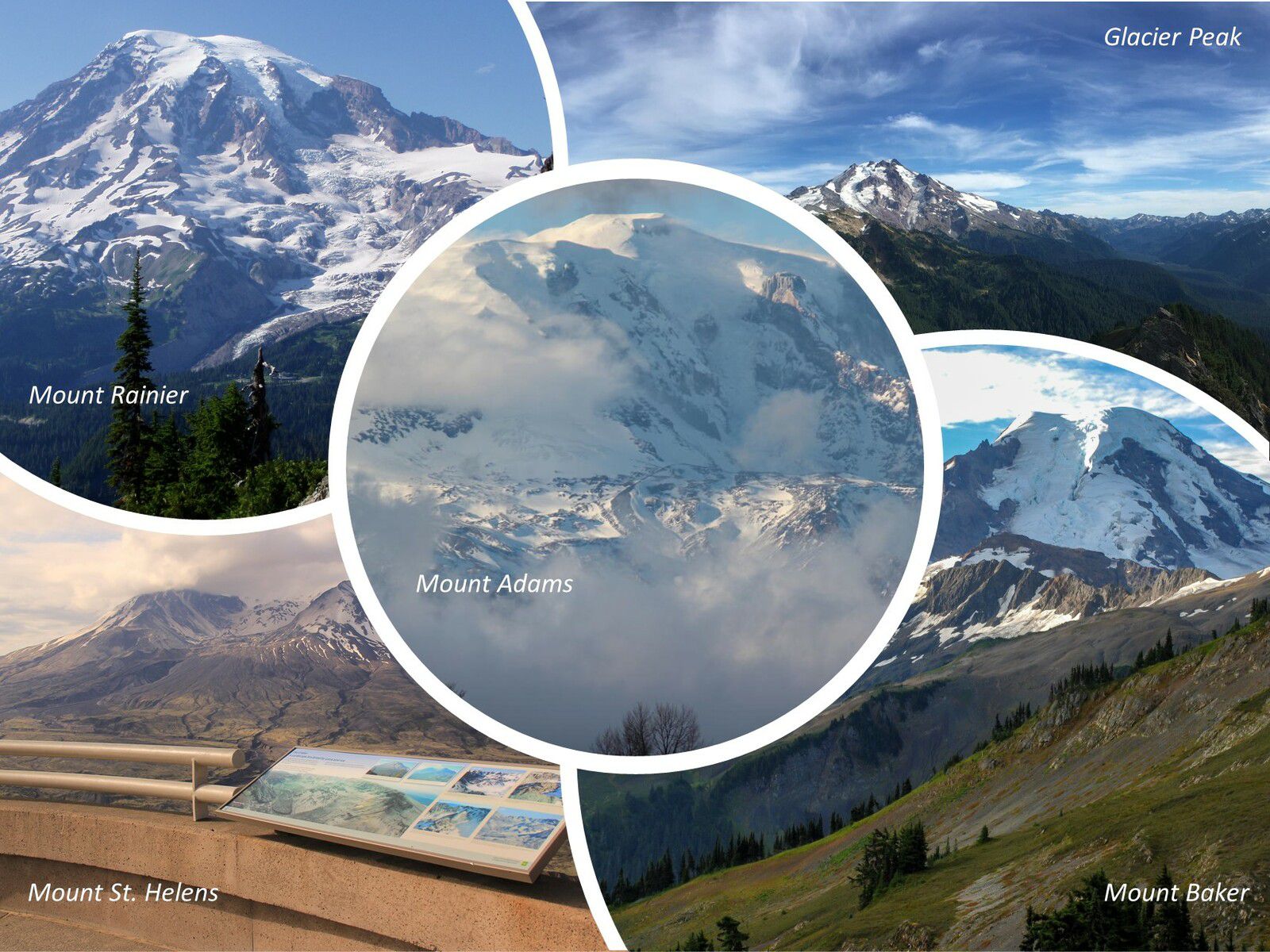 "Volcano Awareness Month" in Washington state, where 5 active volcanoes dominate the skyline. - Doctor. USGS - one click to enlarge
Today, stratovolcanoes dominate the horizon (triangles) but they are only the most recent example of volcanism. Scientists used maps and a DEMS to find 2,999 vent locations in the US portion of the Cascades (pink areas). There are probably more vents that have been buried or eroded.
The tectonics of the northeast Pacific give a varied volcanic history. The Pacific Northwest has an active volcanic arc (Cascades Range), a nearby oceanic ridge (Pacific Plate-Juan de Fuca Plate Spreading Ridge), the world's youngest floodplain basalt province (Columbia River Basalt), a range hotspots of young volcanoes to the east (Yellowstone Trend), volcanism linked to continental extension, etc.
It is a volcanological paradise. The western margin of North America has long been dominated by dextral subduction and transtension. This animation attempts to simplify a complex tectonic interaction through cross-sections.
Volcanic evolution of the northwest of the North American continent: 55 million years of history. - IRIS earthquake sciences/animation accompanying a talk during IAVCEI 2017 in Portland, OR. Written and directed by Anita Grunder, Oregon State University Graphics, animation and narration by Jenda Johnson, Earth Sciences Animated - Reviewed by Ray Wells, U.S. Geological Survey
Halema'uma'u's summit crater also underwent major changes, and its lava lake disappeared during the 2018 eruption of Kïlauea. While lava flows in lower Puna drained the summit magma reservoir, Halemaʻumaʻu suffered 62 collapses (some with explosive eruptions). Each gradual collapse was marked by earthquakes that were felt throughout the summit. When the dust settled (and there was a lot of dust), the collapses had lowered the crater floor by more than 500 m.
The end of the 2018 eruption and caldera collapse events resulted in a period of quiescence not seen in Kīlauea for over 35 years. It also brought a new and interesting change to the volcano.
For the first time since written records began, a lake of water formed in the deep pit of Halemaʻumaʻu. First noticed in July 2019, water continued to slowly fill the crater over the next year and a half until it was about 50m deep.
On the night of December 20, 2020, the lake of water evaporated within an hour or two when Halema'uma'u erupted again. Within a day, the new lava lake was deeper than the water lake, and it continued to grow and fill the crater until May 2021. Again, Kīlauea did not stay silent for a long time. Halemaʻumaʻu began a new eruption in September 2021; an eruption that continues to this day. These two eruptions filled Halemaʻumaʻu with over 320 m of lava.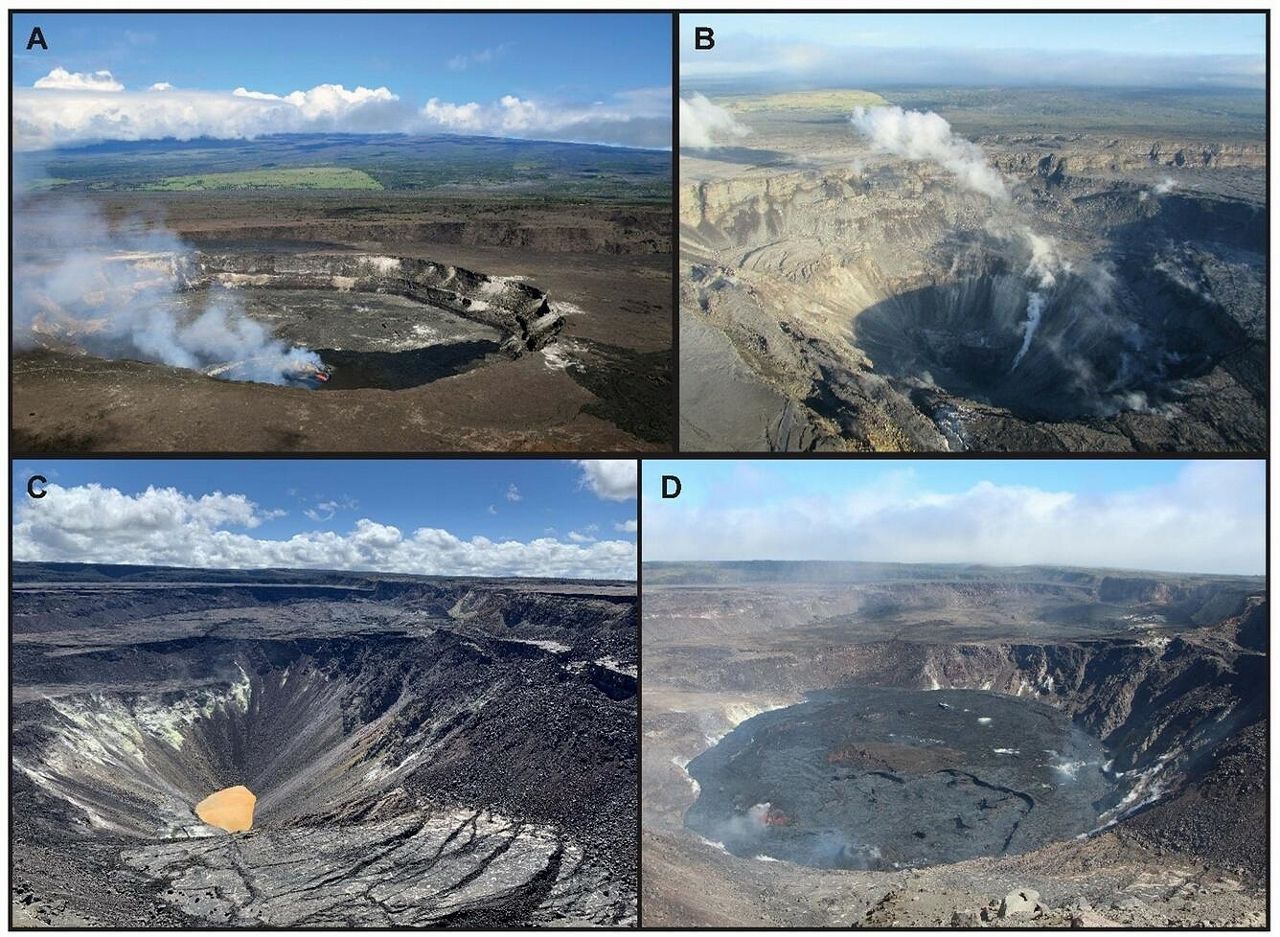 Kilauea - A) Top left, photo of Halema'uma'u before the start of the 2018 collapse events with the decade-old active lava lake that formed in 2008. B) Top right , pictured after the 2018 collapse events caused the floor of Halema'uma'u crater to drop more than 1,600 feet (500 m) in just 4 months. C) Bottom left, in July 2019, a lake of water began to form in the newly deepened Halemaʻumaʻu, and this lake continued to grow over the next year and a half. D) Bottom right, the December 2020 eruption boiled the lake water overnight and continued through May 2021 before another eruption began in September 2021, continuing until 'now. All photos courtesy of the U.S. Geological Survey's Hawaiian Volcano Observatory. - one click to enlarge
Summary of activity as of 05.05.2022 : The eruption at the summit of Kīlauea Volcano in Halema'uma'u Crater has continued for the past 24 hours. All recent lava activity has been confined to the crater, and current data indicates that this scenario is likely to continue.
Eruption of lava from the western Halema'uma'u vent into the active lava lake and crater floor has continued over the past 24 hours. The active lava lake has experienced continuous surface activity and its surface level has been relatively stable during this period. Relatively slow lava seeps continued along the northeastern and southern margins of the crater floor yesterday, and this morning a particularly vigorous and expansive seep began along the northwestern margin just after 2 a.m. morning. Flyby measurements on April 6, 2022 indicated that the crater floor had experienced a total elevation of approximately 99 meters and 66 million cubic meters of lava had been shed since this eruption began on September 29, 2021.
Current volcanic alert level: Watch
Current Aviation Color Code: Orange.
No significant changes were noted at the summit or in the East Rift Zone.
Sources: HVO-USGS Daily update & Volcano Watch / Kïlauea's dynamic landscape: reflections on the past four years.
IMO has detected 173 tremors in the past 48 hours in the Reykjanes Peninsula. Most of the tremors occurred northeast of the Krýsuvík volcanic system, specifically beneath Kleifarvatn. In addition to the current M 3.4 earthquake, there was an M 2.9 earthquake before. Both tremors were felt in the greater Reykjavik area Lake Kleifarvatn is associated with a fault system and has been the site of several earthquakes over the past week.
More than 1,000 earthquakes have been detected under Reykjanes in the past 3 weeks. Most occur in the regions of Thorbjörn, Eldvörp and Kleifarvatn.
Source: IMO