Publié le par Bernard Duyck
A deep dive between the islands of Luzon (known for its Taal and Pinatubo volcanoes) and Mindoro, in the Passage of Verde island, in the Philippines enabled divers from a group of researchers from the University of Austin in Texas and Dutch scientists to find themselves in an environment of bubbles of carbon dioxide, which they describe as similar to champagne.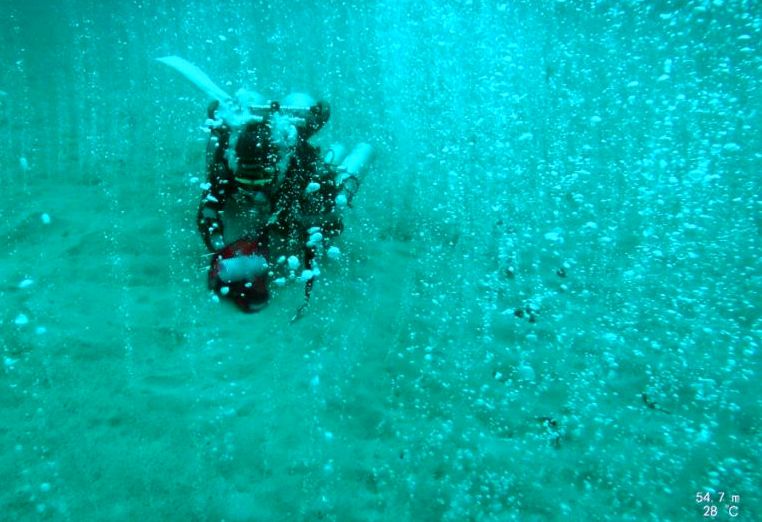 Gas sample collection at Verde island Passage / Philippines - photo University of Texas / Jackson School of Geosciences.
This place was named "Soda Springs". As Professor Bayani Cardenas says, the place was discovered by studying how an island's groundwater could affect the ocean environment of the Verde Island Passage, one of the most diverse ecosystems and home to flourishing coral reefs.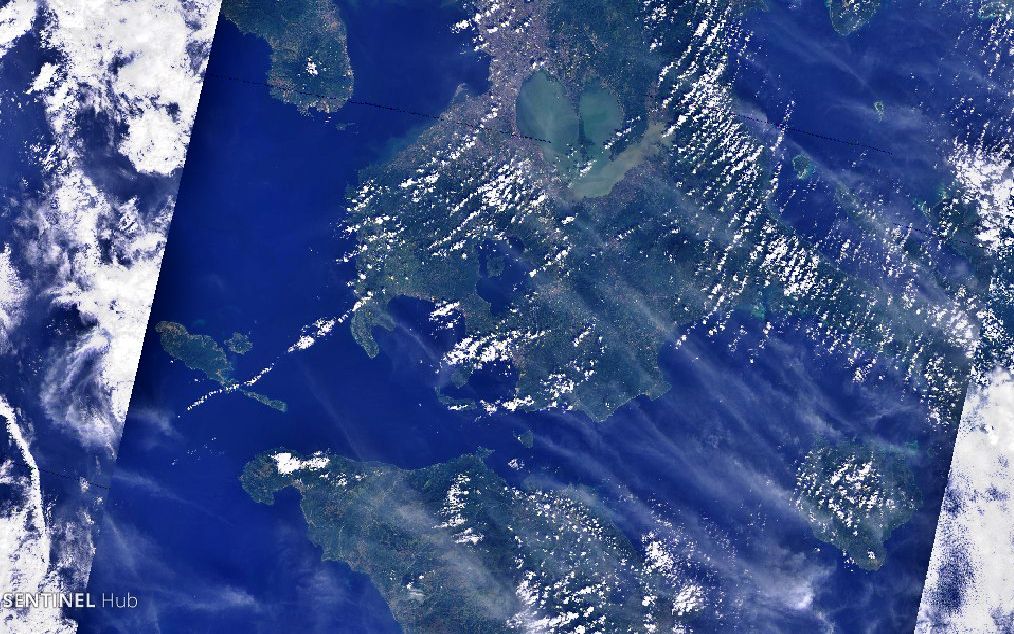 Passage de Verde island, with Luzon and the Taal caldera to the north, and Mindoro to the south - the green island is at the narrowed place of the "Passage" - Sentinel-2 L1C image on 2019-12-28 nat colors - un click to enlarge
As noted, this is not a nightmare linked to climate change, but the bubbling is linked to an underwater volcano (not specified) which evacuates its gases through cracks on the ocean floor, and for decades, or millennia.
The study of this environment with a high CO2 content - with concentrations reaching 60,000 to 95,000 ppm, or more than 200 times the CO2 concentration of the atmosphere -, and close to prosperous reefs, must be studied. Carbon dioxide levels drop away from the seeps, but remain high along the coast of the Calumpan Peninsula, in the range of 400 to 600 ppm.
The analysis of the waters also proves that the sources discharge sea water in a variable mixture with water from the water table of the nearby island, and susceptible to pollution.
Deep Diving Scientists Discover Bubbling CO2 Hotspot - Bayani Cardenas, a professor at the University of Texas at Austin Jackson School of Geosciences, diving in the champagne-like environment of "Soda Springs"
The study, which also makes it possible to refine the sampling methods in this type of environment, was published in the Geophysical Research Letters under the title "Underwater groundwater and vent releases in a volcanic area associated with the coastal acidification ".
Sources:
- Submarine Groundwater and Vent Discharge in a Volcanic Area Associated With Coastal Acidification. Geophysical Research Letters, 2020; 47 (1) DOI: e10.1029 / 2019GL085730 Texas Geosciences - University of Texas at Austin - link
- Deep Diving Scientists Discover Bubbling CO2 Hotspot - link