Publié le par Bernard Duyck
Servicio Geologico Colombiano has issued an activity bulletin for the week of 4 to 10 December in Nevado del Huila, in activity level 3 / amarillo / behavioral change of volcanic activity.
The seismicity was marked by 226 earthquakes, of which 118 VT type in relation to the fragmentation of rocks, and 148 earthquakes, LP in majority, related to the dynamics of the internal fluids. The images of the webcams shows a degassing during the week.
The volcano continues to exhibit stable behavior.
Source: Servicio Geologico Colombiano 11,12,2018 / 18h loc.
In Costa Rica, sporadic ash eruptions have persisted in Turrialba for a few days, accompanied by plumes up to 500 meters above the crater.
The variable winds carried the ashes northward in the early hours of December 12, before turning south-west, where the Central Valley was again affected.
Source: Ovsicori
A small explosion was detected by the local seismic network in Cleveland, in Aleutian Islands, on 12 December at 11:53 am AKST / 20:53 UTC, justifying a watch / orange warning adjustment.
The weather conditions did not allow the observation of a cloud of ashes.
No significant activity was detected in the previous days.
Source: AVO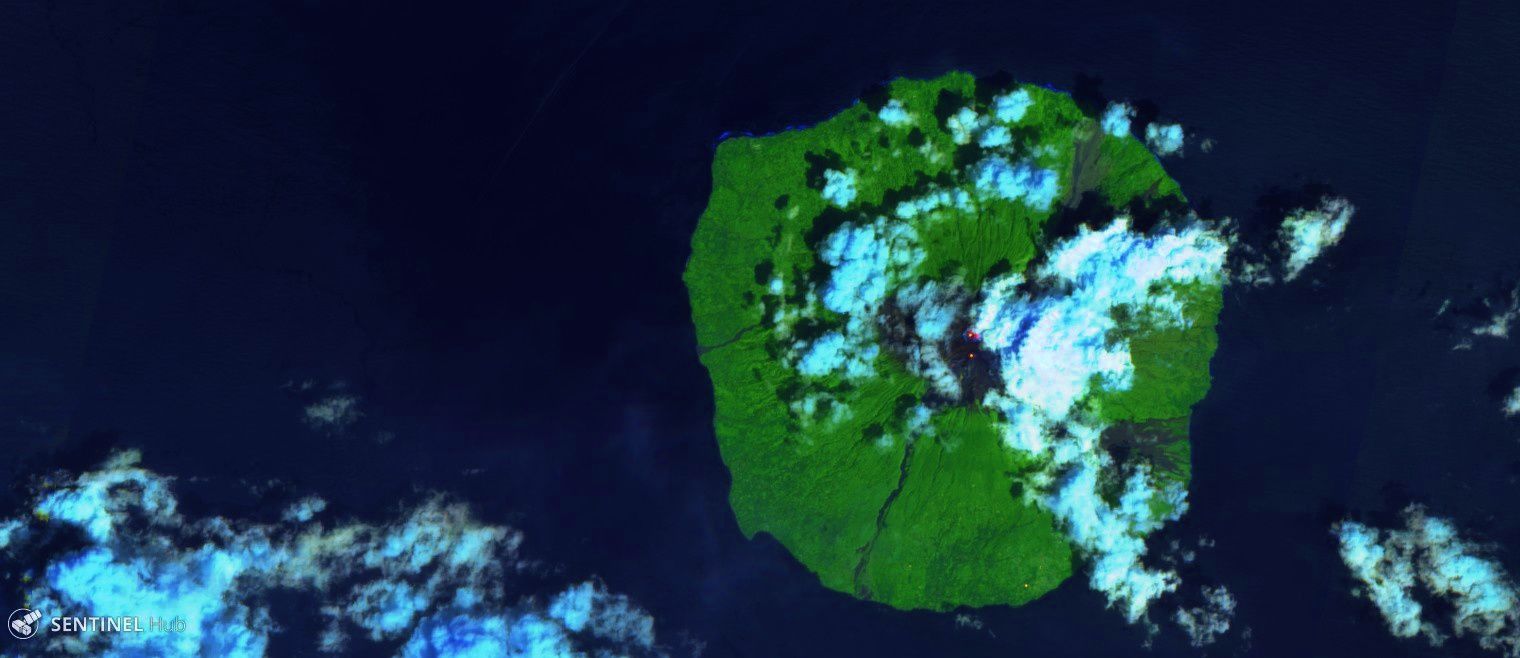 Manam - the two craters correspond to the 2 hotspots on this image Sentinel 2 bands 12,11,4 / 11.12.2018 - one click to enlarge
On the island-volcano of Manam, Papua New Guinea, a satellite image of December 11 shows two hot spots, corresponding to the two summit craters. Mirova reports a small thermal anomaly of 9 MW on December 12th.
The people of Manam silently mobilized last week and filed a human rights complaint against the government for having placed them in health centers for nearly 15 years.
Local government president Kenny Boli said residents of Manam were living peacefully before the 2004 volcanic eruption when they were transferred to health centers in Potsdam, Bom, Daigul, Asuramba and Mangem.
He added that the villagers of Baliau and Dugulava had been involved in tribal fighting with residents of Bogia and had been forced to return to the volcanic island to settle.
The planning director of Madang Province said that the National Treasury issued a mandate of 2,000,000 KAR for the resettlement planning process, but no cash amount was released.
The population has been tired of living in health centers for 14 years and has now started legal proceedings.
Source: The National, Sentinel 2 & Mirova