Publié le par Bernard Duyck
Among the pollutants emitted by volcanic gases, in addition to carbon dioxide, sulfur dioxide, hydrogen sulfide, are halogens and small amounts of heavy metals, including mercury.
The gaseous elemental mercury cycle is fueled by anthropogenic emissions and natural sources.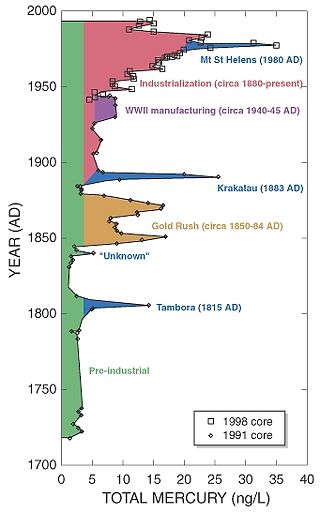 Concentrations of Hg (in nanograms / liter) found inside the ice cores. - Doc. USGS / INGVvulcani - one click for better readability
A USGS study, carried out on cores sampled from Wyoming glaciers, documents the importance of the role of volcanoes as a potential natural source.
It shows that mercury levels have been multiplied by a factor of 3 to 5 since the middle of the 19th century, influence of the industrial revolution and the gold rush; it also points to the peaks linked to major volcanic eruptions (in blue in the diagram above).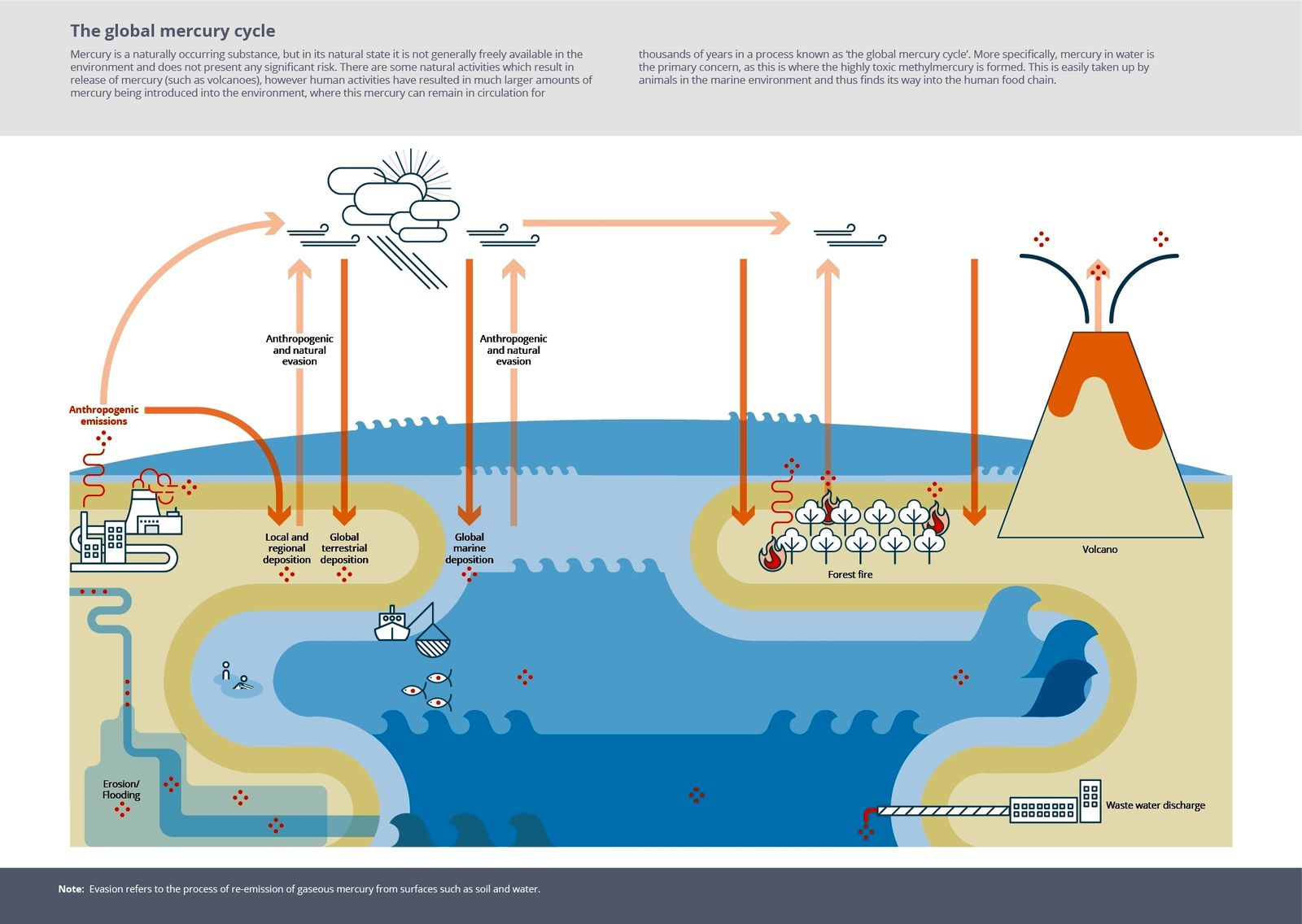 Conceptual diagram of the biogeochemical cycle of mercury in which the different contributions to the terrestrial ecosystem from different sources (natural and anthropogenic) are represented. Image credit: European Environment Agency (EEA) / via INGVvulcani - one click to enlarge
The gaseous elemental mercury, Hg0, present in the atmosphere, can remain there for a long time, between six months and two years, and transported during this period far from its emission source. Mercury is a global pollutant: it is found in all latitudes within terrestrial as well as marine ecosystems, in vegetation, soils, wetlands, snow and even the oceans.
Several chemical species of mercury coexist in the environment: the elementary gaseous species (Hg0), a variety of divalent inorganic species (Hg2+), the oxidation occurring in precipitation, and organomercury species, including methylmercury (CH3Hg+), methylation being initiated by sulfato-reducing bacteria.
Methylmercury, derived from the global mercury cycle, is the most toxic chemical form of mercury.
It is a very potent neurotoxic agent, which can seriously affect the development and functioning of the central nervous system of humans. It has the ability to accumulate in the tissues of living organisms (bioaccumulation) and to concentrate along the various links in the food chain (biomagnification). Concentrations of methylmercury are highest in larger species and predators, which feed on humans and other animals. Fish consumption is the main source of exposure to mercury in the general population. (Lauwerys et al., 2007).
The participation of active volcanism in mercury emissions has long been underestimated, and remains an area of ​​study to be perfected given the large number of people who can be affected, not only in the surrounding regions, but all over the planet.
Sources:
- INGVvulcani - Volcanoes, sources of mercury for the Earth's atmosphere by Emanuela Bagnato - link
- USGS - Glacial Ice Cores Reveal A Record of Natural and Anthropogenic Atmospheric Mercury Deposition for the Last 270 Years - link
- CNRS - Mercury, cycle and toxicity - link
- Aix Marseille University - Who methylates mercury in the global ocean?