For the first time
,
a correlation was
established between
tephra
found in
northern
Germany -
tephra
"
AD860B
"
-
and North
America
- "The
White
River
ash"
.

These tephra were previously identified in Greenland, Norway, Scotland and Ireland in other studies.
The White River Ash :

Ash, that belong to the same eruption, refer to that of Mt Bona-Churchill, located in the St. Elias Mountains in Alaska, and dating from the year 843.

The ash deposits, bilobed, of the White River covers over 340,000 square kilometers in Alaska and Canada (Yukon and Northwest). These deposits correspond to two rhyodacitic Plinian eruptions, different, under the influence of strong unidirectional winds, dated by the GVP of 60 AD +/- 200 years and 800 AD +/- 100 years.

Both eruptions are classified as an explosive 6 The last issue, here index, is more important for the volume of tephra emitted: 30km³ for the East lobe, issued in winter and prevailing winds eastward direction. The north lobe is estimated to correspond to a volume of 20 cubic kilometers of tephra, issued in the summer, when winds northward dominates (from West, KD & Donaldson, JD -2000).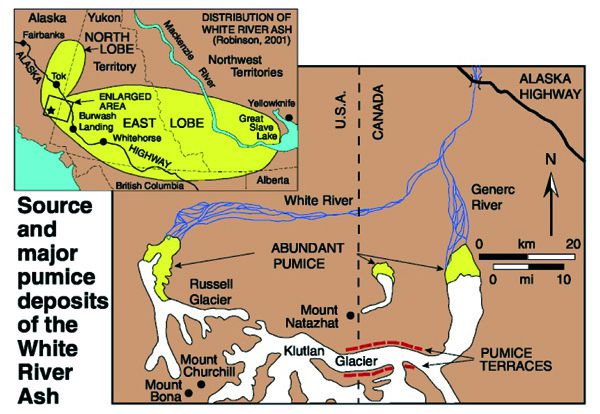 Source and location of deposits of pumice from the "White River ash" - Doc. Yukon Geological Survey - Top inset : the two lobes corresponding to the two Plinian eruptions - Bottom inset: location of the zones of proximal pumice and pumices terraces along the Klutlan glacier.
White River ash eastern lobe / Yukon: left, very vesiculated ash particle (. Gross 1200 x) extended by the violence of the conditions at the time of the eruption in the year 800 - Doc. Yukon Geological Survey - right : road embankment exposing a clear layer of 10 cm. thickness of the White River ash - A click to enlarge - photo P. Sinclair / Natural Resources Canada.
The study of Britta Jensen, a geologist at Queen's University in Belfast, and his team (in GEOLOGY 2014.07- Transatlantic Alaskan distribution of the White River Ash) shows that the ash from an only eruption of VEI 6 are able be spread out over 7000 km., according to records and analyzes made in marine, terrestrial and ice.

Such "small eruptions" can therefore have a significant impact on our technological society, and severely disrupt transatlantic air routes ... so that such distribution of ashes was regarded up to now as exceptional and in conjunction with supereruptions.

Map of locations of samples analyzed in 2014 (stars) and other during previous studies (circles) -- Crawfish Inlet (Alaska; Addison et al., 2010), Nordan's Pond Bog (Newfoundland; Pyne-O'Donnell et al., 2012), and sites S1 and S2, two examples of a more comprehensive list of sites in Europe from Lawson et al. (2012). Est.—estimate; NGRIP—North Greenland Ice Core Project; NEEM—North Greenland Eemian Ice Drilling; QUB—Queen's University Belfast; JAM—Jardelunder Moor; DOM—Dosenmoor. The lack of sites between proximal samples and eastern Canada reflects the absence of cryptotephra studies in this region. / doc. in Jensen B.& oth.
Sources :
- Geology - Transatlantic distribution of the Alaskan White River Ash - by Britta Jensen & others - link
- Global Volcanism Program - Churchill
- AVO-USGS - Mt. Churchill
- Mt. Churchill, Alaska : source of the late holocene white River Ash - by D.H. Richter & al.
- Evidence for winter eruption of the White River Ash (eastern lobe) Yukon territory Canada - by K.D. West & J.D. Donaldson
- Natural Resources Canada - Blast from the past